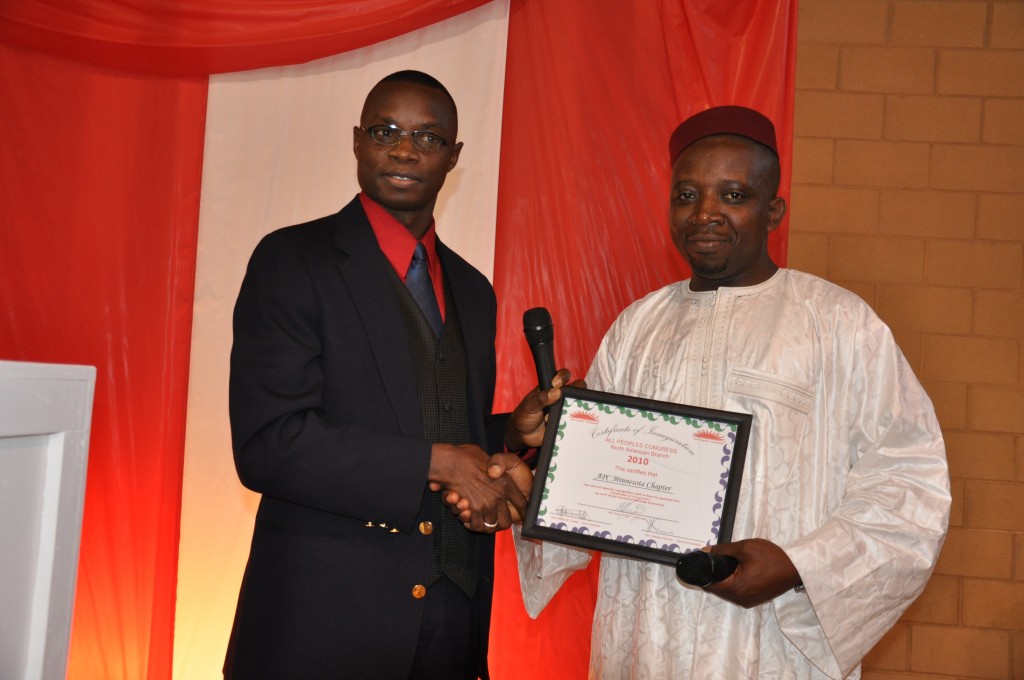 Stepping into Sierra Leone's history, Alpha Sorie Kargbo grasped the gearshifts of power as first president of the All People's Congress (APC) Chapter in the Twin Cities on Saturday, June 5. The APC, Sierra Leone's ruling political party, is expanding its membership in North America. Members in Minnesota held an election and voted Kargbo as new chapter leader in December last year.
"From the support demonstrated by the community through the election results, it was clear that a high level of confidence was placed on me as chapter's first president," said Kargbo. "You should expect nothing less than progress from this moment."
Kargbo declared the new chapter will become a leading arm of the APC in North America in addressing socio-economic and political development in Sierra Leone. In administrating the oath of office, Al-Aziz Turay, national president of APC in North America, reminded Kargbo and his executive team to serve the party, Sierra Leoneans, and the country as a whole.
Present at Kargbo's swearing-in ceremony at East Side Neighborhood Services in Minneapolis were Victor Bockarie Foh, APC national secretary-general; Her Excellency Rev. Marie Barnett, Sierra Leonean ambassador to Liberia and Ivory Coast; Hon. Dauda Tombo Bangura, former Member of Parliament; Sallieu Kamara, vice-president, APC North America; and Hassan Kamara, secretary general, APC North America.
Chapter leaders from various states, including guests from Iowa, Missouri, and North Dakota also witnessed Kargbo's ceremony.
The excited crowd bore witness to Kargbo's elevation to power about six months after defeating his opponent, Mohamed Juldeh Jalloh in a close and tense election. After the swearing-in ceremony and inaugural address, Kargbo and his wife, Adama Charm, waved to the cheering supporters and party members and then greeted the smiling APC executives and supporters. .
People waited for hours before the ceremony, but no one publicly complained. Instead, the bulk of the crowd jammed into the hall to celebrate till the morning. Although the APC North American branch has been inaugurating new chapter leaders in several states, many agreed that the ceremony in Minnesota is unique and well organized, setting an example that party members want other chapters to follow.
Described by supporters as a humble political leader, Alpha Kargbo asked those who didn't support him to work with him for the country's development. "It is a mammoth task which requires all of our cooperation in order for us to succeed," he emphasized.
The organizers expected about 500 people for the inauguration and spent days working on the program. "We want to be well prepared and want to make the ceremony a big success," said Joshua Murray, financial secretary. The aim, according to Murray, "is also to raise funds for the new APC chapter."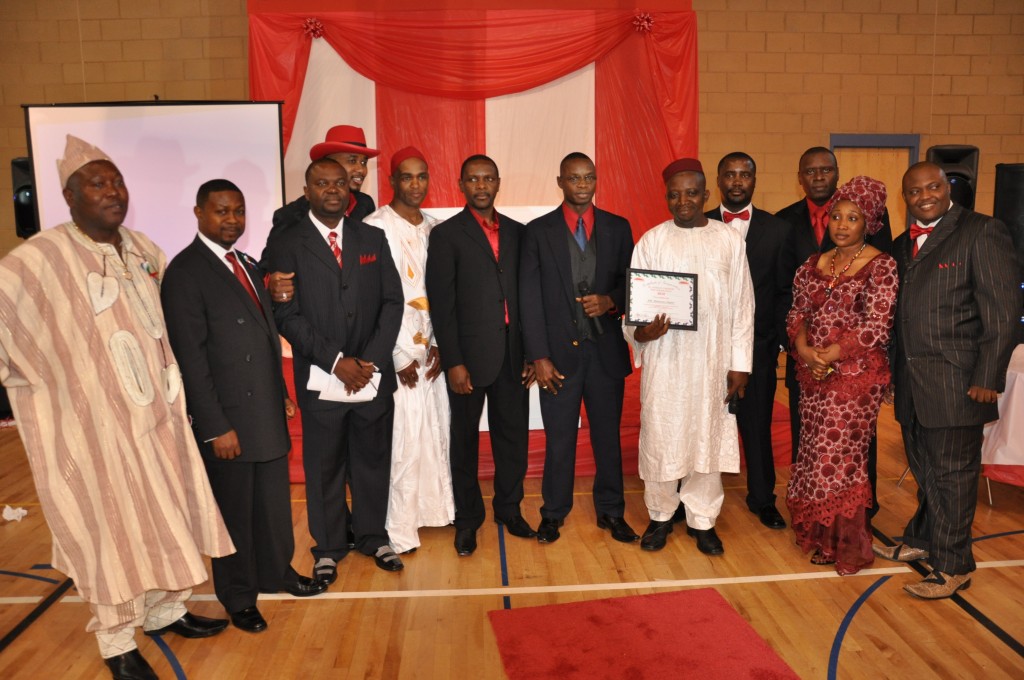 Like many new political chapters, APC Minnesota ran into s series of problems, especially with members' attendance in meetings. Murray reasoned that some members have various personal commitments and can barely attend all the meetings. Some, he agreed, have different political philosophies when they join politics.
"Others don't know what they are up to," said Murray. "We need to bring some basic political education at their level."
"My primary concern after the elections was building up the best team," said Kargbo. "Looking at this array of talents by my side, and your invaluable support, you would agree with me that this chapter is poised for success."
Keynote speaker Dr. Frank Barnett said Sierra Leone under the APC is internationally recognized as a country with religious tolerance and is thus able to lure investors into the country. "We want our leaders to be transparent and accountable," said Barnett, who also serves as APC secretary general in Minnesota.
"A game of numbers, that is what politics is all about," said guest speaker Victor Bockarie Foh in addressing the attendees at the inauguration. The APC aims to increase its members and make its political numbers stronger.
"You have to belong to a party that wants to win," said Foh, who traveled from Sierra Leone to attend the inauguration. "When power is misplaced or in the wrong hands, you look like second class citizens."
Like many politicians, Alpha Sorie Kargbo has tall aspirations for the APC in North America, especially when he talks about the approaching 2012 general elections in Sierra Leone. "Our goal is to expand this chapter," said Kargbo. "We must adapt a change of attitude." TAP
Issa A. Mansaray welcomes reader responses to letters@theafricapaper.com.