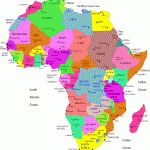 SENEGAL – Court reconfirms election results
Senegal's Constitutional Court has released the final results for the West African country's first round of presidential elections.
The results read to journalists on Tuesday reconfirmed provisional results from last week that dealt President Abdoulaye Wade a significant blow. Senegal's aging leader, who had boasted he would win the race outright, will have to face his former protégé in a runoff election on March 25.
Senegal's electoral code calls for a runoff if no candidate wins more than 50 percent of the vote.
The Constitutional Court says that Wade received 942,327 votes, or 34.81 percent. It says ex-Prime Minister Macky Sall finished second with 719,367 votes, or 26.58 percent.
The race has been marred by violence, and for weeks leading up to the first-round vote on Feb. 26 police battled rock-throwing youth calling for Wade's departure.
ANGOLA: Government approves new investment law
Angola has approved a new investment law to attract overseas investment in the oil rich country, local media reported. The law came into effect in mid May. Angola, the world's fifth biggest diamond exporter, had double-digit growth between 2004 and 2008, but has slowed sharply in the last two years due to a slump in oil and diamond prices.
KENYA – A trial at home
Radio journalist Joshua Sang and two of the country's most powerful politicians including Uhuru Kenyatta are listed in the International Criminal Court (ICC). Kenyatta is running in next year's presidential election. Sang and other politicians have been seeking public support for their case to be tried in local courts. They claimed they have the support of the current Kenyan president Kibaki and the African Union.
SIERRA LEONE: Grabbing land from the poor and draining boli swamps
Farmers in Makeni signed land contact in exchange for promises of 2,000 jobs. To date, only 50 jobs have been offered. They were assured that the bolilands [swamp land use for farming] would not be drained when the granted Addax Bioenergy, part of privately-owned Swiss Addax & Oryx Group, a 50-year lease on 50,000 hectares (123,600 acres) of land to grow biofuels for Europe. After three years, the boli swamps have been drained, and irrigation has destroyed the bolis with only 50 jobs offered.
SWAZILAND: Too broke to pay civil servants
Swaziland may not pay public servants their monthly salaries, the country's minister of finance Majozi Sithole told the local press. Last month, the government cracked down on opposition protests, sparked in part by a freeze placed on public employees' salaries. Run by an absolute monarchy, Swaziland is seeking a US$150 million loan from African Development Bank to inject into its dwindling coffers.
ZAMBIA: High electricity tariffs for miners
Zambia has raised the price of electricity for mining companies by 30 percent in a move that may affect profitability in the industry in Africa's leading copper producer. Copperbelt Energy Corp. (CEC) and state-owned Zesco Limited said in a statement the price hike would be backdated to January 2011. The cost of electricity to the mines was last raised by 35 percent in 2008.
ZIMBABWE: No money for election
Zimbabwe's central bank governor Gideon Gono recently announced on state controlled media that the African country's economy cannot afford an election which could cost US$400 million. "The economy favors no elections for now while political dynamics and imperatives may favor or dictate otherwise," Gono told the state-run Sunday Mail. Zimbabwe's economy has shown signs of recovery since President Robert Mugabe and Prime Minister Morgan Tsvangirai formed a power-sharing government in 2009. Zimbabwe goes to the polls this year.
© World Copyright The AfricaPaper Media Corporation