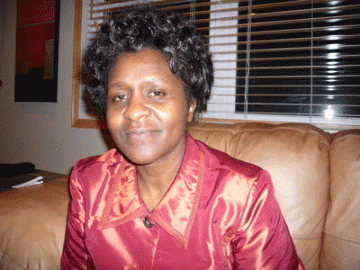 The AfricaPaper | Minnesota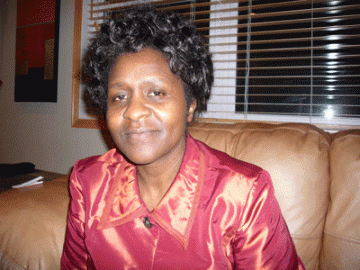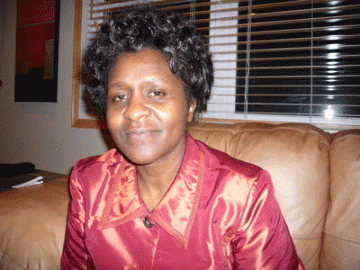 Minneapolis – When Mattu Saidu, 25, started talking with her boyfriend on the phone in 2005, it was all about love, and dreams of living together as domestic partners or getting married. Like many young women with a fixed job in Minnesota, what was missing in Mattu's life was "love." After few months of talking on the phone with David, 26, she moved to New Jersey to stay with him.
In New Jersey, the relationship went sour. At a private residence in Brooklyn Center, Mattu explains what went wrong, and how her love crumbled.
"He was not listening to my advice," Mattu said. "It was always like an argument." The man she once loved spent hours on his cell phone without even recognizing her presence in their apartment. David refused to listen to her complains.
"He will be up all night receiving these crazy phone calls," said Mattu. "Sometimes, I have to leave to get some sleep."
Mattu said David suddenly became jealous of her talking to other people. "I don't want a man that is jealous and controlling. I can't stand that," she said. "He doesn't want me to talk to anyone except him."
Mattu became bored. She could not talk to David, who on many occasions was busy on his phone. "I can't ask who is calling him," said Mattu in a sad tone. "And we can't agree on something that can make the relationship work."
David dictated whom she should talk to, and whom she should not. After staying with him for five months in Jersey City, she finally decided to call off the relationship and returned to Minnesota. Besides David's frequent phone calls, and domestic arguments, she said he was becoming violent.
One day a co-worker gave her a ride to buy pizza. When he dropped her at home, David became angry. "He asked who bought me the pizza. We went into a big quarrel."
"He dropped the pizza on the floor and stepped on it," Mattu recalls that evening. "I was hungry. He hit me on my mouth, I bleed, and we fought from the apartment to the hallway." She tried to call the police, but David's cousins seized her cell phone.
For her, it was the basic reason why she left him, fled, and eventually returned to Minnesota. Mattu, like other young immigrant women, is a victim of domestic violence. Many battered immigrant women are not allowed to call the police. Like Mattu, they are too timid to talk about domestic abuse, and what goes on behind their closed doors.
For many African women, it is culturally difficult for them to call the police even when their husbands beat them at home.
"It is justified; according to their culture when a woman is beaten, it is seen that she is been disciplined," said Kenyan Pamella Mochama, director of Wings of Africa, a Minnesota Based HIV/AIDS counseling organization. "A man is allowed to discipline the woman. So that is the culture that was carried by our forefathers." She describes the culture as "backward."
Mochama adds that many women have not been educated enough to know that it is a wrong practice. In some countries, the police, or security system is broken and unable to render quick aid to a woman who has been battered. It is difficult for a woman to know what to do when she is poor, not empowered, and not well educated. Lack of education makes it difficult for some women to seek help.
"It becomes difficult for a woman to know where to go for help," said Mochama. "Poverty puts them down if they depend on this particular person that is beating them."
"Violence against women should be addressed, because it is a practice that is continuing through the 21st century," said Mochama. "Violence against women is an evil that brings women's self-esteem down."
A woman is a very important person in the society, Mochama explains. She sees every woman as a leader in her own way, and believes when a woman is suppressed through violence, "she is not able to actually live to her fullness or to her full potential."
For these reasons, Wings of Africa adds its voice in the campaign domestic violence. "Violence against women is something that should be discouraged totally all over the world," said Mochama. "When women are beaten, for example, they are not able to seek help. They are not able to protect their children when they are not able to protect themselves."
"Violence against women is a very serious problem wherever it has been studied, including Minnesota," said Cheryl Thomas, director of the Women's Human Rights Program at Minnesota Advocates for Human Rights. "Minnesota is not unique in any way."
The Women's Program does not offer direct service to battered women, but works with the legal system to change policies for better response to violence against women. Thomas said Minnesota authorities are very receptive in responding to violence against women as compared to other places in the United States and the world.
"Our laws are very good and our legal system response is better than most," said Thomas, adding that they also have many obstacles in dealing with immigrant women that face domestic violence. Some of the major problems include language barriers, fear of the police, deportation, and shame from their communities. The rights organization is embarking on variety of women's program to address domestic violence in Minnesota and aboard.
"All of them are related to legal and government systems improvement to address violence against women," said Thomas. "To help them better understand what obstacles immigrant women face, and what strategies they can use to better protect their safety."
"Domestic violence is really sad. Because some women go back to their husbands or boyfriends," said Mattu. "No matter how hard they hit them, they still go back." She wonders whether women who return to the men that batter them have low self-esteem in life, personality, appearance, or are afraid of such men.
"For me, I speak about it. It is not supposed to happen to women," said the 25-year-old Minnesota resident. "Some men want you to work for them. If you don't do that, they get mad; they kick, slap, push, and then hit."
"The regret that I have is that: I didn't know him much," said Mattu. "Now I'm so scared of going into a love relationship again."
"I'm taking a break for now," she added. "I'm not going to be involved in anything now."
The AfricaPaper archived  story originally published on  February 01, 2008. (c) The AfricaPaper