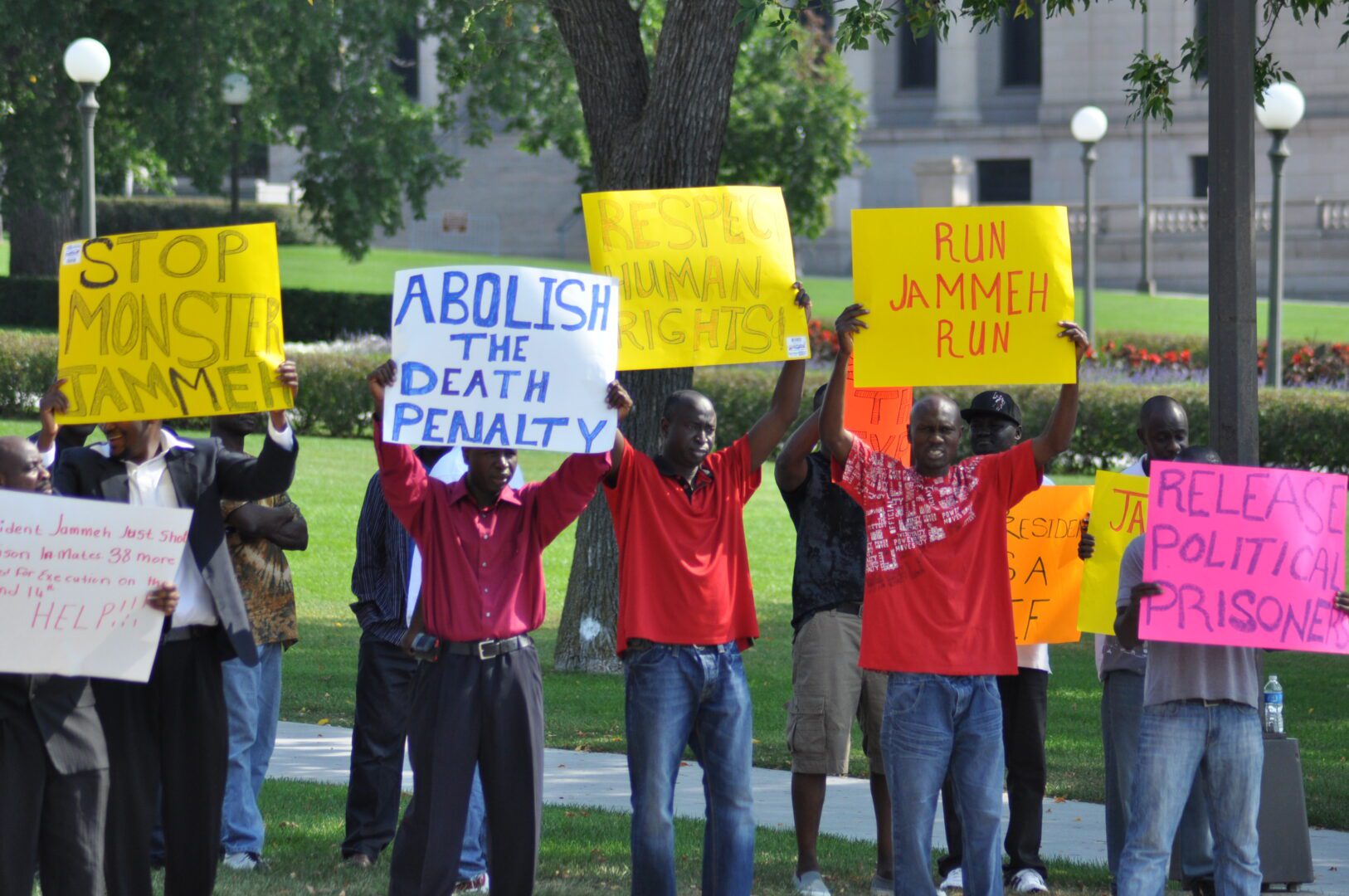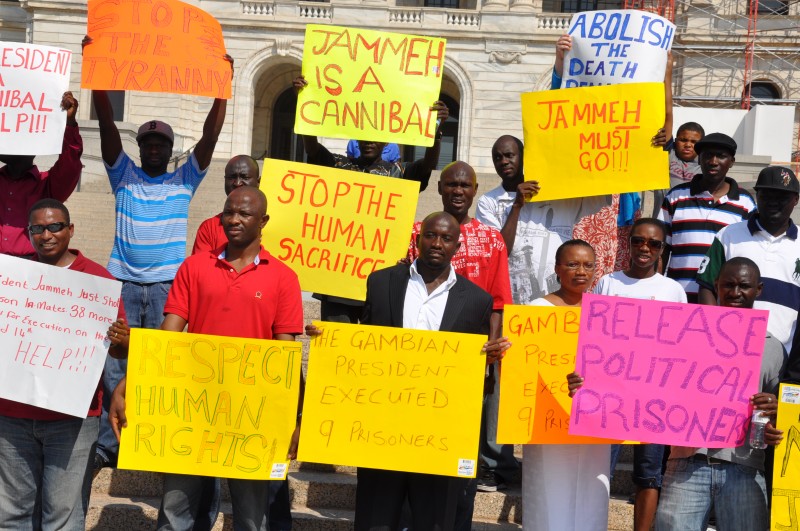 No Justice No Peace
St. Paul, MN – Gambians and Senegalese nationals took to the State Capitol in downtown St. Paul, MN on Monday to protest against President Yahya Jammeh's mass execution in the Gambia.
They shout "No justice, No peace" and "Jammeh is a criminal". Placard slogans read: "Abolish the death Penalty," and "Stop the killing."
As they cry out "We need freedom and peace," their voices mixed with a possible hint of disgust for the Gambian tyrant was audible at the demonstration as vehicles honked by. They want their government to "stop the execution now."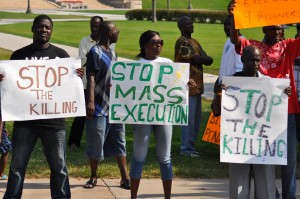 This is in reaction to the Gambian president's execution of nine death row inmates that include a woman and two Senegalese nationals. The demonstrators want Minnesota Senators, House Representatives and the US government to support their cause and pressure Jammeh whose relatives and government officials frequently visit the United States.
"At this time the basic human rights of people, does no longer exist in The Gambia," said Papa Faal one of the organizers and committee member at the St. Paul demonstration. "People are so afraid to say anything against Jammeh without the NIA [National Intelligence Agency] coming to pick you up… and jail you."
The demonstrators want to halt Jammeh from carrying out further execution as he reportedly plans to do on Sept. 8 and 14. Many believe Jammeh is becoming a terrible dictator in a country gripped by fear.
"He is arresting people who have done very minor things … and jailing them for treason. Killing them for no reason," said Faal. "There is no death penalty in our constitution. We are a signatory to the abolition of the death penalty."
Jammeh Must Go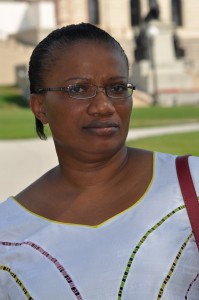 At the demonstration Faal and Fatou Jaw-Manneh, a member of the organizing committee encouraged Gambians to stand up against Jammeh and address the problems in their country.
"The man is too brutal," said Jaw-Manneh. "We are not animals… Jammeh should not decide who should live, die, eat or travel. It is unfair."
Similar to Jaw-Manneh's view, her fellow citizens said the "dictator must to go." They plan to continue mounting pressure on the Gambian president till everyone feels safe to go home anytime they want.
"Only a coward can run away from his own issues. Gambians have to stand up against Yahya Jammeh …every little thing counts," said Faal to the chanting group.
Shock-Waves

Mid-last month, the West Africa nation's leader promised his people that:
"By the middle of next month, all the death sentences of a number of prisoners would have been carried out to the letter," President Jammeh said in a televised speech on August 18. "There is no way my government will allow 99 percent of the population to be held to ransom by criminals."
When the former Sergeant Jammeh first announced during the month of Ramadan that he was going to execute the 47 death row prisoners, Gambians were shocked by his statement. The Civil Society Associations of Gambia (CSAG) condemned his remarks.
"President Jammeh's remarks, Sunday August 18, during a traditional Eid-el-Fitr visit of Muslim religious leaders, has sent shock waves and angst among the families of the death row inmates," stated the GSAG August 22 press release. "President Jammeh's remarks though not new, are shocking, troubling, distressing and do not augur well for the already deteriorating human rights standards of The Gambia,"
After the Ramadan, Jammeh approved the killing of the inmates. Amnesty International said most of them are political prisoners that have faced unfair trial of the past years.
No executions have been carried out in The Gambia since 1987. The death penalty was abolished when ousted president Dawada Jawara was in power but reinstalled in 1995 few months after Jammeh hijacked power in a military coup d'état.
"He has been killing Gambians for a long time," said Jaw-Manneh. "This time, he wants to make it official."
Diplomatic Bungle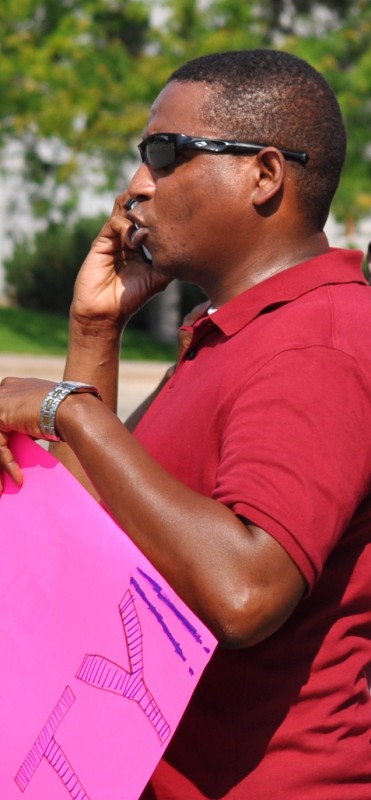 As Jammeh threatens to execute the remaining 38 death row prisoners this month, the Gambia faces isolation from the international community. Many of the inmates have been convicted of treason for allegedly planning a coup against him.
The Minnesota demonstration shows the growing frustration among Gambians and Senegalese nationals as Jammeh continues to entrench himself in power for almost 18 years.
The nine prisoners including a woman and two Senegalese citizens were executed on August 27 as Faal and organizers at the demo noted.
Jammeh's action also prompted a diplomatic outcry from neighboring Senegal. Senegalese President Macky Sall expressed dismay over the killing of his citizens. In a statement, Sall said the Gambia disregarded his government and had not bothered to follow standard diplomatic protocol by informing Senegal of the execution.
"He killed two Senegalese among the nine people executed and never informed Senegal about it," Faal emphasized.
Jemmeh's government also refused to repatriate the bodies of the two Senegalese, reportedly buried in Gambia's Mile-Two Central Prison.
Last year, the UK ceased bilateral aid to the Gambia expressing concern about Jemmeh's human rights record.
The African Union, the Economic Community of West African States has expressed shock after Jammeh executed the nine prisoners. The French and Nigerian governments and human rights organizations also condemn the killing.
Black-Black Boys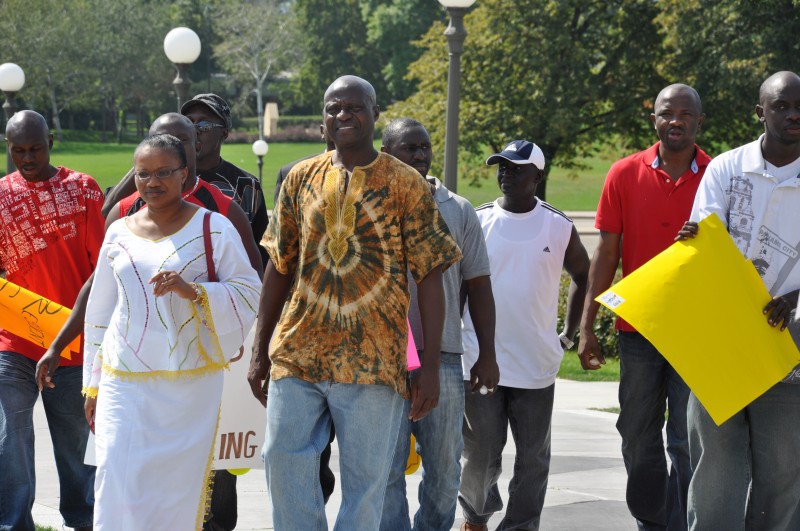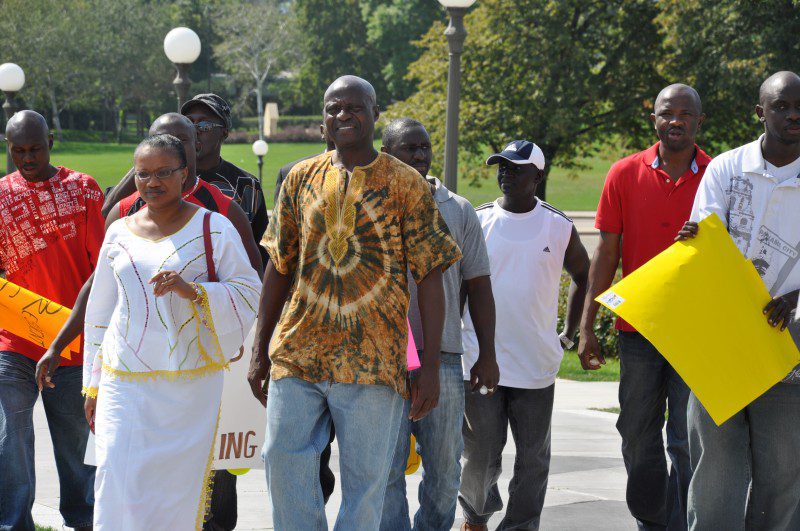 Jemmeh's personal militias, the Black-Black Boys now rival with the Gambian forces. Reportedly, the Black-Black Boys known for their black outfits and gloves began as Jammeh's secret killing-squad, but in recently months become an auxiliary group that threatens even the country's forces.
"Day and night people are disappearing. Their families are crying. They don't see their bodies," observed Faal. "The Black-Black Boys would get a call from Jammeh or his proxies, get drunk and capture who they are supposed to capture and the person disappears."
The Black-Black Boys are said to be mostly foreign trained mercenaries and Gambian thugs that Jammeh depends on to clamp down dissenters and political opponents across the country. Many of the death row inmates are said to be military personnel.
"Yes he has killed many soldiers," says Fatou Jaw-Manneh. "Some are still incarcerated. They are his close colleagues and his targets."
The recent execution ends a 27-year respite on the death penalty in the Gambia, a popular tourist destination fondly known as the 'Smiling Coast of Africa'. For Jammeh's victims, his increasing threat to freedom in the country is nothing to 'smile' about.
Human Rights Violations
Jammeh, described by his critics as a political tyrant in a tiny nation, has long faced international criticism for human rights violations in his country. Under his regime, the number of missing persons has increased and journalists are bombed to death according to the New York based Human Rights Watch, and Committee to Protect Journalist (CPJ).
"Those who accuse me of human rights violations, let me tell you one thing: We have so many people that have been sentenced to death. Nobody has ever been executed. Do you think I'm afraid of executing them? No," Jammeh, 47, told the BBC in a rare interview in November last year.
"So, if I don't execute people that have been condemned to death by law, do you think I want to earn a one-way ticket to hell by killing people that have not been tried by any court of law?"
Last week Tuesday, the US State Department criticized Jammeh's government for "lack of transparency and haste under which these executions were effected and the apparent lack of due process in the proceedings leading to these death sentences."
The Gambia-Big-Man

Gambian President, Alhaji Sheikh Prof. Dr. Yahya Abdul Aziz Jamus Junkung Jammeh as he prepares to be called, seized power in a military coup on July 22, 1994. Since then, he has tightened his grip on his country.
Once a man in military fatigues, Jammeh a former wrestler now loves flowing white gowns and claims to cure AIDS in Gambia. He won his fourth term in power with 72 percent votes in November last year. Observers say it was unfair, and the opposition said he rigged his way to power.
Mr. Jammeh rules his country of about 2 million with endless political intimidation by creating an atmosphere of fear. Earlier this year, former minister of information and communication, Dr. Amadou S. Janneh, was arrested and charged with treason for making and distributing T-shirts bearing the slogan "End to Dictatorship Now."
After winning his fourth election last year, he told his critics to "go to hell" because he only fears "Allah."
"We are not going to be afraid of Yahya Jammeh," said Jaw-Manneh. "He is just one man. It [Gambia] is our home…. Jammeh cannot continue killing Gambians."
At the end of the demonstration, community elder Kawsu Touray prayed for Gambians and their country. TAP
The AfricaPaper is planning a special report on The Gambia.  Please send us any information, documents, photos or sources in Gambia.
The AfricaPaper is published by the Africa Institute for International Reporting (AIIR) a non-profit and non-partisan organization.
SEND ALL INFORMATION AND PHOTOS TO: FOCUS ON THE GAMBIA, EMAIL: info@theafricapaper.com