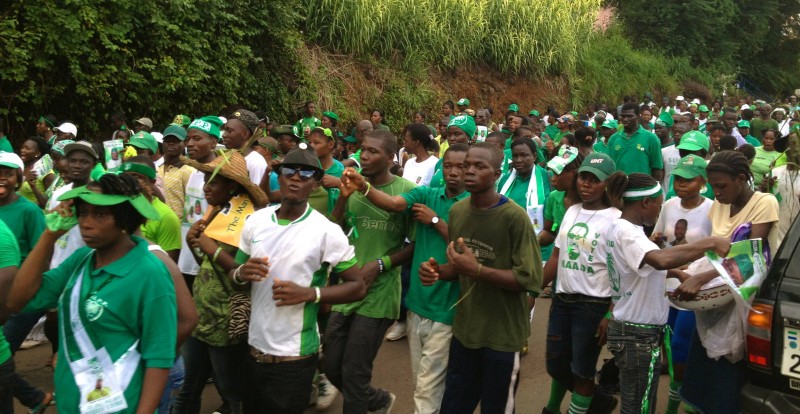 FREETOWN – As Sierra Leoneans wait for Saturday, Nov. 17 election results, early electoral counts position APC ahead in the polls. According to provisional reports coming from the Independent Media Network (IRN) and other news networks in the country, the incumbent President Ernest Bai Koroma is having an unassailable 61.5 percent lead while his party, the All Peoples Congress (APC) has taken 72 of the 112 seats in the House of Parliament.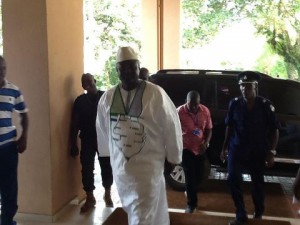 Prediction
Political analysts monitoring the results from different parts of the country predict a first ballot victory for Koroma. But this will not be officially confirmed by the National Electoral Commission (NEC) until the final results have been announced.
Peaceful Election
About 2,600,000 Sierra Leoneans voted in a four tier election on Nov. 17 to elect a new president, parliament and district council members in an election described by international and local observers as credible, peaceful and nonviolent. The National Electoral Commission (NEC) says voter turnout is above 80 percent.
The Long Wait
In an interview with The AfricaPaper shortly after the close of polls on Saturday, Richard Howitt, Chief Observer of the European Union Observer Mission in Sierra Leone said he is very much satisfied with the voting process.  Howitt noted that he saw enthusiasm on the faces of voters who had to trek several miles to the polling stations or waited for several hours under the hot burning sun to cast their votes.
"So far from what we have monitored on voting day, polling is going on peacefully; there is no report of intimidation and violence," said Howitt, who also serves as a member of the European parliament. "There were some delays in few polling stations but NEC was able to remedy the situation and voting goes undisturbed."
High Tensions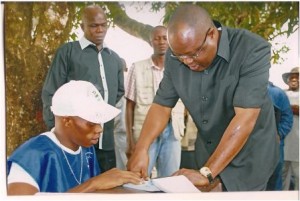 Though some of the political parties are frantic to win votes, NEC is yet to release any official results. The Sierra Leone People's Party (SLPP) has issued a press release alleging that some elections malpractices did took place and urged the NEC Chairperson, Dr. Christina Thorpe  to investigate the Western Area, Northern Province and Kono district. These are areas the SLPP lost with over 80 percent of the votes to the ruling party.
No Run-off
At the APC party National Tally Centre in Freetown, an official reveals that they have captured 72 seats (21 in the Western Area, 39 in the Northern Region, 8 in Kono districts, 2 in Kailahun district and 1 in Moyamba and Kenema districts each). The official claimed that there will be no run-off as their presidential candidate has won 61.5 percent of the votes cast.
"We have been receiving provisional reports from our agents throughout the country. We have completed the collation and have recorded this victory in the first ballot," the official claimed.
Bogus Claims
SLPP Secretary General, Sulaiman Banja Tejan-Sie described the APC claims as bogus.  He also noted that some of the results coming in from the Western Area, Northern Province and Kono district are contestable because according to him, the NEC Chairperson Dr. Thorpe has in her press statement on Sunday acceded to the fact that some irregularities did took place.
"I'm appealing to our supporters to stay calm as we are also collating our results," said Tejan-Sie.  "We will communicate to them as and when deemed necessary. We will inform them also on where we made gains and genuine loss."
APC's Impressive Gain
Meanwhile, with the results trickling in slowly, it appears the two front-runners – the APC's Ernest Bai Koroma and the SLPP's Julius Maada Bio have made huge gains in their respective regional strongholds. However, Koroma has made an impressive gain in the Bio's stronghold of Kailahun, Kenema and Kono which fell to the SLPP in 2007.
SLPP's Zone
Conversely, the SLPP is reported to have won all parliamentary and local council seats in Bo, Bonthe and Pujehun districts; and winning most of the seats in Kenema, Kailahun and Moyamba districts. Musa Tamba Samba, SLPP publicity secretary is reported to have lost his Constituency-03 seat in Kailahun to his APC compatriot.
(c) The AfricaPaper, USA, 2012.