As fuel dealers test President Ernest Bai Koroma's 'Agenda for Prosperity,' the black markets
Pump up prices at will. From Sierra Leone's capital, Freetown, our correspondent reports.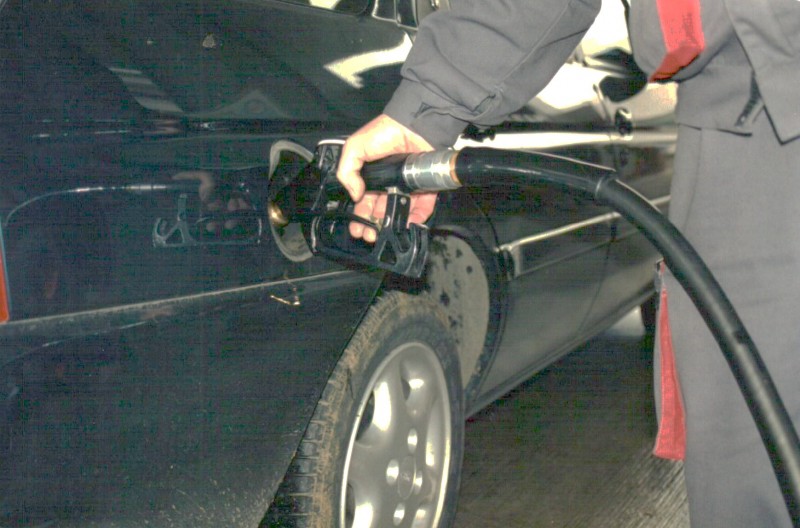 Freetown– The country's imported refined fuel is yet to arrive at the Queen Elizabeth II Quay in Freetown; several petrol dealers are testing President Ernest Bai Koroma's 'Agenda for Prosperity' by refusing to sell the available petrol in their respective stations to vehicle owners.   Many prefer giving it to black-marketers to make more profit.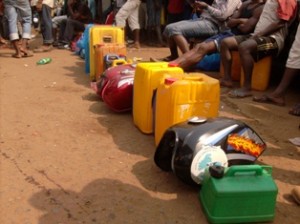 Black Market
"Some of these petrol dealers are not patriotic and therefore prefer profiteering to rendering national service," Theodore Renner-a vehicle owner says yesterday as he struggled to get few liters of fuel for his Benz 190 car. "They are selling the fuel to black marketers and leave us to suffer. The government must do something about it."
Mr. Renner stood on the line for more than five hours at the Kissy Shell filling station but could not get a liter and ended up buying a liter at a black market adjacent to the filling station for Le8,000.00 (about $1.85).
"These black marketers are agents for dealers and therefore have petrol at all times. Government should come down heavily on dealers, who are saboteurs and make black market an offence," Mr. Renner added.
 Longest Fuel Crisis
Sierra Leone has been hit with one of the longest fuel crisis since President Koroma took over in 2007 and this could mean the presidential nominee for the Minister of Trade and Industry, Alhaji Usman Boie Kamara, faces an uphill task to handle this situation once he received the nod from the House of Representatives.
Artificial Shortage
The fuel shortage started two days to Christmas and most people had attributed the shortage to the rise in petrol demand during the festive season but this scenario has continued since then and there seems to be no solution.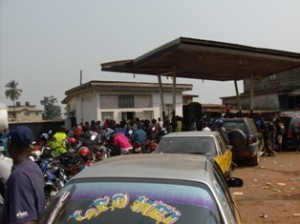 Pump Up Prices
Thousands of people nationwide had to park their cars and join the mad rush for commercial vehicles making it a very interesting and lucrative market for commercial drivers, who can afford to buy petrol at inflated black market price to have a field day. Transport prices doubled and the routes shortened while those who cannot afford the new prices had to trek to and fro their places of work or business on a daily basis.
"People are looking at us with scorn but it is not our fault. The government has to put modalities in place to ensure that the distribution of fuel to this country is prompt," says fuel dealer Mohamed Bah.
Mr. Bah pointed out that ships bringing fuel into Sierra Leone are owned by foreign companies noting that "we need to be paying in advance to ensure that fuel is available at all times."
Delayed and Rationed
Outgoing Minister of Trade and Industry, Dr. Richard Konteh, who is now a presidential nominee for the Chief of Staff position says "fuel is now being rationed in Sierra Leone with half the daily quota being pumped out".
Dr. Konteh explains that there is delay in the arrival of refined fuel to Sierra Leone, which is now being imported from Europe and America because "there is a general shortage of refined oil product in West Africa."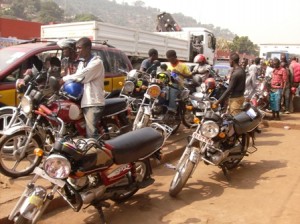 Fuel Promises
The minister had earlier assured that the vessel bringing fuel to Sierra Leone will arrive on Wednesday or Thursday last week, but up till now the situation remains the same.
However, business expert Osman Kamara described the crisis as an artificial scarcity and a ploy by dealers to hike the price at the fuel pump even though fuel oil is yet to increase in the world market.
World Copyright 2013 – The AfricaPaper, USA. All rights reserved. Photos and text may not be published, broadcast, rewritten, redistributed or used in any form without the written permission of The AfricaPaper Media Corporation and AIIR.