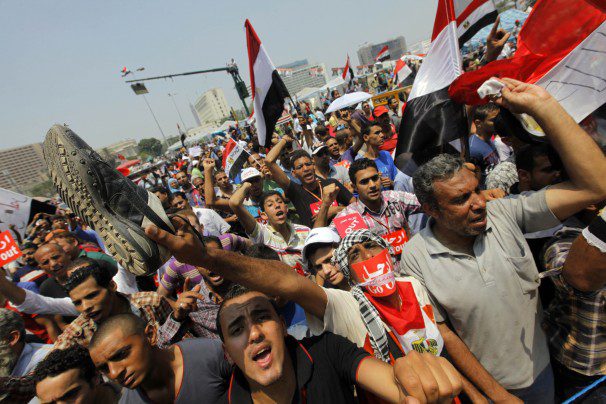 CAIRO — The Egyptian military removed President Mohamed Morsi from power Wednesday and suspended the constitution in moves it said were aimed at resolving the country's debilitating political crisis.
In a televised address to the nation after a meeting with a group of civilian political and religious leaders, the head of the powerful armed forces, Gen. Abdel Fatah al-Sissi, said the chief of Egypt's constitutional court "will assume the presidency" on an interim basis until a new presidential election is held. Sissi said the interim president will have the right to declare laws during the transitional period.
The announcement came as huge crowds of pro- and anti-government protesters massed in the streets of Cairo and the army deployed armored vehicles. In the afternoon, a top adviser to embattled Morsi had declared that a military coup was underway and warned that "considerable bloodshed" could ensue.
"Measures announced by the armed forces' leadership represents a full coup, categorically rejected by all the free men of our nation," Morsi tweeted from his official Twitter account Wednesday night following Sissi's statement.
Liberal opposition leader Mohamed ElBaradei and the heads of Egypt's Coptic church and highest Islamic institution, al-Azhar, also spoke Wednesday night, following Sissi.
"This will be the beginning of a new start for the 25th of January, that the Egyptian people have initiated to regain their freedom and dignity," ElBaradei, who had been selected in recent days by other opposition activists to represent them, said in a short address. He referred to the date in 2011 that the Egyptian revolution against longtime autocrat Hosni Mubarak began.
Until its announcement Wednesday night, the Egyptian military had denied that it was staging it a coup. According to the official Middle East News Agency, top commanders were backing Muslim and Christian religious leaders, youth representatives and the head of a liberal opposition alliance in jointly presenting a "roadmap" for a political transition.
[For the latest updates on Egypt, click here.]
Without mentioning Morsi by name in a heavily anticipated eight-minute speech at 9 p.m. Wednesday night, Sissi said the military had responded to the people's demands in an act of "public service."
"The armed forces have tried in recent months, both directly and indirectly, to contain the internal situation and to foster national reconciliation between the political powers, including the presidency," Sissi said. But those efforts had failed, he said. The president, he added, "responded with negativity in the final minutes."
In a meeting with "religious, political and youth symbols," the military accepted a "roadmap that will achieve a strong Egyptian society that does not alienate any of its children or strains, and ends this division," Sissi said.
The announcement sparked cheers and celebration among Morsi opponents packed into Cairo's Tahrir Square.
But in eastern Cairo, supporters of the Muslim Brotherhood, an entrenched Islamist movement that backs Morsi, erupted in angry chants following Sissi's speech, and stones started flying. The Brotherhood's two main political channels immediately vanished from the airwaves.
Fearing a further security breakdown, the U.S. Embassy in Cairo on Wednesday ordered the mandatory evacuation of all personnel deemed nonessential.
"We will begin departures immediately, with the expectation that all evacuees will have left for the States by this weekend," embassy employees were told in an e-mail obtained by The Washington Post.
Some embassy personnel have left the country voluntarily in recent days. Staffers will no longer have a say on whether they can stay.
Ahead of the announcement of the roadmap, dozens of armored vehicles were deployed at eastern Cairo's Rabaa Adawiya Mosque and outside Cairo University, where hundreds of thousands of Morsi supporters gathered. The president's supporters and opponents waited all day to see whether Egypt's army would take action, as promised, once its deadline for Morsi and his opponents to forge a political agreement had expired.
At Rabaa al-Adawiya, Morsi supporters rallied even as army troops set up roadblocks along a main street leading to the mosque. From a stage before the crowd, Muslim Brotherhood officials told the crowd before the military's announcement that they were calling on all supporters to come out into the streets to join them. One speaker urged the audience to remain peaceful. The army was still with them, he said, and was trying to resist pressure from Morsi's liberal opposition to carry out a coup.
Earlier, Essam al-Haddad, a top presidential aide, declared Egypt's predicament "a military coup." In a post on his office's official Facebook page at 5:30 p.m. Wednesday, he warned that no coup could succeed without bloodshed.
"In this day and age, no military coup can succeed in the face of sizable popular force without considerable bloodshed," Haddad wrote. Hundreds of thousands of people have gathered to support the president and Egypt's pursuit of democracy, the statement continued. "To move them, there will have to be violence." There would be "considerable bloodshed."
"As I write these lines I am fully aware that these may be the last lines I get to post on this page," Haddad wrote. "For the sake of Egypt and for historical accuracy, let's call what is happening by its real name: Military coup."
There were unconfirmed reports, meanwhile, that Morsi and the top leader of the Muslim Brotherhood were being banned from travel.
Two top Brotherhood officials reached by phone on Wednesday dismissed rumors that Morsi and his aides had been put under house arrest or barred from leaving the country. "This is not true. This is all empty talk," said Abdullah Shehata, a prominent Brotherhood member. "Everything is fine."
The military denied Tuesday that it had any intention of launching a coup against Morsi, 61, who took office June 30, 2012, as Egypt's first democratically elected president.
Asked whether Wednesday's events could be considered a coup, an armed forces spokesman said hurriedly shortly before the televised announcement: "No. God willing, no."
At Cairo University, several thousand Morsi supporters milled about as the sun set Wednesday, and armored vehicles packed with troops pulled up alongside the demonstrators. As they watched the troops arrive, many of the president's supporters said they were prepared to fight.
"If the army comes out tonight, or tomorrow, the whole country might turn into another Syria," said Alaa Hossam, a government bureaucrat and Morsi supporter. "It doesn't mean that we will go fight the liberals," he added. "It means we will fight against the army."
Asked whether Morsi is finished, a former member of Egypt's powerful military council, Gen. Mamdouh Abd al-Haq, said, "God willing." In a telephone interview Wednesday night, Abd al-Haq declined to comment on what lies ahead for Egypt. But he said, "It is clear what is happening."
Morsi posted a Facebook message about an hour before the 5 p.m. deadline (11 a.m. Eastern time) calling for a coalition government and an independent committee to propose amendments to the constitution. They were concessions that Morsi's opponents dismissed as nominal — and far too late.
Celebratory cheers, whistles and fireworks erupted from the thousands of flag-waving, anti-government protesters in Tahrir Square shortly after 5 p.m., as the rumors circulated that the military had placed Morsi and his inner circle under house arrest.
News agencies reported that top military commanders summoned civilian political leaders, including prominent Morsi critics, to an emergency meeting Wednesday. ElBaradei, a former diplomat who once headed the International Atomic Energy Agency, was among those who attended, along with Muslim and Christian religious leaders, the agencies said.
An Egyptian military spokesman, Ahmed Mohamed Ali, said Wednesday night that top military commanders had concluded a meeting with "a number of religious, national and youth symbols," and that a statement would be issued shortly.
Gamal Abdel Fatah, the head of Egypt's international media center, denied reports that the military had taken over state media operations at the towering downtown headquarters of Egypt's state television. "The army is protecting the building, but the situation is normal inside the building," Fatah said.
In Washington, the Obama administration continued to insist Wednesday that it was not taking sides in the Egyptian crisis. But a State Department official pointedly criticized Morsi for failing to reach out to Egyptian protesters during his televised address to the nation Tuesday night.
"There was an absence of significant specific steps laid out in President Morsi's speech," State Department spokeswoman Jennifer Psaki said. "We had said that he must do more to be truly responsive and representative to the justified concerns expressed by the Egyptian people. And unfortunately, that was not a part of what he talked about in his speech."
Psaki, responding to reporters' questions about the unrest in Cairo, said the administration could not independently confirm that the Egyptian military was mounting a coup against Morsi, and she declined to criticize the military's move Wednesday to seal off the presidential palace. "We think that all sides need to engage with each other and need to listen to the voices of the Egyptian people," Psaki said.
Among those awaiting the military's statement in Cairo Wednesday afternoon was Mohamed Farouk, a bus driver who stood shoulder to shoulder with other Egyptians in a huge throng at Tahrir Square. "I'm very excited to be here among these crowds as we wait for such a historic moment," he said. "I trust that the army will force [Morsi] to step down, as the deadline has already passed. And I'm very optimistic about the future of Egypt after Morsi."
Ahmed el-Shennawy, an accountant, said, "Not since Adam's time have there been so many people on the street. You see the square is completely full, even in the burning sun." Shennawy said he had voted for Morsi but rapidly lost faith in the Islamist leader as the year wore on and the nation's economy slumped. "He thought he was like a god, but he was never accepted by real, free Egyptians," he said.
"Today: dismissal or resignation" read the bold, red headline in Wednesday's edition of the state-run al-Ahram newspaper. It was the same font and color that the paper used for its historic front page on February 12, 2011, the day after the ouster of longtime autocrat Hosni Mubarak. That headline stated: "The people toppled the regime."
Officials with the Muslim Brotherhood, which backs Morsi, said they refused an invitation Wednesday afternoon to meet with ElBaradei and the Tamarod group, which helped organize the massive demonstrations that spurred the military to say it would act. Instead, top Brotherhood officials took to a stage before thousands of the president's supporters in eastern Cairo, striking angry and defiant tones.
Burnt cars and motorcycles, shards of twisted metal, broken glass and shell casings littered the streets around Cairo University on Wednesday, where supporters and opponents of Morsi had clashed overnight, leaving at least 18 people dead and hundreds injured, according to state television.
"We swear to God that we will sacrifice even our blood for Egypt and its people, to defend them against any terrorist, radical or fool," the army said in a message posted to its Facebook page overnight.
On Wednesday afternoon, Egypt's Interior Ministry posted a Facebook message saying police and state security forces were committed "to the safety of the Egyptian people, side by side with the armed forces."
Morsi delivered a fiery televised speech Tuesday night that made it clear he would not cede power. Waving his hands and shaking his fists, he swore that he was committed to the process that led to the historic elections last year and said that any attempts to subvert the constitution were "unacceptable."
Morsi acknowledged that he had made mistakes during his year in office as Egypt's first democratically elected president. But he appealed to Egyptians to give him more time to deal with the country's problems.
The speech represented a direct challenge to the nation's military and a signal that efforts to mediate the crisis have so far failed. Earlier on Tuesday, Morsi met with his defense minister, Abdel Fatah al-Sissi, in an apparent bid to reach an accord.
Although Sissi was appointed by Morsi, the general's announcement Monday afternoon that he would give the president and his opponents 48 hours to resolve their differences before the military implemented its own "road map" for the country was seen here as a direct threat to Morsi's hold on power.
Morsi's backers in the Islamist Muslim Brotherhood described the statement as a pledge for "a coup" and vowed that they would not go quietly if their president were forced out.
As night fell Tuesday, bursts of automatic gunfire crackled along the Nile as the president's supporters and opponents came to blows in the working-class neighborhood of Kit Kat in central Cairo and near the university, where the president's supporters had gathered.
On Wednesday, the two camps staged rival protests in neighborhoods across the city, awaiting the countdown to the military's deadline.
By afternoon, fewer than 200 Morsi supporters milled about near the main gate of Cairo University, where thousands had gathered the day before. At another gate a few blocks away, opposition protesters gathered to block Islamists from approaching the area.
"They have beards! They have beards! There are beards inside!" shouted one of those anti-government demonstrators, Mohamed Mustafa, as a minibus approached the gate, packed with more than a dozen Brotherhood supporters.
Mustafa, a lawyer, and his friends, rushed the bus and forced the passengers to flee, leaving behind pro-Morsi banners, several gallons of kerosene and cloth sacks of marbles, stones, nails and screws, which the activists concluded would have been used in slingshots.
Seven of Morsi's cabinet ministers have resigned in the past two days, including the foreign minister on Tuesday, according to local news media reports. A governor, a military adviser and the cabinet's spokesman also quit their posts. The ultraconservative Salafist Nour party, which won the second-largest bloc in parliament, distanced itself from Morsi on Tuesday, saying that it supported the protesters' calls for early elections.
Egyptian police officers have said they will no longer protect the president or his Muslim Brotherhood backers, and protesters have pressed in closer to the palace where Morsi is thought to be staying.
The demonstrations that have raged for nearly a week have been tarnished by a wave of sexual assaults and rape, Human Rights Watch reported Wednesday, saying that at least 91 women had been attacked in just four days of protests.
One of the victims required surgery "after being raped with a 'sharp object,'" the rights group said in a statement, citing reports from the Egyptian activist group, Operation Anti-Sexual Harassment. The group runs an emergency hotline and rescue efforts for assault victims in Tahrir Square.
Egypt's government and police force have long neglected what Human Rights Watch calls an "epidemic" of sexual violence in Egypt. Attacks on women, particularly at protests, have been on the rise in recent months.
Analysts say that if Morsi is sidelined — or forced out entirely — his Islamist backers will probably have two options: They either agree to participate in whatever political role the military allows them to occupy, or they go on the offensive.
"Rarely in history do elected presidents leave power without a lot of bloodshed," said Joshua Stacher, an Egypt expert and a political scientist at Kent State University in Ohio. "The Brotherhood is viewing what happened yesterday as an existential threat."
Egypt's Islamists, empowered by Mubarak's fall and the country's young democracy, have no intention of going back to the prisons and the torture chambers that they suffered at the hands of previous military regimes, Stacher said.
"So they're going to fight their way out, because they believe they have an electoral mandate, which they do," he said.
Amro Hassan in Cairo and Ernesto Londono and Joby Warrick in Washington contributed to this report.
The AfricaPaper: Our sincere thanks to The Washington Post's reporters and correspondent in Egypt for this Breaking News.