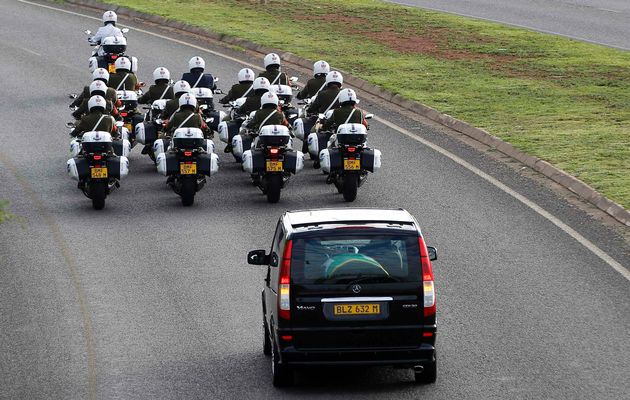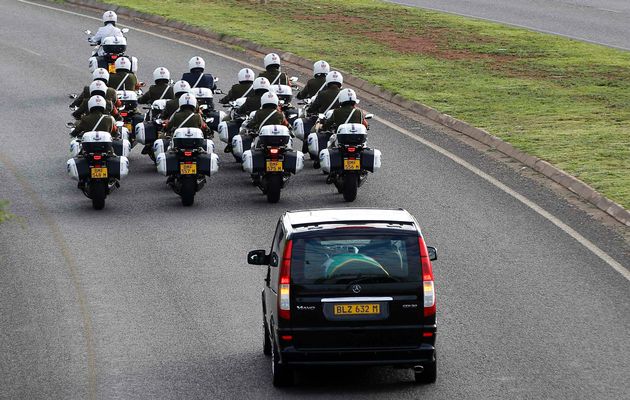 By Issa A. Mansaray and Rudzani Musekwa | The AfricaPaper
Waterkloof, PRETORIA – A visibly emotional Graça Machel, Nelson Mandela's wife for the past 15 years wiped tears as she received the Africa National Congress (ANC) flag which was draped over her late husband's coffin.
Machel repeatedly wiped tears off her eyes with a napkin as she received the three colored famous and neatly folded ANC flag. The final tribute ceremony took place at the Waterproof military base in Pretoria/Tshwane where Mandela's remains will be flown from there to his rural beginnings of Qunu in the Eastern Cape Province where he will be buried on Sunday.
FINAL TRIBUTE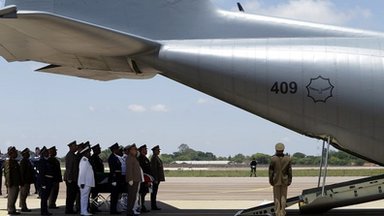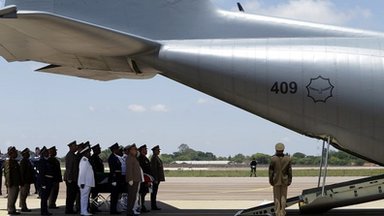 "I use to think that I was a popular kid," said Mandla Mandela, grandson of Nelson Mandela, when he heard people saying "Viva Mandela" at age 9. Now, he knows what they meant he told members at the official ANC ceremony giving his late grandfather a befitting sendoff to his final resting place in Qunu.
For almost one and half hour, the South African Military officially handed over responsibility of late Mandela's body to the ruling ANC in a ceremony in memory of their first leader and to bid the final goodbye .
"We have received condolences all over the world, and in our country as well," said President Jacob Zuma. "…Johannesburg has made him grow to this towering man of a leader."
Mandela's former Robben Island comrades and personal friends Ahmed 'Kathy' Kathrada and Andrew Mlangeni were among the pallbearers who helped carry the coffin of the late world revered leader out, ready to be wheeled onto an awaiting military aircraft.
Though visibly frail and tired, the two took their places alongside the coffin and helped to wheel it out of the hangar. South Africa had never had a funeral of such a magnitude and does not expect one after Mandela.
Earlier on two of Madiba's grand children had thanked the ANC for the ceremony. Ndaba Mandela had dubbed the ANC "the greatest political organization" without which "we would not have known Nelson Mandela."
MANDELA MAN OF ACTION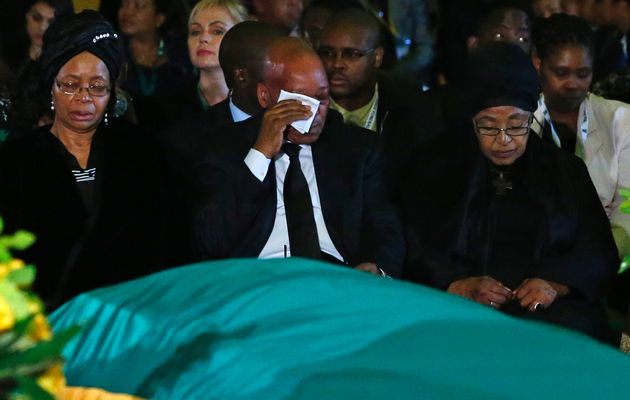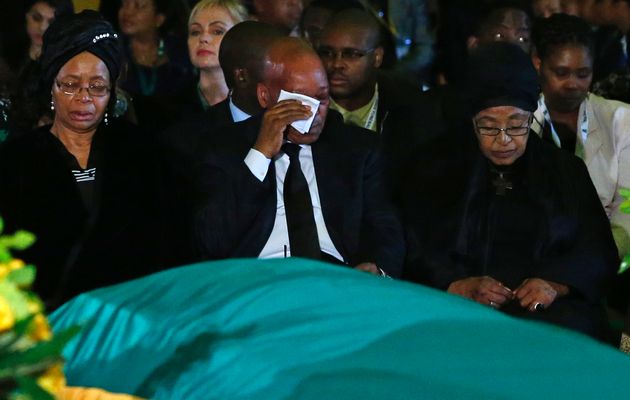 Speaking of Nelson Mandela at the Waterkloof military base President Jacob Zuma described Mandela as "a man of action". Zuma said South Africa's first democratically elected black president was a thinker and a doer in his political life.
"So many things have been said about Madiba because he has done so many things; he has distinguished himself so many times in every way you think of," said Zuma.
Zuma, who was not well received by scores of mourners at the FNB stadium on Tuesday in front of world leaders, further said that Mandela had managed to combine theory and practice, something Zuma admitted was not easy.
At the ANC ceremony, Zuma spoke about the history of the ANC, and thanked all international guests, who have Travelled to South Africa to mourn with the Mandela family and the ANC.
"We would say to Madiba, go well, Tata…" Zuma then roared in solemn songs – as final ANC tribute to Mandela. Members joined him in unison. South African singer Bulelwa Mkutukana, known as Zahara, and poet Mzwakhe Mbuli entertained the people at the ceremony.
Also present at the ceremony were Presidency spokesman and former Robben Islander Mac Maharaj, ANC deputy President Cyril Ramaphosa, SA deputy President Kgalema Motlanthe, Barbara Hogan, Frene Ginwala as well as George Bizos who represented Mandela during the Rivonia treason trial between 1963 and 1964.
After three days in state, the ANC flag was placed over Mandela's coffin for few hours, before handing the body to the military for the flight home. In the flight, three of late Mandela's prison inmates and old colleagues to accompany his body to the quite hills of Qunu.
FINAL FLIGHT


The C-130 Hercules took off at about 11.58 a.m. local time flown from Waterkloof Military Airbase to Mthatha Airport is Eastern Cape.
Mandela died peacefully at his Houghton house in Johannesburg on Thursday night at around 8:50 p.m. local time. He was 95 and had been in and out of hospital until a home based medical care was sought by government and administered by the military.
The AfricaPaper: Issa A. Mansaray reported from Minnesota and Rudzani Musekwa reported from Waterkloof Military Airbase in Pretoria. Copyright The AfricaPaper, 2013, USA.