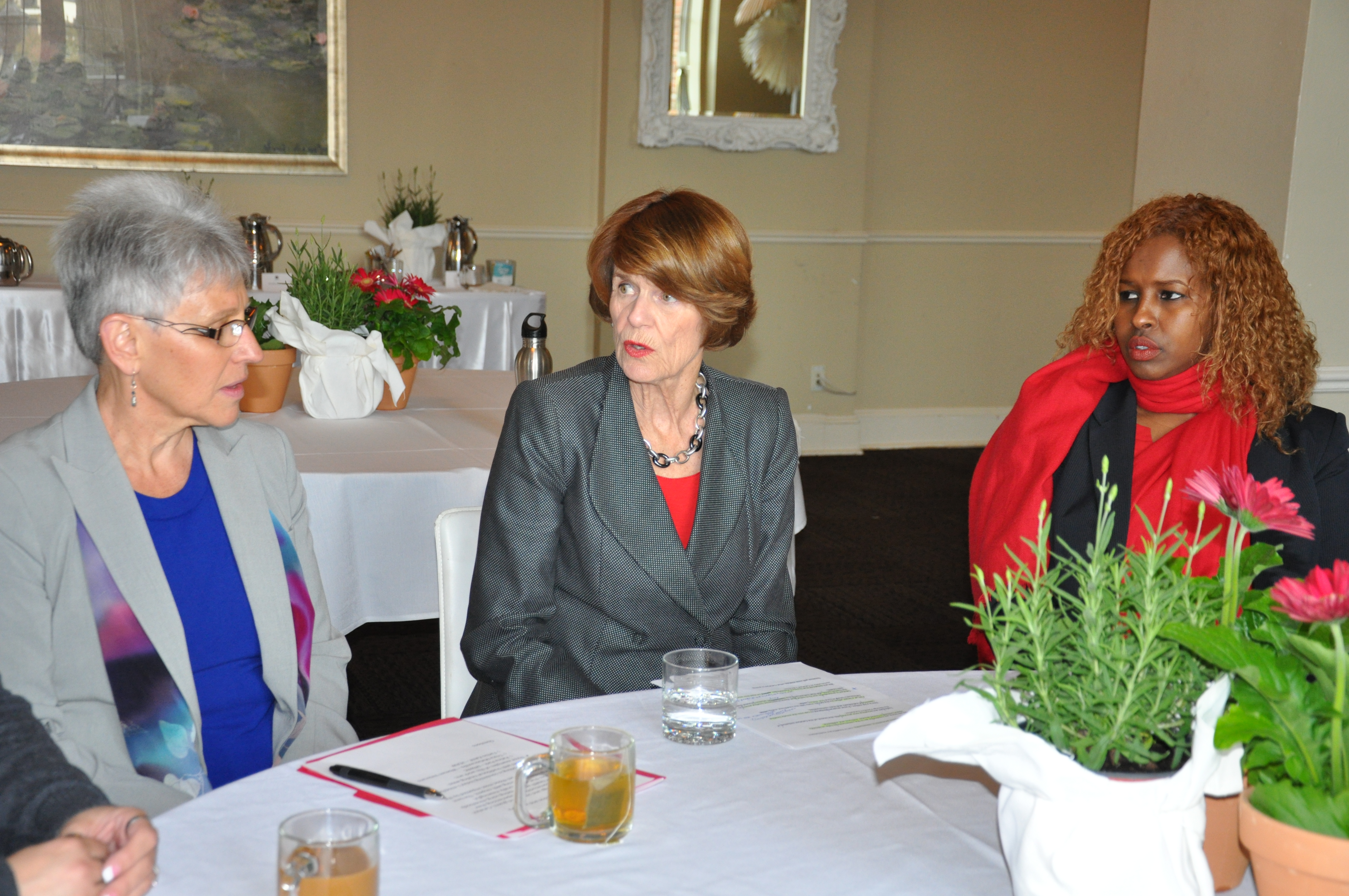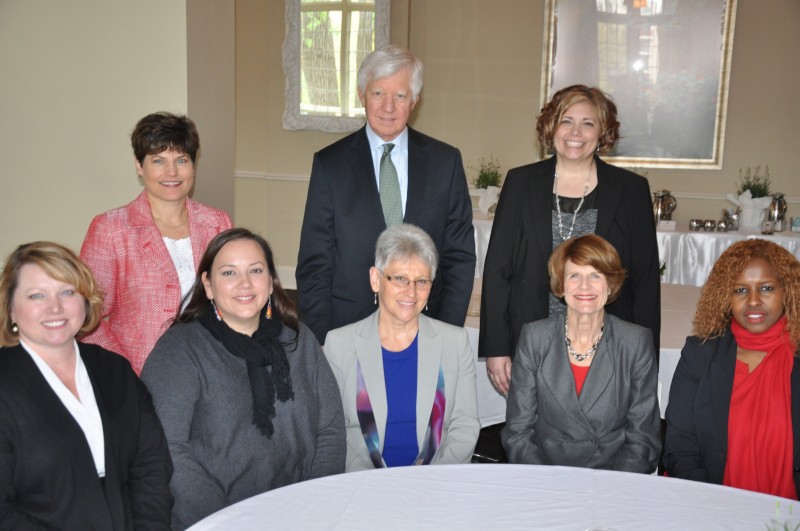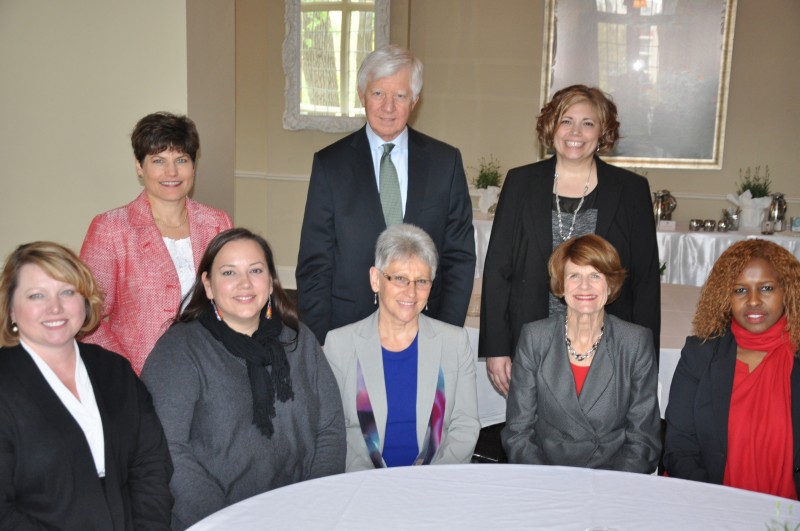 By Issa Mansaray and James Fasuekoi

|

The AfricaPaper
Minneapolis, Minn – The George Family Foundation on Tuesday, launched a new Catalyst Initiative (CI) project in Minneapolis, Minn. It is designed to tackle mind-body wellness practices for all Minnesotans in a new way perhaps, never seen before. Catalyst tries to connect all communities together.
Larger Effort
"The new project is part of a larger effort by the George Family Foundation to make Minnesota the healthiest state and to transform healthcare delivery," said, Board Chair, Penny George, as she briefed journalists during the opening session at the Calhoun Beach Club, Dean Parkway.
The foundation's newest project is worth $3 million and the program is designed for a 3-year period to help support community based health and traditional healing practices, "using mind-body approaches that are culturally meaningful."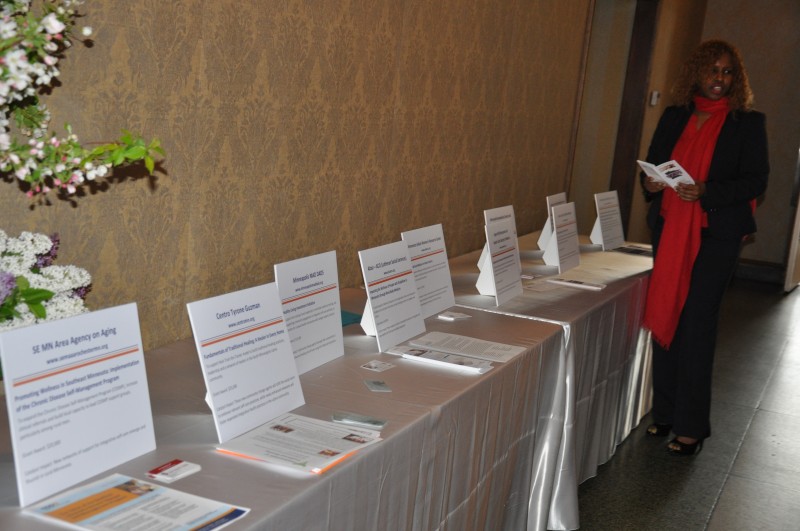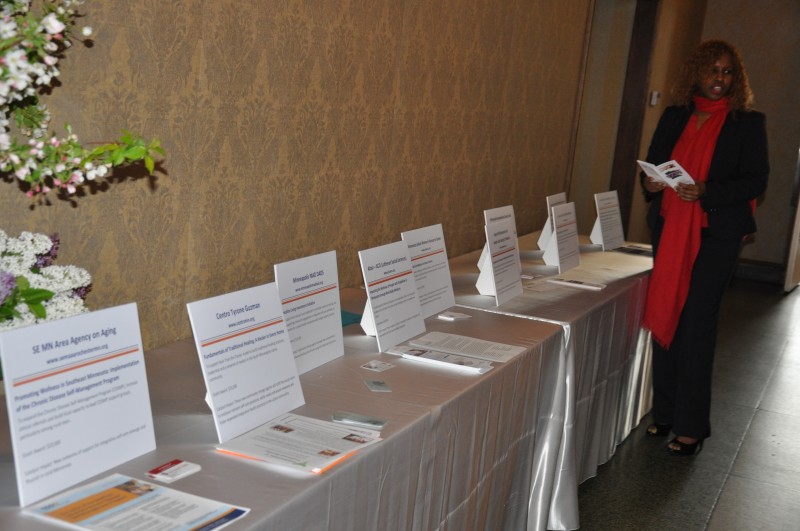 Twelve community-based organizations that are involved with training of leadership in mind-body, spirit transformation, have benefited in receiving seed grants ranging from $15,000 to $25,000.00. The Minnesota Indian Women's Resource Center (MIWRC), Women Veterans Initiative (WVI) and the Voice of East African Women (VEAW) are the latest beneficiaries.
Grass-root Level
Executives of the GFF and CI also indicated that the new initiative will approach the subject line from a grass root level by reaching out into neighborhoods, engaging and encouraging the participation of leaders from diverse social, cultural and religious spheres in their drive to create a healthy community.
Accordingly, the goal of the foundation is to transform healthcare delivery and community wellbeing from an institutionalized method as was in the past to the grassroots level. In other words, its aim is to combine conventional and alternative approaches in a coordinated manner for maximum community benefits. In all, this approach places emphasis on preventing illness, extend lifespan, and not "emphasizing treating diseases."
For Suzanne Koepplinger, director for the Catalyst Initiative, the goal isn't about going into communities and "telling anyone what they need." Rather, she says, "We are all about listening to what they need, and helping them get there – often through only small seed grants."
Mind, Body and Spirit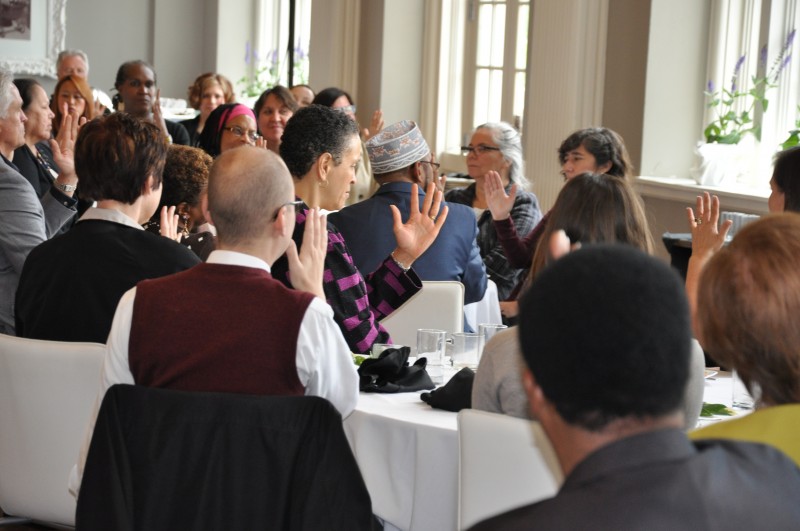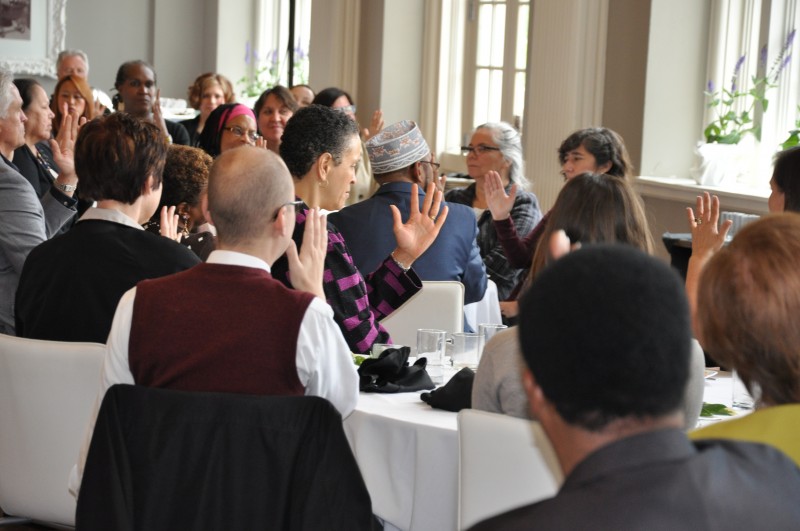 Tuesday's ceremony was colorful and the first of its kind for many, in place of the usual traditional presentation style whereby the audience will sit and only listen to various speakers. Instead, every attendee became a presenter-participant and by the time the program was about to end, each at least had an idea of the meaning of mind, body and spirit.
The occasion brought together a record crowd that comprised of mostly community leaders, health professionals, social groups, humanitarian and cultural foundations; with each making presentations in special prayerful ways relating to the mind-body wellbeing while the gathering recited.
Linda Eagle, a Native American-Indian, demonstrated how people from her background perform healing through mind-body-spirit exercises. Members of the audience followed Linda's demonstrations which centered on deep meditation.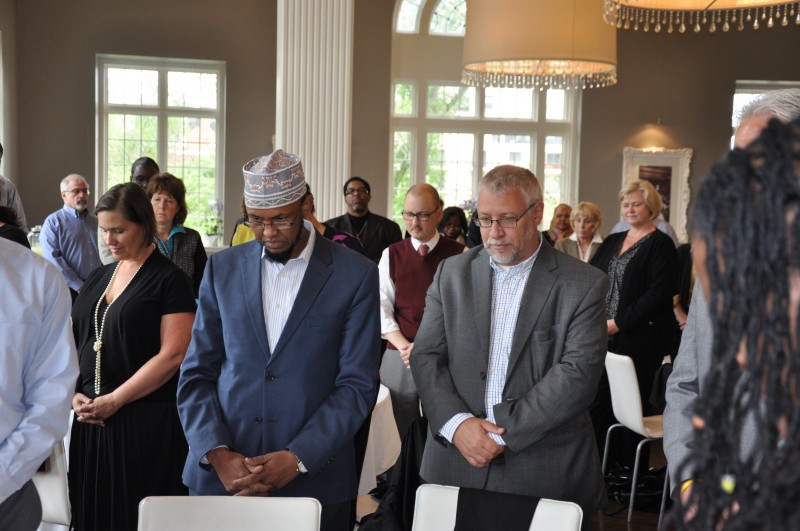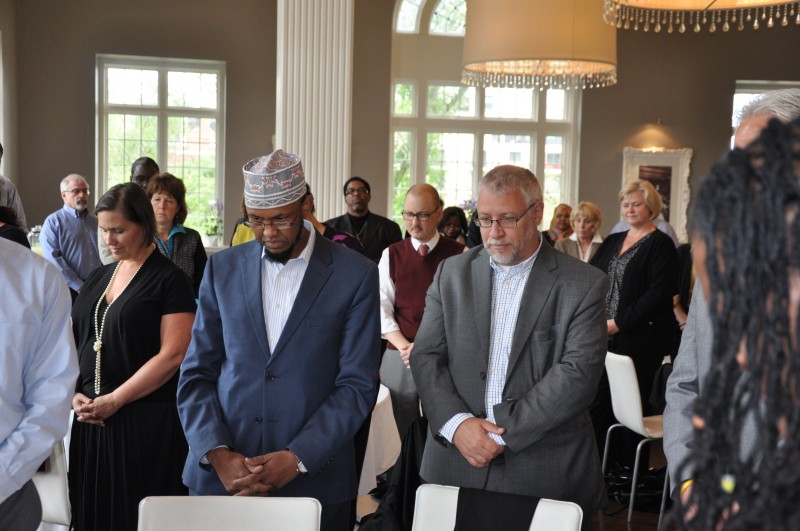 Imam Sharif Mohamed, leader of Dar Al-Hijrah Mosque and the Islamic Civil Society in Minneapolis, Minn., also offered meditative prayers in Islam in relation to mind-body wellness. The Somali Islamic leader began his presentation by requesting everyone to say something positive about the person standing next to him.
The presentation by Rev. Alika P. Galloway, pastor of Kwanzaa Community Church in North Minneapolis, partly touched the works of Jesus Christ of Nazareth, who she described as a great healer who preached peace and healed multitude of people. She cited the woman with the "blood" issue in the Holy Bible (Luke 8:44), as one of those healed by the Messiah.
Rev. Galloway maintained what makes the human family unique isn't so much because of "our joys and happiness but it is our pains that make us one human family."
A presenter from the Asian community spoke of the essence of maintaining a positive mind when it comes to the integration of the mind, body and spiritual wellbeing of people.
He further demonstrated a few mind-body techniques, otherwise known as Tai Chi within Asian-Japanese communities around the world. Tai Chi is an Asian traditional healing method that involves high-level of meditation by an individual for wellness and other purposes.
Human Touch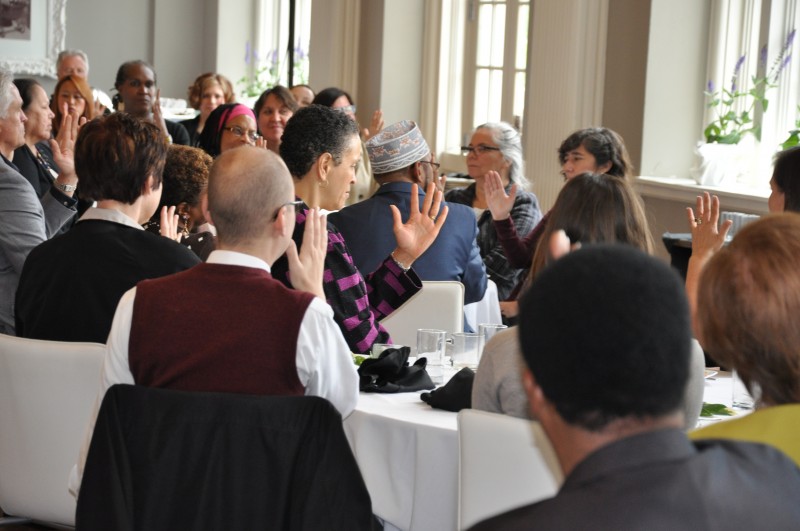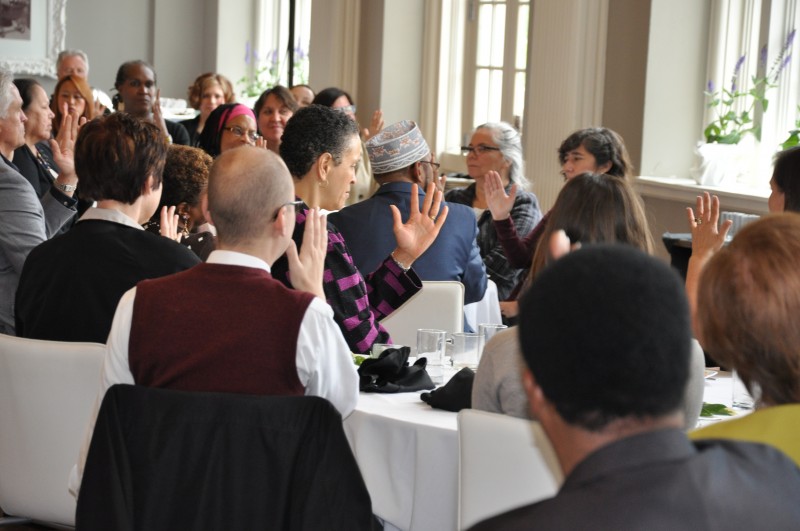 Speaking for her group, Farhio Khalif, whose organization, the Voice of East African Women, happens to be one of George Family Foundation beneficiaries, praises executives of the both GFF and CI for their efforts and stressed the need for the practice of traditional healing alongside western medicines.
Khalif explained that "human touch" is very important in the healing process for people from her Somali cultural background. She said touch itself, can go a long way in helping people get well from their ailment but regrettably, she point out, they now find themselves in a new culture where a doctor would come and spend only 15 minutes with a patient in the room without giving the individual a touch.
The Somali women's advocate who once owned a locally based traditional health-healing firm similar to the practice of mind-body and spirit wellbeing, offered immerse thanks to the George Family Foundation for undertaking such meaningful projects.
"The partnership we have with the George Family Foundation will really create healing in my community," said Patina Park, Executive Director of Minnesota Indian Women's Resource Center. "There is multi-generational trauma that we've experienced, and there has been a lot of efforts to help us, without really asking us what we needed. And the George Family Catalyst is very deliberately  asking us what we need."
Innate Wisdom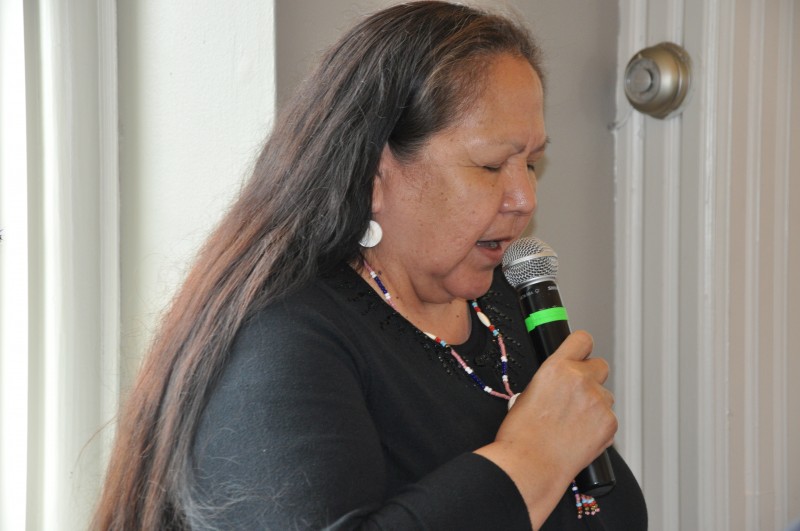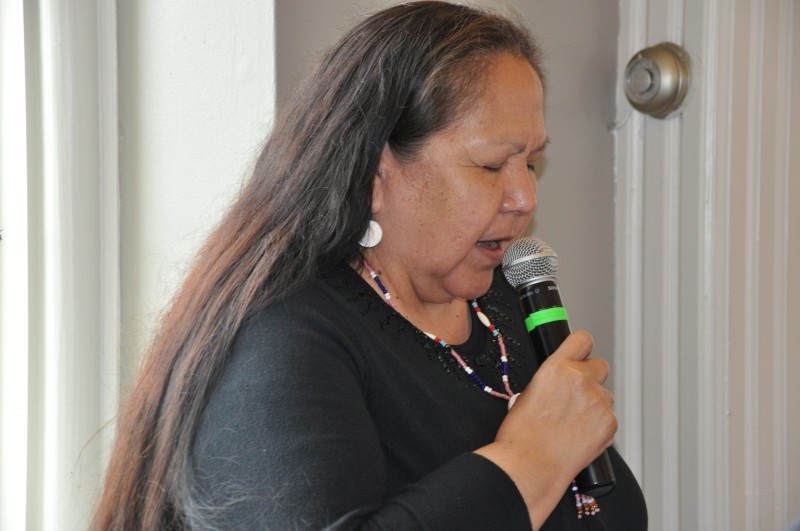 During the start of the program, a minute of quietude was observed as part of the traditions of mind, body and spirit wellbeing. The exercise enabled members of the mass media and other invitees to experience firsthand what the entire presentation of mind-body wellness was about.
In the past, it has been observed that people who practiced traditional medicines and healing in Africa, Asia, and other parts of the world, lived far longer compared to present generations.
However, with the advent of new sterling progress in both medicines and technology in the last decades, it has become baffling that human's hopes and expectation of living longer have continued to diminish with the presence of stressed like symptoms that often lead to numerous diseases, among them, cancer which has become a leading killer.
But, whatever the situation, the following statement by founder Penny George that "Catalyst is grounded in our firm belief in the power of the human spirit and in the individual's innate wisdom about his or her own health," indeed, leaves everyone with hope that all isn't at all lost. TAP