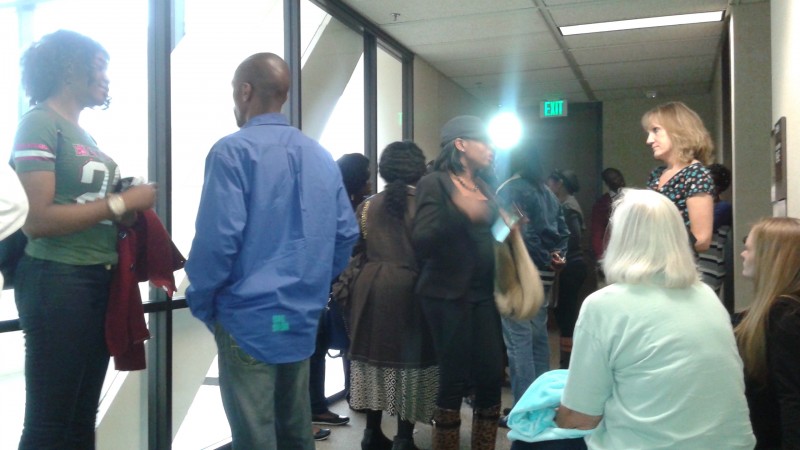 By Issa Mansaray and James Fasuekoi

|

The AfricaPaper
Minneapolis, Minn – Pierre Barlee Collins, 33 accused of killing his 10-year old son Barway Edwin Collins, appeared before presiding Judge Tanya M.  Bransford at the Hennepin County Court on Thursday afternoon. Collins, in a brown undershirt, and an orange jumpsuit, entered the courtroom flanked by two wardens as he made his way and sat between his two public defenders.
Case Documents
Assistant State Public Defender Shawn Webb said they received Collins' case documents mid last week on Tuesday, and still have to go through them. The documents reportedly contained in a 67 GB hard drive include soft photos, surveillance videos, cell phone records, emails and evidence related to Collins' murder case. Greg Scanlan, lead attorney for Collins, told reporters that "it is everything law enforcement has compiled." The defense team is expecting more evidence from law enforcement agencies next week.
Two Motions
Scanlan, tendered two motions. First he requested for more time from Judge Bransford in order to study the documents received on Tuesday last week.
He also requested that authorities cease direct contact and communication with Collins about his case without legal representation, and not to discuss his case outside court. Assistant Hennepin County Attorney Amy Sweasy agreed to both motions.
Judge Bransford granted the delay for the pretrial hearing set for July 7. The court couldn't hold the number of people that showed up for the hearing.
Court Dynamics
Though there were few more empty chairs in the courtroom, Yamah, Collins' wife was the only one in the audience standing. She stepped out for few minutes as Collins marched into the courtroom. She stood silently throughout the brief ten-minute hearing; with hands folded, she darted her eyes across the courtroom, then glanced toward Collins.
The atmosphere was quiet. Pierre Collins entered without looking at anyone directly inside the courtroom. He briefly responded to Scanlan's murmuring, and sat down listening quietly to the court proceedings.
Few steps behind Collins, sat Louise Karluah, mother of late Barway Edwin Collins. When Collins entered the courtroom, Karluah looked up, shook her head and burst into tears. Throughout the ten-minutes court deliberation, Karluah stared afar. It seems this was the first time seeing Collins seated between Webb and Scanlan from a stepping distance in front of her, since many years ago from West Africa.
Hallway Protest
Many people present stood outside the court hallway. Protesters from the Liberian Community display placards reading "Justice for Barway." Yamah left, before her husband was taken to the Hennepin County Jail.
Barway Collins's disappeared on March 18, this year and was later found dead along the Mississippi River. About three weeks later, Collins who still denies that he has nothing to do with his son's death was arrested and charged with second-degree murder.
The case heavily relied on his cell phone tracking of his whereabouts on the day Barway disappeared.  The case has also attracted both national and international attention. TAP