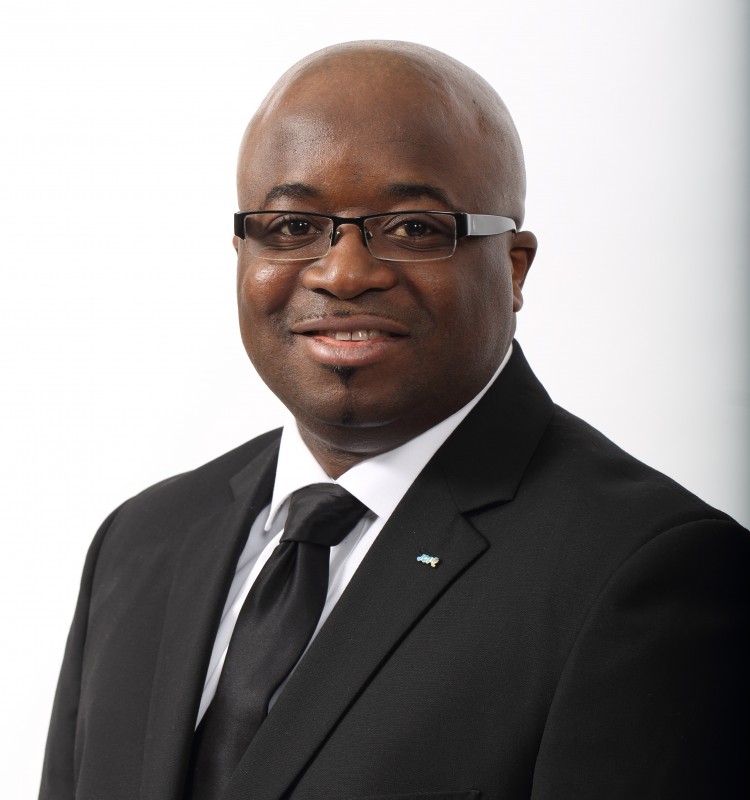 By Alie Badara Sheriff

|

The AfricaPaper
St. Louis, MO – Arrey Obenson had a vision to have a positive impact on the world, but had no idea how he was going to accomplish this task. That all changed when he attended his first Junior Chamber International (JCI) event in his native Cameroon. He became a staunch supporter of the organization's mission to empower young people and soon enrolled as a volunteer. After years of participation, Obenson gave up his once illustrious career as a lawyer to work with JCI's local chapter.
"I believed then and still do now that civil society has monumental role to play in societal development," Obenson said two months after becoming JCI's Secretary General. "I thought having the opportunity to engage especially young people to become actors of their own destinies rather than spectators was the best work in life."
Appointment
Junior Chamber International President Ismail Haznedar announced Obenson's appointment in June following his confirmation by the organization's international General Assembly. The appointment made Obenson the 22nd secretary general of the 100-year-old organization founded in St. Louis in 1915. He is also the first African of non-European descent to assume this role.
Junior Chamber International is a global community service organization of nearly 200,000 young people 18-40 year-olds in more than 120 countries. Notable past members include US presidents Bill Clinton, John F. Kennedy, vice president Al Gore, and former UN Secretary General Kofi Annan.
Prior to joining JCI's headquarters in Missouri, Obenson served as acting secretary general, and later deputy secretary general, a position he held since relocating to the US in 2002. As secretary general, Obenson oversees the day-to-day operations of the international organization while maintaining relationships with stakeholders internally and externally.
Leadership
A long-time member, Obenson, 44, joined JCI in 1995 as a founding member of the organization's Limbe Atlantic in Cameroon, where he held several leadership roles.
With his new role, Obenson said he will continue to use forward-thinking concepts to further JCI's mission and help the organization continue to unite all sectors of society and to create sustainable impact.
"I have one goal in life, to leave everything I do better than I met it," Obenson said. " I seek to add value, to make life better. I want to change the world in way that are not imaginable."
Challenges
But with dwindling membership enrollment in several parts of Africa, a spate of civil war, diseases, the rise of ethno-religious conflicts and the devastating human and material losses in recent years, Obenson was quick to acknowledge the challenges at hand. He said Africa needs JCI, emphasizing that the continent needs to build a civil society that engages the middle class.
"The absence of the middle class in development in Africa is what holds back the continent," Obenson said.  "JCI is an organization that engages cadres, teachers, doctors, lawyers, accountants, geologists, architects, business owners, employers and employees."
He added that JCI has been able to transform countries like the United States, Germany and Japan by engaging the middle class to participate in the development of their countries.
Mobilize
"If we could mobilize 700 million young people across Africa to be active in their communities, the story will be different," Obenson said.
As JCI celebrates its 100 years anniversary this week in St. Louis, Obenson and his organization hope to elevate the discussion on social equality. He hopes speakers from diverse backgrounds would help deliver the organization's message around the theme "The Search for Human Dignity in the 21st Century."
Even with powerful names and speakers at the occasion Obenson said his biggest challenge has been lack of communication and the ability to disseminate JCI's robust contributions and activities around the world.
Communication
"Communications is such a big challenge," he said. "I believe we have accomplished so much and have the ability to accomplish more. Our story however needs to be told."
Obenson, however, was proud to point out a stark of example of JCI's empowerment initiatives around the world. One such activities he said occurred among a small community in Botswana using the organization's Active Citizen Framework (ACF) to build a $140,000 daycare center that supports nearly 100 children and their families.
While the center provides employment opportunities, it also empowers women who otherwise won't be able to participate in the labor market because they often would have to stay at home to raise their children.
Transform
A graduate of Washington University in St. Louis, Obenson said his biggest accomplishment since joining JCI has been the opportunity to transform the organization from one that focuses internally, catering to its members to one that is anchored in its mission.
"We have given the organization a sense of purpose that has brought renewed energy…," Obenson said. "We are at a tipping point now where I believe we are going to build an organization of global repute. Time will tell."
The AfricaPaper

:

Alie B. Sheriff is The AfricaPaper's Politics and Business Editor.