By Alie B. Sheriff

 |

The AfricaPaper
United Nations, New York – Pope Francis yesterday drew thousands of adoring crowds in New York, many waiting hours at various venues within the city hoping to catch a glimpse at the most intriguing moral leader. From the United Nations headquarters, where he addressed a conclave of world leaders to a school in East Harlem, a multi-religious service at the National September 11 Memorial, a Mass at Madison Square Garden, to an evening prayer at St. Patrick's Cathedral, the pontiff concluded his tour in the city that never sleeps, the epicenter of global finance and capitalism.
Message
Pope Francis used the global financial capital to continue his message of political inclusion, concerns for the plights of refugees, the poor, the oppressed, and protection of the environment. He emphasized the poor handling of natural resource is "a result of selfish and boundless thirst for power and material prosperity."
"Our world demands of all government leaders a will which is effective, practical and constant, concrete steps and immediate measures for preserving and improving the natural environment," Pope Francis said as he addressed world leaders at the United Nations headquarters in New York.
Inclusion
Pope Francis urged the bureaucratic organization to put "an end as quickly as possible to the phenomenon of social and economic inclusion, with its baneful consequences: human trafficking, the marketing of human organs and tissues, the sexual exploitation of boys and girls, slave labour, including prostitution, the drug and weapon trade, terrorism and international organized crime."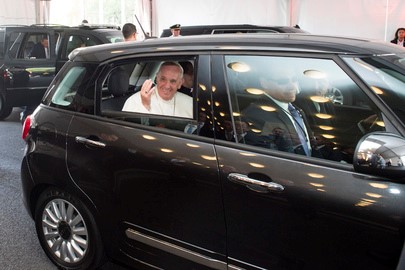 The pope reminded his UN audience of the division that exists between the powerful and the weak, the rich and the poor. The comment drew loud applause, creating a popular scene each time he referenced one of his signature messages since his arrival to the United States for a three-city, six-day tour.
The 78-year-old Argentine native praised the global organization on its efforts to resolve conflicts, fighting poverty, climate change, and its stance on human rights issues.
Bless
Before addressing the UN General Assembly, only the fifth pope to do so, Pope Francis was greeted by Secretary General Ban Ki-moon, who led him to the lobby of the organization's headquarters, where an enthusiastic UN staffers awaited his arrival. Just as his predecessors, the pope was presented flowers. He later signed the visitor's book and thanked the more than 300 UN workers in the lobby area.
"I bless each one of you from my heart. I will pray for you and your family and ask each one of you to pray for me," Pope Francis told the UN employees before proceeding inside the conference hall, where he was greeted by a sea of world leaders and observers shortly before his historic address to attendee at the United Nation's 70th anniversary of the general assembly.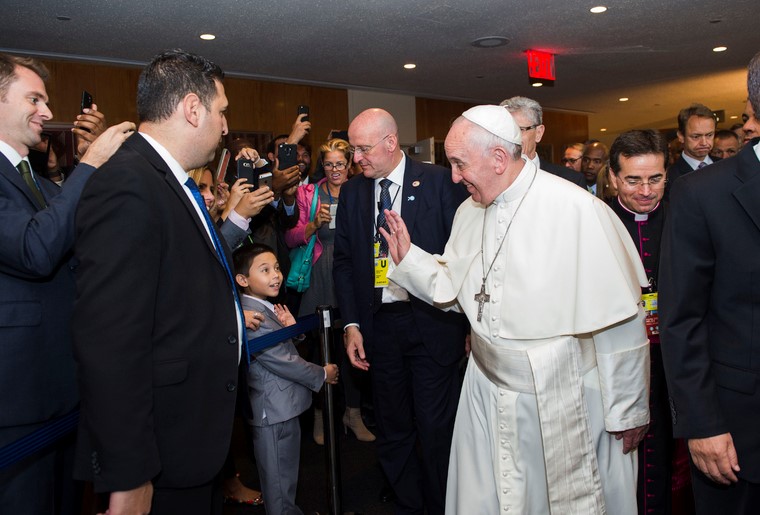 Amidst criticism of his liberal views on economic equality, climate change, the poor, and the plight of immigrants, the first Jesuit pope and first from South America, added another significant chapter to the papacy, when he addressed a joint session of US Congress three days ago in Washington DC, only the first pontiff to address US lawmakers.
Compassion
At the nation's capital, Pope Francis warned US lawmakers of the threats posed by climate change. He also urged them to have compassion for immigrants, refugees, adding that they must all work toward peace and "respond in a way which is always humane, just and fraternal," a common theme since his visit to the world's most powerful nation.
"We must not be taken aback by their numbers, but rather view them as persons, seeing their faces and listening to their stories, trying to respond as best as we can to their situation," Pope Francis told his Washington, DC audience.
Membership
Pope Francis' visit came at a difficult time for the Catholic Church in the United States as it struggled with dwindling membership, drop in the number of priests, and mounting financial problems. Just this summer, Catholic representatives closed down  dozens of churches as part of its reorganization plans. Whether the Pope's visit will turn things around for its more than 1.2 billion followers has yet to be seen. One thing is certain: He is well loved. His favorable rating has gone up since this visit.  Most Catholics believe the pope is sending the right message.
"He's a great leader," said Maria Sanchez, a Miami, Fla, native, one of several visitors to New York City during the pope's visit. Maria said she and her husband, Luis Sanchez, began saving for their trip to the big apple as soon as they heard of the papal visit. They have followed the pope since he arrived in the United States from Cuba. "We are just glad to be part of history," Sanchez said. The occasion in New York also marked the couple's five years anniversary, according to Luis Sanchez.
Mass
At New York's Central Park, Pope Francis mingled with jubilant crowd of nearly 80,000 people, hugging and shaking hands, at times putting him at security risk. On one occasion, security forces forcefully removed a fan's hands off the pope as he walked through the crowd.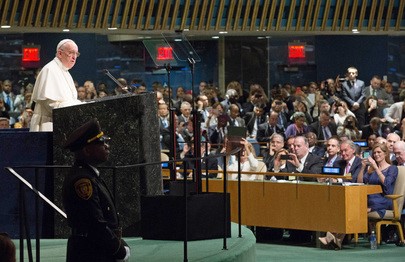 At Madison Square Gardens, Pope Francis held a rousing mass with an estimated 18,000 people in attendance. At the famous midtown arena, he reminded the group of God's "great light" before reiterating his constant theme of caring for the poor and the most vulnerable.
At the National September 11 Memorial, one of several planned events, Pope Francis met and prayed with families of those killed on Sept., 11, 2001. These families were at the same venue two weeks ago in observance of the 14th year anniversary since the dreadful event that left about 3,000 people dead.
Hopes & Dreams
To further drive home his message of hope and dream, the Pope movingly reminded children at Our Lady of Queen of Angel's School, mostly minority, encouraging them to have big dreams and be able to fight for them.
"It is beautiful to have dreams," Pope Francis said.
The Pope, who is in Philadelphia today will complete his US tour. He is expected to attend the World's Meeting of Families and other planned events around the city.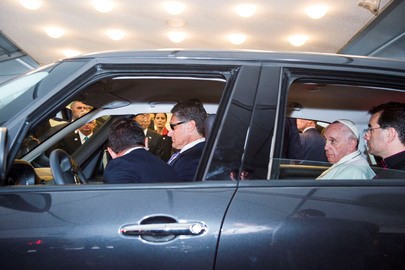 "This is such a great atmosphere," said Beaunard Meyer, a South African tourist who is in the US on a 14-day vacation. "I hope the world is watching. It is good that Pope Francis' message is delivered at a time when most of the world's powerful people are here. The world needs to hear more of these types of messages. Well done Pope Francis!" |TAP| Africa's Newspaper of Record.
The AfricaPaper: Alie B. Sheriff is The AfricaPaper's Political and Business Editor.