By Benjamin Parkin

|

The AfricaPaper

Harlem, New York – Sister Patricia Marie Williams grins as she recounts her favorite biblical stories, from the Prodigal Son to Adam and Eve. Soft sunlight spills into the room, sparsely decorated with a portrait of Pope Francis and a cross.On Saturday, Sister Patricia celebrates 70 years as a member of the Franciscan Handmaids of Mary, an order of black nuns based in Harlem. The Handmaids, too, are approaching an important milestone: their 100th anniversary.
Uncertain
But the order's future is uncertain. Once numbering as many as 80 sisters, by last year their numbers had dwindled to 14, with an average age of 81. Only three nuns now live in the four-floor Harlem convent on West 124th Street, its dark second story entirely unoccupied.
"If we don't get more members, we will die," says 90-year-old Sister Patricia, who came to Harlem from St. Croix, Virgin Islands, in 1945.
Across the country, female religious orders have experienced a "severe decline," reports Mary L. Gautier, a senior research associate at Georgetown University's Center for Applied Research in the Apostolate. A recent study she co-authored showed a 73 percent drop, from a peak of over 181,000 sisters in 1965 to less than 50,000 last year. Eight percent of United States nuns are African American or black, the Handmaids being one of three remaining black female orders.
"With a lack of personnel, advanced age, decreasing health and decreasing numbers, what should we do?" says Sister Gertrude Lilly, the Handmaids' congregation minister.
 Handmaids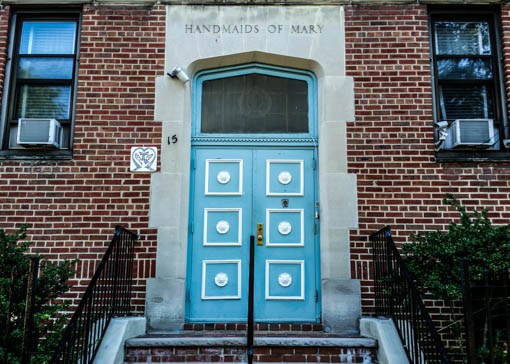 The Handmaids were founded in segregated Savannah, Georgia, in 1916, in response to a proposed law that would prohibit white nuns from teaching black children. The law didn't pass, so the Franciscan Handmaids came to the burgeoning African-American center of Harlem in 1923.
"The Franciscan Handmaids became the major center of Catholicism in Harlem," says Jamie Phelps, former director of the Institute for Black Catholic Studies at Xavier University.
The nuns focused on education, working at a number of nurseries and schools in Harlem. Today, the nuns care for 31 children at St. Benedict School, all 2 and 3 years old.
"Since the early 1900s, they've been taking in children who otherwise would be left alone," says Chet Whye, director of the non-profit Harlem4 Center for Change and former president of the St. Benedict parents' association. "They're responsible for so many generations in Harlem."
Before retiring, Sister Patricia served as St. Benedict's education director. "She is soft spoken, but very deliberate, and a fierce protector of children and their rights," says Whye.
"I love to tell the children the creation story," says Sister Patricia. "I say to their parents, 'Take care of them. They are our future.'"
As she talks, the convent's silence is broken only by the laughter of children. She walks into the convent's play area, its bright primary colors a contrast to the sober hallways of the nuns' quarters, and firmly separates two children who are beginning to fight.
Revitalize
Elsewhere around the convent, hand rails and ramps reflect the sisters' advancing ages. Five recently moved into Jewish Home Lifecare in the Bronx; the order has become too small to care for its elderly. In 2010, Sister Mary Celine Graham, 83, was killed as a bystander during a car chase in Harlem.
The remaining nuns are contemplating whether to leave their convent, located opposite Marcus Garvey Park in the historic Mount Morris district.
"Now that we are very few, the house is too large," says Sister Gertrude. "We are considering what to do."
She is leading efforts to revitalize their congregation. Last year, "we were deciding whether to fold up or continue," she says. "Most of us were convinced we would close."
However, she cited Pope Francis, the first pope from a religious order in over a century, as inspiration to continue. "We are looking for innovative ways to expand the mission instead of closing," she says.
The rate of decline of women in religious orders has begun to slow since 2010, according to Gautier. "There is at least an element of renewed interest," she says, but "it's too early to tell."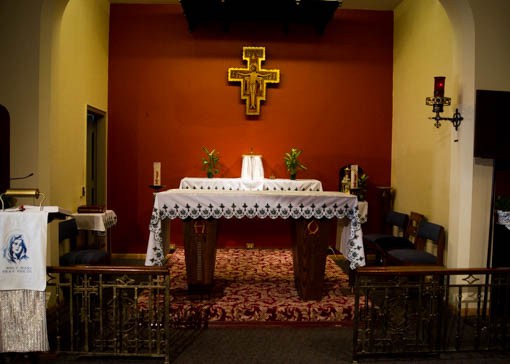 Members
Originally from Nigeria, Sister Gertrude has been trying to bring new members from West Africa. Sister Mary Temi, 34, is one of three who recently arrived from Nigeria, all vital additions to the aging order.
"My sisters welcomed me more than my expectations," says Sister Mary. "They are so loving." Coming from a Catholic home, she wanted to be a nun since she was 19 and first heard about the Handmaids online.
Once predominantly an order of African-Americans, the Handmaids began recruiting sisters from abroad in 1998, the first coming from West Africa. No American-born nuns have joined since 2001, but the order has opened a convent in Owerri, Nigeria, enlisting three sisters so far.
Gautier has identified 3,500 international sisters based in the United States.
"We know we're just touching the tip of the iceberg," she says. "It adds to the richness of the church."
In the convent, West African statues line the mantelpieces along with Western Catholic figures. "It's like beginning afresh with a new community," says Sister Gertrude, expressing confidence about reviving the order.
Sister Patricia sits in her office, a calendar of Nelson Mandela placed prominently on her shelves. Due to her own declining health, she, too, must soon decide whether to leave the convent and join her retired sisters at Jewish Home Lifecare.
"We are in such a beautiful location – Harlem," she says. "I came here for God."
|TAP| Africa's Newspaper of Record.
 The AfricaPaper:  Correspondent Benjamin Parkin is a post-grad journalism student at Columbia University in New York. He previously worked in Brazil, France and the UK for international and local media organizations including The Guardian, Al Jazeera English, RioOnWatch and The Culture Trip.