By Mohammad Ibrahim

|

The AfricaPaper
Kaduna – Nigeria for decades has continue to witness bloody battles between farmers and nomadic herdsmen which claimed lives and property worth millions of dollars in northern part of the country.
Such crisis have for  long-running problem in the region thereby threatening the Agricultural development in the country, particularly in the North. Northern region is often the sight of violent clashes between farmers and herdsmen over the north-central and Middle belt great swaths of arable land that is key to the agricultural revolution of the region.
Causes
Farmers always complain that nomadic cattle destroy their crops. Herdsmen, who are predominantly of the Fulani ethnicity, say they have nowhere to graze their cattle. Such disagreement from both groups often leads to conflict that claim money and lives in the region.
The farmers- herdsmen clashed  affected states like Katsina,  Kaduna, Kano, Jigawa, Zamfara, Kebbi, Sokoto and Niger in the Northwest and Plateau, Benue and Nasarawa in the North Central.
Due to lost of lives and properties as a result of the crisis all governors of the affected states met and fine tune way out because farming and cattle rearing are two major source of livelihoods for the people of the region.
Effect
Expert believe that the overall effect of rising farmer-herder violence has been nothing short of disastrous for Nigeria.  Apart from lost of lives and properties such crisis have also resulted to low development of agriculture in northern region.
Farm produce are often destroyed during the crisis because farmland are destroyed and thousands of cows got killed. Such destruction had really affected farming activities in the region. Both parties benefit from each other because cows are often used to produce local manual for farmers while the cows feeds from farmers left overs.
Deaths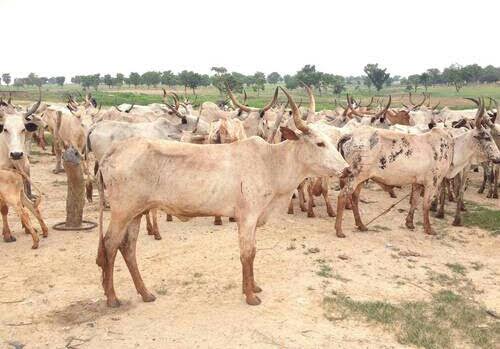 Few weeks ago four persons were killed in a clash between local farmers and Fulani herdsmen at Bungel village in Maro'a chiefdom of Kaura Local Government area of Kaduna State north West Zone. Several other people from both sides were reportedly injured during the clash. Similar clashes do occur regularly where lives are lost.
In one particularly violent period from December 2013 to mid-April 2014 witnessed over 1,000 deaths, according to Human Rights Watch. A single day clashed between herdsmen and farmers  in Benue State north central in  past January allegedly left thousands of people homeless with many deaths.
Mistrust
National  Secretary of Miyyati Allah Cattle Breeders Association of Nigeria, Baba Usman Nzelgarma blamed herdsmen from neighboring countries for  the crisis.
"In the past we have cordial relationship between herdsmen and farmers before things became bad," said Nzelgarma. "Now there is mistrust among the two groups and that is  responsible for the crisis between us. But the fact, remain that most of these crises are caused by herdsmen from neighboring countries."
Solution
Founder Peace Revival Foundation of Nigeria Pastor Yohanna Buru urged government to find a way to end the bloodshed among farmers and herdsmen in the country.
"Government must find a way to create grazing reserves for herdsmen to take their cows to graze so that they will stop going into people's farms with their cows.
"Farmers too must see herdsmen as their friends because each cannot do without the other. Killings each other is not the best," said Buru. "In my community in Southern Kaduna we live with Fulani for years and we have not been witness such crisis until few years back and such clashes are really affecting the growth of Agriculture in the country."
"Today farmers don't feel safe going to their farm and herdsmen don't feel safe taken  their animals  to bush because each fear attacks," he added.
Pastor Buru added that if agricultural sector is to develop there is the need for a dialogue forum between farmers and herdsmen to be established under the watchful care of traditional and community leaders across states in northern part of the country.
|TAP| Africa's Newspaper of Record
The AfricaPaper: Mohammad Ibrahim is The AfricaPaper's correspondent in Nigeria, covering Kaduna