By Staff Writer

|

The AfricaPaper
Philadelphia, Pa., – The Associate Editor for The AfricaPaper, James Kokulo Fasuekoi, has been subpoenaed by the United States Federal Court in Philadelphia, Pa., to serve as a key witness in the upcoming war crimes trial, United States of America vs. Mohammed Jabbateh.
Covering Wars
Fasuekoi, who covered the more than decade-long civil war in Liberia, that left thousands dead and more than 700,000 displaced, will appear at the Eastern District Court of Pennsylvania this week.
Jabbateh, a businessman and resident of East Lansdowne, Pa., was arrested in April last year by the Feds for charges ranging from alleged immigration fraud, perjury, to 10 Counts of war crimes, including, "the murder of civilian non-combatants," "recruitment of child soldier," and "kidnapping and sexual enslavement of women," which prosecution lawyers argued, he committed during Liberia's bloody civil war between December 1989-1996.
Testify
A writ dated September 20, 2017, and signed by Attorney Linwood C. Wright, Jr., who represents the US Attorney's Office that is prosecuting the case, "United States of America vs. Mohammed Jabbateh," ordered The AfricaPaper's Associate Editor, to appear at the referenced trial location in the city of Philadelphia, PA, "to testify in this criminal case" at the date and time indicated in the subpoena.
The decision by the United States District Court to subpoena the former Associated Press West Africa correspondent comes following numerous unsuccessful attempts by prosecutors on the Jabbateh case to have him testified voluntarily. Fasuekoi had earlier rejected requests by US investigators to testify at the trial and cited reason for his refusal to testify as "very personal."
Violations
"You are a human rights journalist who covered the civil war; you should think about the gross human rights violations connected to this case and testify so justice can be served," said Nelson S. T. Thayer, Jr., one of the attorneys representing the US government when he met with Mr. Fasuekoi last December.
Mr. Fasuekoi said the US attorney showed him graphic massacre photos of the Firestone, Harbel-Carter Camp genocide of June 1993. The images were taken  by Mr. Fasuekoi and were published in "Rape, Loot & Murder, Liberian Civil War: A Journalist's Photo Diary." After a brief discussion, Fasuekoi said Mr, Thayer, Jr.,  urged him to view his expected "testimony as a civic duty."
Subpoena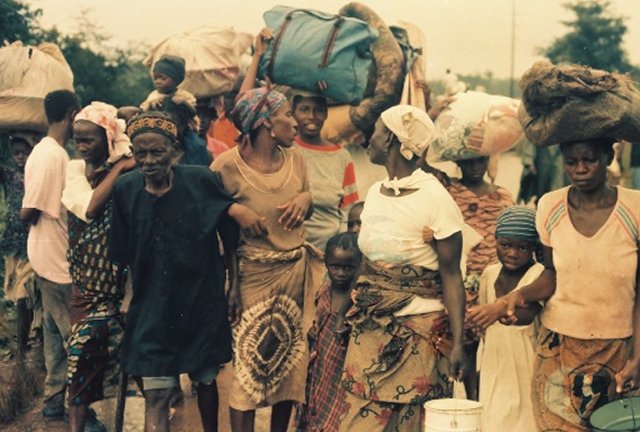 Two US Attorneys Linwood C. Wright Jr, and Nelson S.T. Thayer Jr., from U.S. Department of Justice, accompanied by Homeland Security special agent, Mark Gilland, had flown to Minneapolis, Minn. to serve the writ. The latest subpoena, signed by court clerk, Kate Barkman, replaces one served earlier on Fasuekoi on December 5, 2016, in Minnesota, by the three US legal officials.
Prior to Liberia's war, Fasuekoi worked for most of Liberia's leading independent dailies as photo-journalist and extensively covered mainstream ULIMO wars before and after the faction's split 1994. During this period, Jabbateh served as ULIMO's Zebra Battalion commander, an elite unit of the movement whose task was to provide the faction's leader Alhaji Kromah, and the Tubmanburg headquarters, with security protection, Mr. Fasuekoi said.
Scholar
Fasuekoi, an award-winning journalist, and twice in 2017 Bush Foundation Scholar, is known for his coverage of dangerous news assignments in many West African nations including his native Liberia and neighboring Sierra Leone. The fearless journalist, has covered  military coups, and was one of the first journalists to meet and interview ULIMO rebel soldiers after they arrived at Monrovia's Po River in August 1992, having overrun Taylor's Libyan-trained NPFL rebel army bases in western Liberia. It was in Tubmanburg, ULIMO's headquarters in 1993, that he photographed the accused, Jabbateh, who was surrounded by jubilant fighters, a photograph now used in the trial as a "key evidence, " Mr. Fasuekoi said.
Testimony
This is not the first time Mr. Fasuekoi is coming face to face with the law and government regarding his work as a civil war journalist. In 1994,  he came close to being subpoenaed by the Republic of Liberia in connection to giving testimony in the famous treason case against Charles Julue in Liberia. Julue, probably the most feared army general in Samuel Doe's government, had attempted to overthrow a transitional administration and apparently have himself installed as president.
Fasuekoi had taken photographs while he and two other colleagues, D. Emmanuel Nah, and A. John Kollie, (both deceased), interviewed Gen. Julue at the presidential palace in Monrovia in the middle of the coup. State's securities and the military high command of the West African Peacekeeping Force, ECOMOG, requested copies of photographs taken at the Mansion but Fasuekoi said he and is paper, the daily Liberian Inquire, refused to give out any picture beyond those already published by the paper, due to ethical reasons.
Fasuekoi said  Jabbateh's United Liberation Movement for Democracy, fought Mr. Charles Taylor's Libyan-Burkinabe trained guerrillas, initially to protect Mandingoes (Jabbateh's ethnic group), and Krahns ( of slain Pres. Doe), two tribes that had been targeted by the front.
Warring Factions
Mr. Fasuekoi said in early 1994, a misunderstanding erupted among ULIMO's officials over power-sharing in an interim government and this feud was exacerbated by disagreement regarding which side was to control proceeds from lucrative gold and diamond mining going on in the faction's territories. The feud resulted to a serious division, causing the death of both civilians and fighters on either sides.
At the trial Mr. Fasuekoi would perhaps throw lights on his account covering one  of the world's leading crimes against humanity.
The AfricaPaper's reporters and editors are covering the story from all angles as the leading media of records on Africa. As part of the Africa Institute for International Reporting (AIIR) the paper holds one of the largest collections of West Africa's war photographs. Some have never been published.
World Copyright
The AfricaPaper,

USA, 2017.  All rights reserved.  Photos and text may not be published, broadcast, rewritten, redistributed or used in any form without the written permission of  The AfricaPaper, and AIIR. We take legal action for any copyright infringement.