After Cancellation of 221 Polling Stations in the West African Nation, the National Electoral Commission (NEC) Declares March 27 for Run-off Elections
By Abubakarr Kamara

|

The AfricaPaper
Freetown, Sierra Leone – Chief Commissioner of the Sierra Leone National Electoral Commission (NEC), Mohamed Nfa Alie Conteh has declared March 27 as the date for the presidential run-off elections. He announced after both the ruling All People's Congress (APC) party and the main opposition Sierra Leone People's Party (SLPP) presidential candidates failed to reach the 55 percent threshold slated in the country's law books to declare a winner.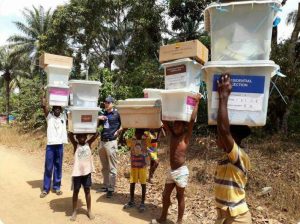 Invalid Votes
Alie announced that the invalid votes cast for the presidency on the March 7 election was 139,427 while the valid votes cast was 2,537,122. He noted that following the conduct of the polls, the statement of the results were compiled by District Returning Officers and Regional Returning Officers, who transmitted them to him as National Returning Officer according to section 94 of the Public Elections Act 2012.
Null and Void
"The results from 221 polling stations were excluded, including where the votes cast exceeded the number of registered voters (including voters included on a supplementary list). Accordingly, pursuant to section 87 (2) of the Public Elections Act 2012, the results of those polling stations are declared null and void and are not included in this result," the NEC Chief disclosed.
Though the NEC boss did not disclosed which polling stations' results were cancelled, speculations are rife that majority of those stations were centers that the main opposition made gains.
Final Results
According to the final results announced on Tuesday March 13 by the NEC's Mohamed Nfa Alie, the opposition candidate, Rtd Brigadier Julius Maada Bio leads with 1,097,482 votes (43.3 percent) while the ruling party candidate, Dr Samura Mathew Wilson Kamara followed closelywith 1,082,748 (42.7 percent).
Dr Kandeh Kolleh Yumkella of the National Grand Coalition (NGC) followed distantly with 174,014 (6.9 percent) and Alhaji Chief Samuel Sam Sumana of the Coalition for Change (C4C) won 87,350 votes (3.5 percent) while the Alliance Democratic Party (ADP) candidate, Mohamed Kamarainba Mansaray scored 26,704 (1.1 percent).
Second Election
"In exercise of the powers conferred upon me as Chief Electoral Commissioner/Chairman and National Returning Officer of the National Electoral Commission… I Mohamed Nfa Alie Conteh, do hereby declare that since none of the candidates of the parties received 55 percent of the valid votes cast pursuant to section 43 (2) e and f of the 1991 Constitution of Sierra Leone, there will be a second election exclusively between the APC Presidential Candidate, Dr Samura Mathew Wilson Kamara and the SLPP Presidential Candidate, Julius Maada Bio. Polling in this second election between the aforementioned candidates will be conducted nationwide on Tuesday March 27," the NEC boss announced. |TAP|