By James Kokulo Fasuekoi

|

The AfricaPaper
Coon Rapids, Minn – A young man taken along with several men into custody by Liberian Police Detectives for questioning  in the gruesome murder of his Liberian-American mother, Joyce Jaywheh in the West African nation has been cleared by detectives, according to his father.
News And Relief
The deceased-victim's husband, Mr. William Jaywheh, broke news of his son's release to the relief of scores of sympathizers during a family meeting at his Coon Rapids, Minnesota, home where his late wife resided with him before she traveled to Liberia.
"A detective in Liberia called and informed me that detectives (referring to Liberian investigators) have cleared my son  and he's free," Jaywheh told a house jammed packed with sympathizers on Sunday evening.
Suspected Killer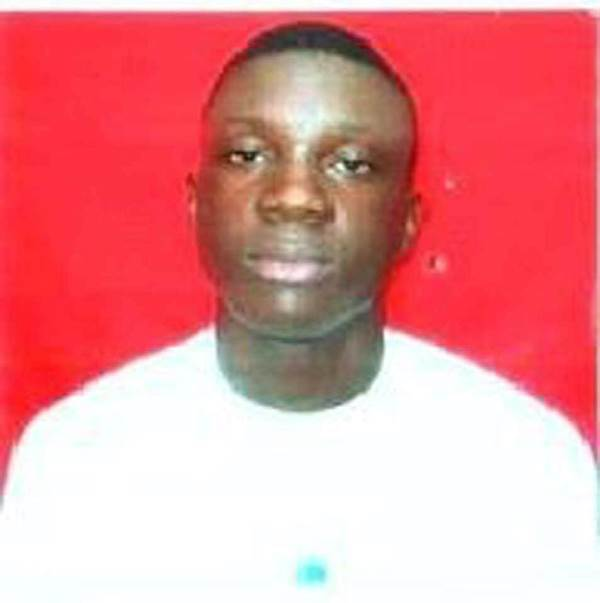 Detectives working on Joyce's murder case have meanwhile released photo and name of the prime suspect in the killing as "Francois Browne." He's believed to be on the run and Liberian Police and the victim's family have asked for help from the public to arrest him.
Mrs. Joyce Jaywheh, 53, was ghastly murdered at dawn on March 24, this year, at the couple's home located on ELWA Road, Paynesville in Liberia.
Motive for the murder is still unclear as police detectives continue investigation.  The murder happened less than twenty-four hours after she celebrated her birthday in their home protected by concrete walls. The incident as a result, has left people to question general security situation in the capital, Monrovia.
Gruesome Death
Liberian Police said that Joyce's attacker(s) chopped her head and "sliced her throat" during their encounter as she was found in her master bedroom.  Police reported that they recovered the deceased's stolen truck, including a generator in the nearby Thinker's Village, along Roberts International Highway. The properties are said to have been stolen by Joyce's killer(s) and abandoned in the area as investigators closed in.
The brutal murder stunned hundreds in the vicinity and it made local community leaders to once more begin to reconsider reinforcing vigilante groups to protect lives, a source told this paper.  The incident sent panic and fear among Liberians home and overseas.
"This kind of killing will cause many people to stay away from Liberia if the government doesn't take action to put a stop to it," said one middle age Liberia woman  who joined many at the Jaywheh's Coon Rapids residence on Sunday to sympathize with the bereaved family.
Killer On The Run
Mr. Jaywheh explained that a US Embassy mediator who updates his family on development pertaining to the ongoing investigation had informed him that the  killer is still on the run.
Police are pursuing the suspected murderer and a family source told The AfricaPaper that detectives in Liberia were stepping up efforts in the investigation and hopped to get a better outcome.
Mr. Jaywheh disclosed his family has given permission to detectives working on the case to release photographs and names of the prime suspect in murder case of his beautiful wife.
He said detectives had sought permission from him so they could share the suspect's name and photograph to the public, a technique they believe could turn up some clues that could help in the investigation.
Appeal To The Public
Appearing distraught, Mr. Jaywheh appealed to the public to assist with any information pertaining to the whereabouts of the prime suspect, adding, "Let's turn our pains to power and bring the killer to justice."
Barely has Jaywheh finished when the victim's sister identified as "Nana" took the stage to buttressed the family's call to bring the suspected murderer to justice.
"Many people have gone to Liberia and got murdered and they were reduced only to statistics and the killers were never found; my sister will not be a statistic," Nana said in the loudest manner as the people silently responded in agreement.
Bloody Civil War
The West African nation experienced a bloody civil war in the 90s, unparalleled to any other war in the region in recent years. It spilled over to neighboring Sierra Leone and caused the death of tens of thousands of people in both countries.
Although the war ended in Liberia 2003, it destroyed the country's infrastructure and left the nation struggling with serious socio-economic problems including high unemployment, increase in prostitution and armed robbery. Liberia in many parts has become lawless.
Burial In Minnesota
Meanwhile, the family disclosed during Sunday's meeting that they have reached the conclusion to bring Joyce's body to Minnesota for burial and that her remains should be arriving on April 15. Funeral is scheduled for April 21, following a night of wake keeping on Friday, April 20.
During the meeting, committees were set up with volunteers or people appointed as head to help provide services during the service. The committees include, transportation, food preparation, flowers and decoration, souvenirs, publicity and communications, photography and video recording, ushers, program and music. Venues for the wake keeping would be released later.
Kind And Friendly
Late Joyce Jaywheh, the husband noted, got many acquaintances through her kindness and friendliness when she was alive. Because of that they expect a large crowd to attend her funeral services in Minnesota. The family encourages friends, sympathizers and well-wishers to join either committees and help give the deceased a decent burial.
The family is also expected to open accounts at the following banks, Wells Fargo, Bank of America, as well as PayPal and Cash Out where people can make donation for the home-going.
For the funeral attires, the family suggested a red scarf be worn by all women and a red bow or tie for all men who will attend the funeral. This is being done to honor the deceased whose favorite color the family said, is red. |TAP| Africa's Newspaper of Recorder