Former President Ellen Johnson Sirleaf, often considered a democratic reformer, has civil war blood on her hands, according to evidence made public in the trial of a former Liberian warlord.
By Staff Writer | The AfricaPaper
Philadelphia, PA – The historic transfer of power to a new government in Liberia last January, the first in 70 years, was hailed and celebrated as a milestone in the country's turbulent political history. However, the woman credited with all this – former president Ellen Sirleaf- is notorious for the complex roles she played in shaping Liberia's destiny over  decades, actions which eventually culminated into a full-scale bloody civil war.
"Iron Lady"
Affectionately known by her supporters as "Iron Lady," Sirleaf has either sponsored or masterminded a series of failed plots in attempts to overthrow former Liberian dictator Samuel Karyon Doe from power, according to an investigation backed by substantial documentation. Sirleaf's desperate quest to seize power began  almost immediately after Doe, a native born Liberian, overthrew late president William R. Tolbert – ending an Americo-Liberian dynasty that ruled for more than 133 years and marginalized the native majority.
Ms. Sirleaf is reported to have backed every incursion into Liberia against Doe except  the infamous "Nimba Raid" of 1983, apparently prompted by Doe's misrule and led by disgruntled Nimba dissidents who targeted Doe's officials who were members of the Krahn tribe. Reportedly, Sirleaf personally provided substantial financial support to each of the dissident groups that staged coups or invasions on the presidency – beginning with the November 12, 1985 coup by late Brigadier General Thomas Quiwonkpa and going through the  December 24, 1989, invasion by Charles M. Taylor.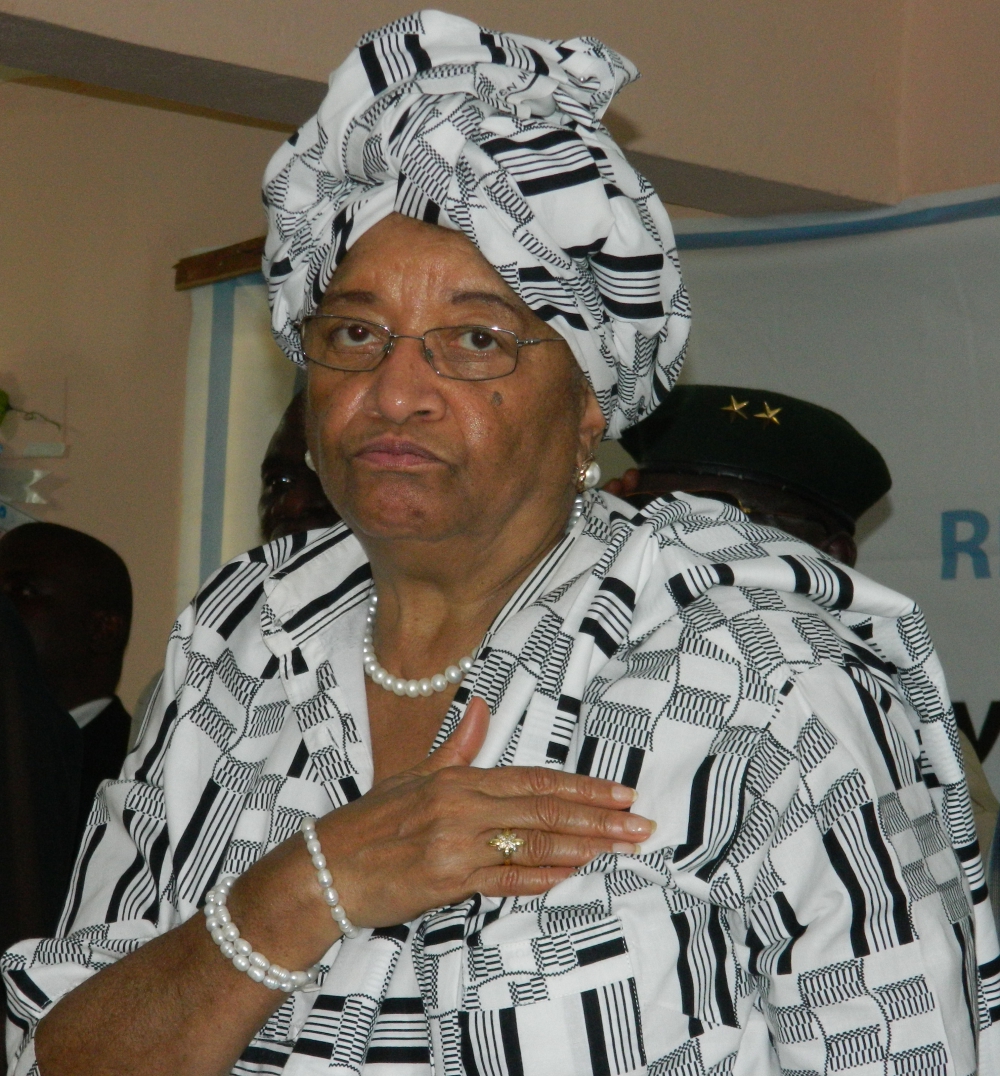 NPFL Support
Jucontee Thomas Woewiyu, the former National Patriotic Front of Liberia (NPFL)  spokesperson and Minister of Defense currently standing trial for alleged war crimes, immigration fraud and perjury, outlined Sirleaf's personal support to the NPFL in the tune  of about US$1.5 million according to an open letter addressed to Sirleaf and published Aug. 30, 2005.
After  more than three decades after Sirleaf ruled  the country for two consecutive terms, those deeds are coming back to haunt her.
Sirleaf, has never denied her membership in the rebel NPFL, nor her financial support for the front led by now indicted war criminal Charles Taylor. In fact, during her 2009 appearance before the country's Truth and Reconciliation Committee (TRC), Sirleaf admitted to supporting Taylor and his rebel movement during the war. What she disagrees with critics on actually has to do with the scope of any  financial and military assistance she provided to the NPFL.
Because of Sirleaf's roles in abetting atrocities committed by the rebel NPFL, the TRC recommended in its final report submitted to the Liberian Parliament that she and 49 other prominent figures within the government and Legislature be barred from holding public office for 30 years. The recommendation was never carried out.
War Efforts  
The complaint filed against Woewiyu in the US District Court for Eastern Pennsylvania chronicles pre-trial testimonies by over 50 witnesses. It cites the name of "Ellen Johnson Sirleaf" multiple times and her alleged roles she played in  NPFL war efforts.
In the coming week, prosecution lawyers will present several witnesses that had contact with NPFL, support from former Burkinabe president Blase Campaore, and late Libyan leader  Muammar Gaddafi. For example, Witness S, is expected to explain how Sirleaf provided financial support to NPFL guerrillas while they were still in training at Mataba military camp in Tripoli, Libya.
Witnesses
Witness S was a soldier in the Armed Forces of Liberia (AFL) when Msgt. Samuel K. Doe seized power, but fled to Cote d'Ivoire when Gen. Thomas Quiwonkpa's coup failed. The witness will  testify about his encounter with defendant Jucontee Thomas Woewiyu in Libya and how Sirleaf sent "$10,000 to Libya with Woewiyu for the NPFL forces, but… that the money had been stolen."
Sirleaf confirmed in the past that she gave NPFL $10,000 during the initial stage of the war when pinned down by the media on the matter.  However, she described the amount as "insignificant" arguing it was a "drop in the bucket," taking into account the scope of the NPFL war to remove Doe.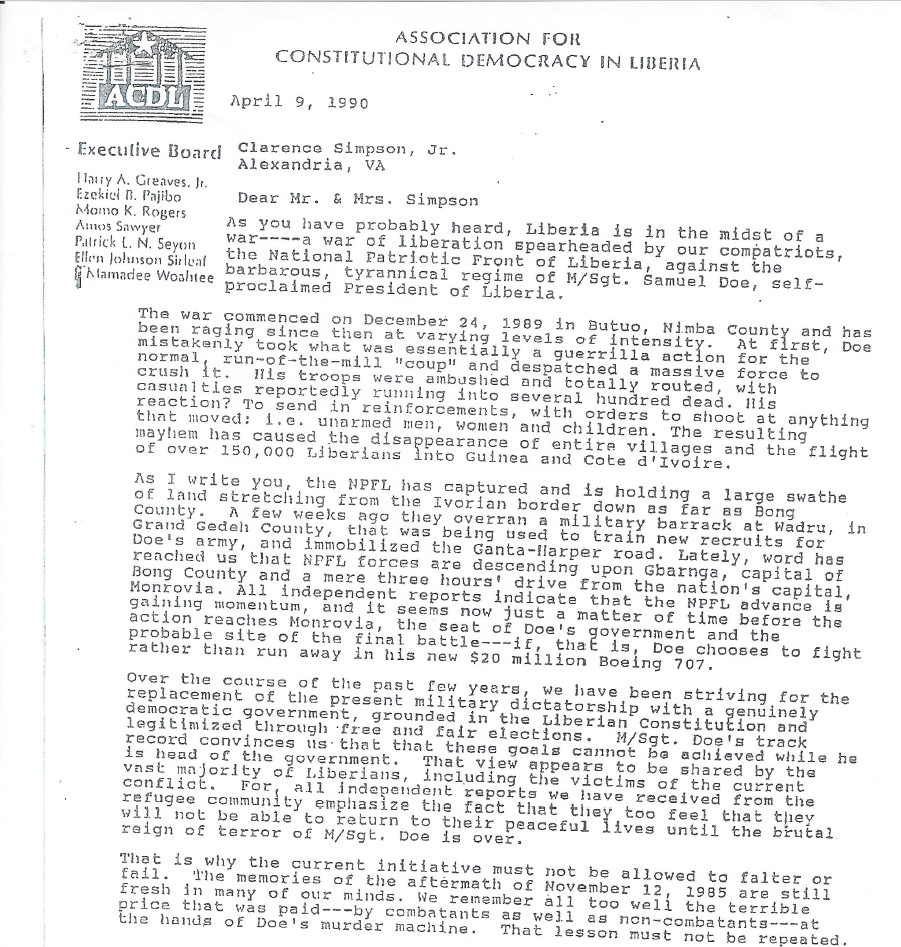 Sirleaf later severed ties with the brutal NPFL rebel forces, though it's  still unclear when she fully distanced herself from the NPFL. Some believe that probably occurred after the NPFL had committed its first major massacres of civilians in Barkiedu, a border town in the Mandingo chiefdom in Lofa County.
Initial Amount
However, a sharp rebuttal to Sirleaf's claim by former NPFL defense minister Woewiyu, listed $25,000.00 as the "initial amount" he said Sirleaf gave the NPFL leadership through her own business consortium, represented by both "Clarence Simpson and Taylor Major."
Woewiyu's letter, addressed to Sirleaf, also alleged that she contributed $50,000 in  another instance to the NPFL's war efforts through Allen Brown Sr., who ran an insurance business in the Ivory Coast. "You [Sirleaf] had earmarked the money to specifically buy rice for the fighting men and it was done" the letter says.
"Another $150,000.00 was contributed by some of your friends and delivered to Dew Mayson, Ethelbert Cooper and Emmanuel Shaw to be forwarded to the NPFL. If you recall, those bad boys ate the money and we were only able to recover $75,000.00 of it six months later,"  Woewiyu's letter says .
Woewiyu, a former president of the Union of Liberian Associations of the Americas, a Liberian umbrella organization in the US  from 1983 to 1987, is also founding chairman for the now controversial Association for Constitutional Democracy of Liberia (ACDL). The ACDL,a US-based Liberian diaspora organization through whom  Sirleaf often claimed she gave a $10,000 in aid to the NPFL, is said to have backed a series of coups and instigated instability in Liberia.
Other Contributions
Woewiyu also claimed there were other contributions made by Sirleaf toward Taylor's jungle war prior and during the war but that they were "undocumented." These, he said included a trip Woewiyu made to Paris with Sirleaf to meet Charles Taylor – and several trips she made to "the Liberian border to meet with Taylor and the fighting men" as the war progressed.
Woewiyu testified  that the funds Sirleaf gave to Taylor while Taylor was still in Paris, and during each trip she "made to the frontline[s]," when multiplied, "should be far substantial" and would  push Sirleaf's overall contribution to "about half of million United States dollars."
Invasion from Butuo
Taylor, a disgruntled former cabinet minister in the Doe government, launched an invasion into the country in 1989 from the border town of Butuo, in a move to forcibly remove Doe from power. Gen. Quiwonkpa, a former Doe ally, had invaded Liberia four years earlier under the same banner, the National Patriotic Front but that attempt ended deadly and Quiwonkpa was killed.
Gen. Prince Y. Johnson, a Gio from Nimba where people had long endured persecution by the government, joined forces with Taylor, Ellen, and Woewiyu who appeared capable of  providing both political and financial resources to unseat the Doe regime. Gen. Johnson repeatedly grieved over the Quiwonkpa episode over the years, returning to remove reproaches left hanging over Nimba by the Doe regime, eventually capturing and killing Doe on Sept. 9, 1990.
World Copyright
The AfricaPaper, USA, 2018. All rights reserved.  Photos and text may not be published, broadcast, rewritten, redistributed or used in any form without the written permission of  The AfricaPaper, and AIIR. We take legal action for any copyright infringement.
|TAP| Africa's Newspaper of Record