Many know his name, but don't know much about his life. For others, he was simply called "Teacher."  He spent a major part of his life in educating children in his home country. As a photographer, he captured the earlier years of politics and power from different parts of Sierra Leone before and after it gained independence. In his last days, he told his children "I'm tired, let me go." So ends the time and life of Alfred Kabba Bangura, also known as AKB.
By James K. Fasuekoi | The AfricaPaper
Brooklyn Center, MINN – Alfred Kabba Bangura, a noted school teacher and professional photographer from Lunsar died peacefully on Wednesday at 12:39 PM, July 25. He was 93 years old.
Teacher Kabba, as his friends and relatives fondly called him, died naturally, according to medical records. He took his last breath as his children gathered and prayed at his last residence in Brooklyn Center, Minnesota, USA. Bangura was born in Mayan, in the Kambia district of Sierra Leone.
He settled in Lunsar where he also served as the Sierra Leone People's Party (SLPP) chairman for several years at the earlier beginnings of multiparty politics in his country.
The Giver
By all accounts, elder Bangura, one of Sierra Leone's longest serving teachers stood for his community as a trusted leader. For much of his life, Bangura gave wholeheartedly to the poor and his community without complaining or expecting special recognition from others. He served and worked in quiet privacy.
Out of compassion he helped a multitude of people, many of them who were total strangers – at times, even to the dismay of his own family members in a country where an individual survives on one U.S. dollar per day. Then, when he served as president of St. Vincent the Poor, he fed many people from neighboring towns and villages.
Adopting Kids
During his teaching career, which spanned more than 40 years, Bangura adopted ten children – some as young as two days old – including a blind boy, whose parents survived on little means in the northern town of Lunsar.
Stories abound that, while he worked as a school teacher and, later, a missionary in the country's northern district, he would quietly leave home only to later be seen returning with an adopted child.
Mr. Bangura's elder daughter, Elizabeth Bangura, a professional nurse and resident of Brooklyn Center, vividly remembers an incident after her father had left home to teach as he did everyday. He traveled to a nearby village where he saw a blind teenage boy sitting alone without parents.
"He asked the boy where are your parents and the boy said they were all at the farm," Elizabeth, fondly known as "Betty," explains.
Bangura, a young man walked with the boy, N'Fah Alie, to the parents' farm and arranged to adopt him. This was 1982 and N'Fah  was three years old. By this time, Sierra Leone had a school for the blind. Betty who worked at a military hospital, registered N'Fah to start brailclasses.
Most Bizarre
It was 1973 when the most bizarre moment of all happened. Father Bangura caused awe when he arrived home with a large basket gently sitting on his head.
"We quickly ran to him wonde ring what he had in the basket," said Betty.
In it were two babies, a girl and a boy. Their mother had died after giving birth and their distraught father, Bangura's cousin, had given them to him for adoption the moment he asked. As the only son to his mother, he often felt he could not  refuse taking children to help them. The boy later died, but the girl, Theresa Kamara, survived and still lives in Sierra Leone.
Beneath much of the action Bangura took underlies one thing that many may not know: he, too, was adopted by another family at age 17, says Betty. It was at that point he started school and eventually became a Christian, having converted from Islam.
Now on his death, Bangura's children, including his many foster ones, friends and family members, gather daily at Betty's Brooklyn Center home where they sit in a circle, sharing memories of their late father's life.
At his request, his body will be flown back to Sierra Leone for interment in Lunsar, where most of the family members, including N'fah Alie still resides. Alie now holds a master's degree and serves as commissioner for the National Commission for Persons with Disability in Sierra Leone northern region.
Education
After high school, Bangura attended several colleges in Sierra Leone at a time attending a college in Africa was a luxury. These included Gbedebu Bible College and N'jala College where he earned a certificate and diploma. He later graduated from Fourah Bay College, earning a Teacher's Elementary Certificate (TEC).
"He was very jovial and likes to tell stories," said Bangura's longtime friend and schoolmate Pastor Komboh Kargbo of Minnesota. "He was very obedient to teachers."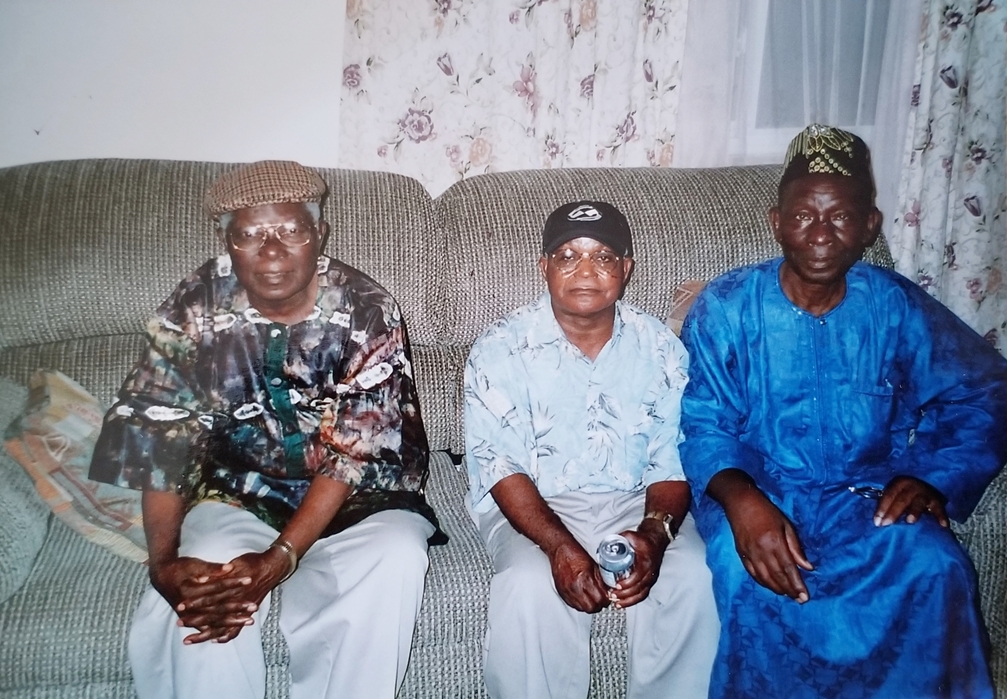 Born in a muslim family, he was named Alpha Kabba Bangura, he later became a christian. "He likes to pray," says Kargbo. "But the influence of the Christians made him convert from Muslim to Christianity." Bangura was an active member of St. Peters Claver Parish in Lunsar.
The Teacher
When he finished schooling, Bangura settled on teaching, the most popular career in much of Africa at the time. He was hired by the American Weslyn Mission (AWM), a coveted place to work by his peers.
From the mid 1950s through the 60s, he would travel and teach in several large and small towns in northern Sierra Leone, including Port Loko, Kambia, Bimkoloh, Kamabia, Foredugu and onto Lunsar.
By the time Bangura retired from government teaching in 1983, St. Joseph Vocational Center in Lunsar re-hired him to teach history and social studies. He taught at St. Joseph till retirement in 1993 in Lunsar, 75 miles north of Freetown, where the country's brutal civil war caught up with him two years later.
The Photographer
Bangura was an accomplished photographer. According to Betty, he created his own photo studio and a darkroom when they lived at Port Loko from where he photographed and processed films.
He took deep interest in documenting not only his family's life, but also those of ordinary Sierra Leoneans and visiting dignitaries. It was a rare activity given purchasing a camera in Africa around that time could cost one a family's savings.
He captured key figures like England's Queen Elizabeth on her visit to Port Loko and a British Governor who ruled Sierra Leone in the late 60s. The result is a  trove of photographs, much of them in black and white and marked with the dates Bangura shot them.
Betty recounts  the day a vehicle ran out of control, killing a young woman who sat by the road selling goods. Her father ran to the scene and shot a couple of pictures. After the accident scene had been cleared up and the lady buried, the police started to investigate  but had little evidence to go on.
"My father provided [the police] with photos from the scene and through that they were able to do their investigation," said Betty.
Thereafter, the police department offered to hire Bangura as crime photographer but he refused, apparently preferring  his teaching job.
Among memorable photographs discovered following his death are a casual photo of him standing with Betty, a toddler at the time, strapped to his back in a colorful fabric carrier. In another he's clad in a beautiful traditional African gown.
AKB Foundation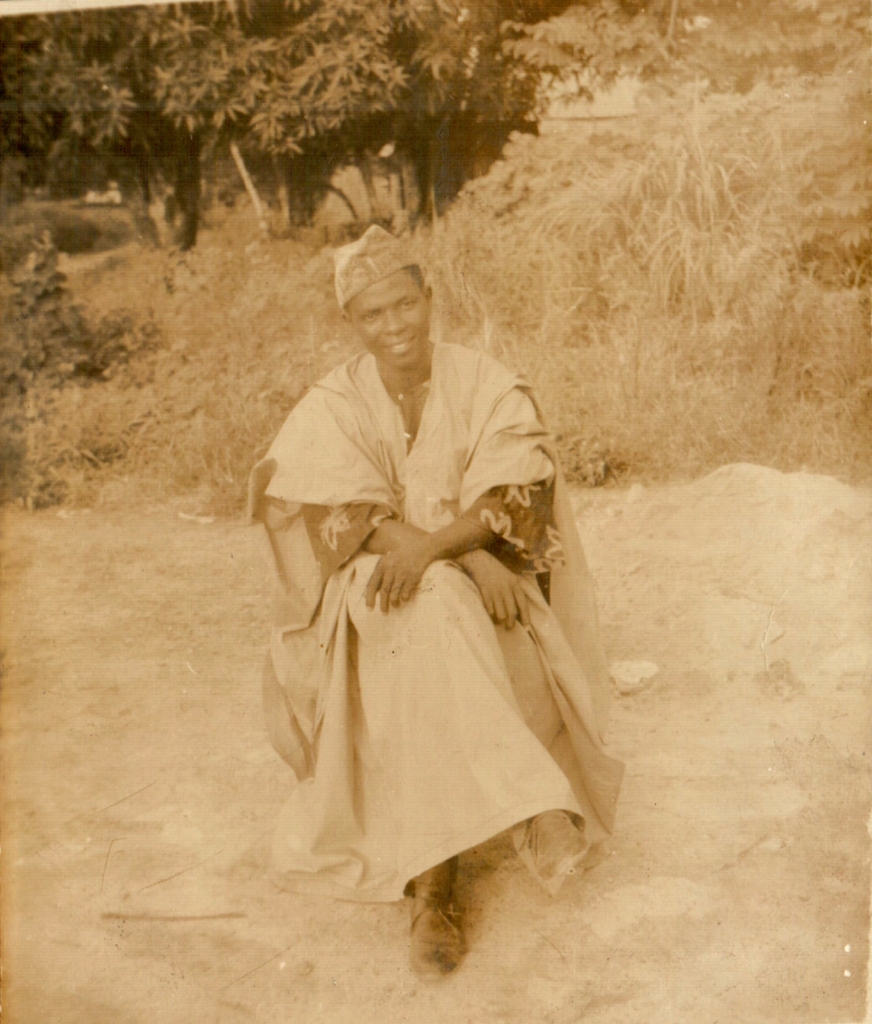 There are other equally stunning pictures like the four shirtless teens- some of  his adopted children – at play in the blistering heat from the sun and a man dressed in suit coat riding a bike in the middle of town who would later become a paramount chief for the region.
Bangura's children say their father's act of giving didn't cease even when the war forced him and his huge family out of Sierra Leone, first landing them in neighboring Guinea before relocating to the United States in January of 2004.
They said their father would save money he received as gift and wire it back to the war-ravaged nation to be used to feed people and help with community projects he started. In his honor, his children started the AKB Foundation to feed and educate the poor in Lunsar.
To keep his fine legacy alive, his children and admirers have begun working on ways to continue his legacy hoping to fulfill  his lifelong wish. Bangura is missed and remembered by his relatives, friends, several children and grandchildren and in-laws around the world.
Late Alfred Bangura is survived by a host of relatives including a number of children residing in Africa, Britain, Italy and the USA. Funeral services begins at 10 A.M. on Friday, 10 August 2018, at St. Alphonsus Catholic Church, 7025 Halifax Ave. N Brooklyn Center, MN 55429.
|TAP| Africa's Newspaper of Record
Editor's Note: The author James Kokulo Fasuekoi is Associate Editor for The AfricaPaper. Fasuekoi covered civil wars in Liberia and Sierra Leone during the 90s and came to love Sierra Leone and her history. Once visiting the home of Betty, he met the elder Bangura and learned he too had been an ace photographer long before the war struck. Fasuekoi promised to do a profile of Bangura, but, unfortunately, the old man passed away before time allowed for it. In fulfIlling that promise, Fasuekoi returned to Brooklyn Center, Minnesota to bring you this obituary. Some of late Pa Bangura's photographs will be curated by The AfricaPaper.
ON CAMERA: Photos as Captured by Late Alfred Kabba Bangura[More Later]