By Anthony Abdul Karim Kamara, Jnr | The AfricaPaper    
FREETOWN, Sierra Leone – Head of the European Union Delegation to Sierra Leone, Ambassador Tom Vens, has appeared before Sierra Leone's Parliamentary Select Committee on Foreign Affairs and International Cooperation (PSC-FAIC) on Wednesday,17 Oct. following an invitation to update the committee on his delegation's work and impact on the West African nation.
Vens who has had the pleasure to engage with several Parliamentary Committees of this Parliament – thought this was unique in that it was the first open session he has held.
"I have been impressed with the sincerity and commitment that the leadership and members have demonstrated."
Parliamentary Oversight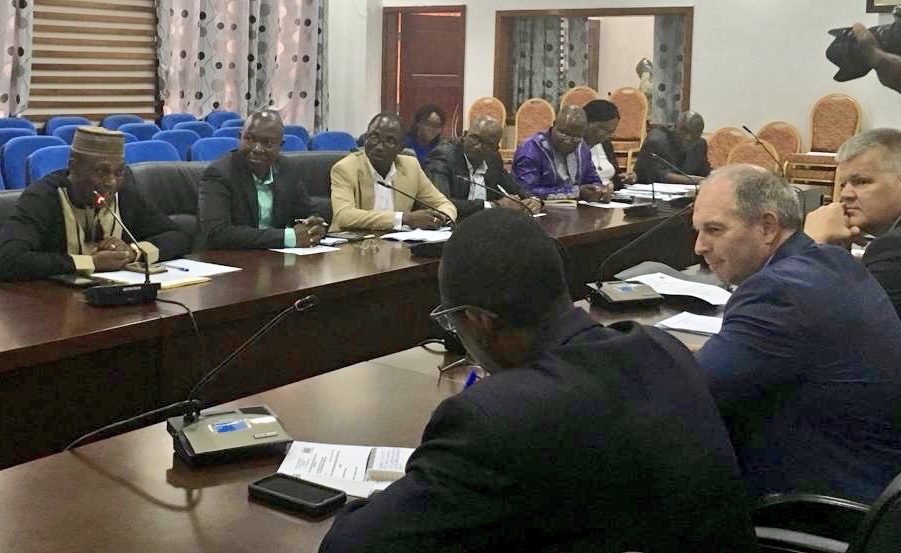 Under section 93 of the 1991 Constitution, the Parliamentary Select Committee has oversight responsibilities over the Ministry of Foreign Affairs and International Cooperation.
As part of its oversight functions, the committee, which comprises of 16 Members of Parliament (NGC-3, SLPP-4, Independent-1 and APC-7 and a Committee Clerk) held its first of four symposia scheduled for 2018 on bilateral and multilateral collaboration for sustainable development – with the Ministry of Foreign Affairs and International Cooperation hosting the moderated and interactive discussion at its Freetown conference hall.
The initiative showcases a unique collaboration between the Parliament and two key ministries; Ministry of Foreign Affairs and International Cooperation and the Ministry of Planning and Economic Development.
Purpose of Symposia
According to Hon. Kandeh Yumkella, Chairman of the PSC-FAIC, "these symposia provide an opportunity for them to highlight their programs and activities locally while assessing their overall impact to our country's development."
"These moderated discussions of development issues among panelists with our development partners are for them facilitate networking and collaboration among policymakers, numerous local stakeholders, international donors and implementing partners."
For the EU, as Ambassador Vens confirmed, this is "the first time that the Foreign Affairs Committee (FAC) of Parliament has organised such hearings."  Not sure why he became the first ambassador to be heard by the committee, however, he warmly welcomed the initiative.
"I see it as the duty of parliament, and the FAC within, to have a good understanding of the activities and views of the diplomatic missions present in the country and to engage on matters of interest, " said Ambassador Vens.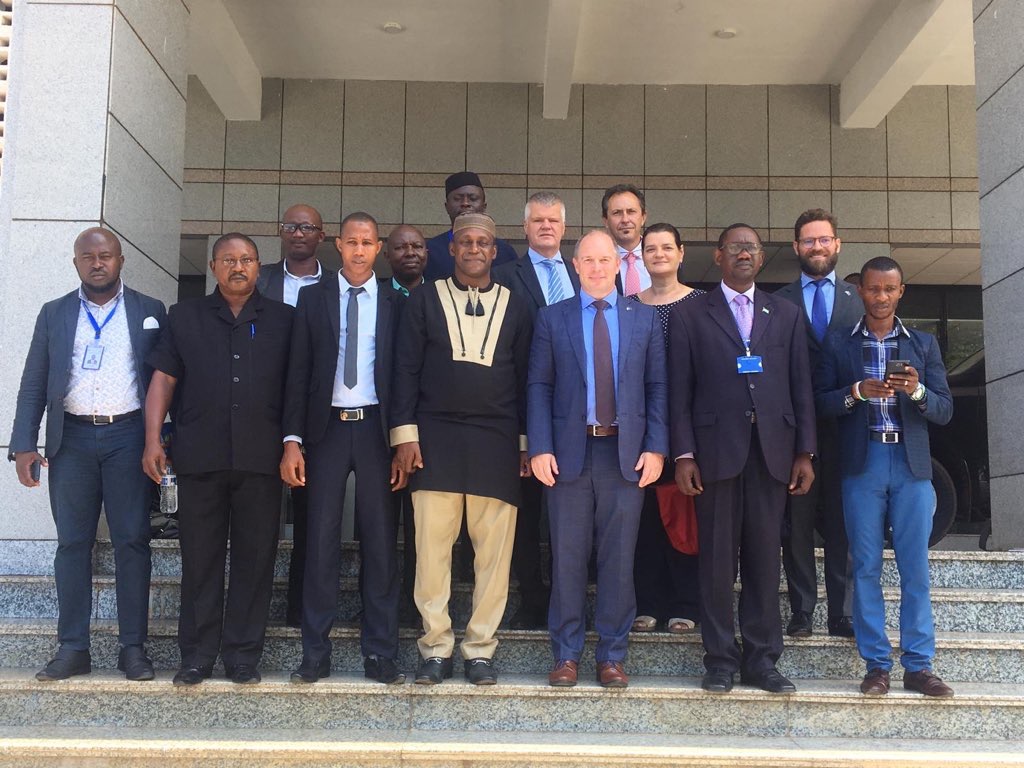 "As EU, we very much encourage openness and dialogue. Dialogue, not just with the Executive, but also with Parliament, is one of the essential elements that underpin our partnership with Sierra Leone."
EU and Multilateralism
The European Union's ambition is clear: remain a predictable and consistent partner for peace, security and human development worldwide. Given its ambition, it has continued to maintain a strategic partnership with the United Nations and its trilateral cooperation through the UN-EU-AU underscores their shared commitment on development, migration, crisis management and peace operations.
The Cotonou Agreement, due to expire in 2020, provides the overall framework through which the EU engages with Sierra Leone on political, trade and cooperation matters. The just started negotiations on a new partnership agreement not only opportunities for the EU and Member States to deepen their partnership but affords an opportunity to adapt cooperation agreements based on today's realities.
EU – Trade, Investment, and Budget Support
"EU is still Africa's largest trading partner," said Vens "accounting for 36% of Africa's trade in goods" as he gave a retrospective overview of the importance of Africa's relationship with the European Union. "In 2017, 75% of exports from Sierra Leone to the EU amounted to €300 million with 20% of the imports to Sierra Leone originating from the EU.
The EU and Member States provide support to Sierra Leone for growth, job creation and for the provision of a business-friendly environment. However, lack of a stability, lack of confidentiality and trust, unfair competition, weak banking sector, complex tax regime and deficient tax revenue collection, lack of skills, lengthy and opaque export and import processes hamper the growth of a favorable private sector ready for investment.
There is the crucial need to stop illegal, unregulated and unsustainable (IUU) fishing, and the support that they will provide for lifting the "Yellow Card" sanctions imposed on the country's fishing sector.
The EU's current program of about €376 million including budget support and specific interventions is focused on three focal sectors namely, Technical and Vocational training with plans to build 100 schools in four districts and training 2300 teachers and supporting capacity building in the ministry, boosting agriculture and food security through value chain development and enhancing agribusiness investments and governance.
Democratization and Election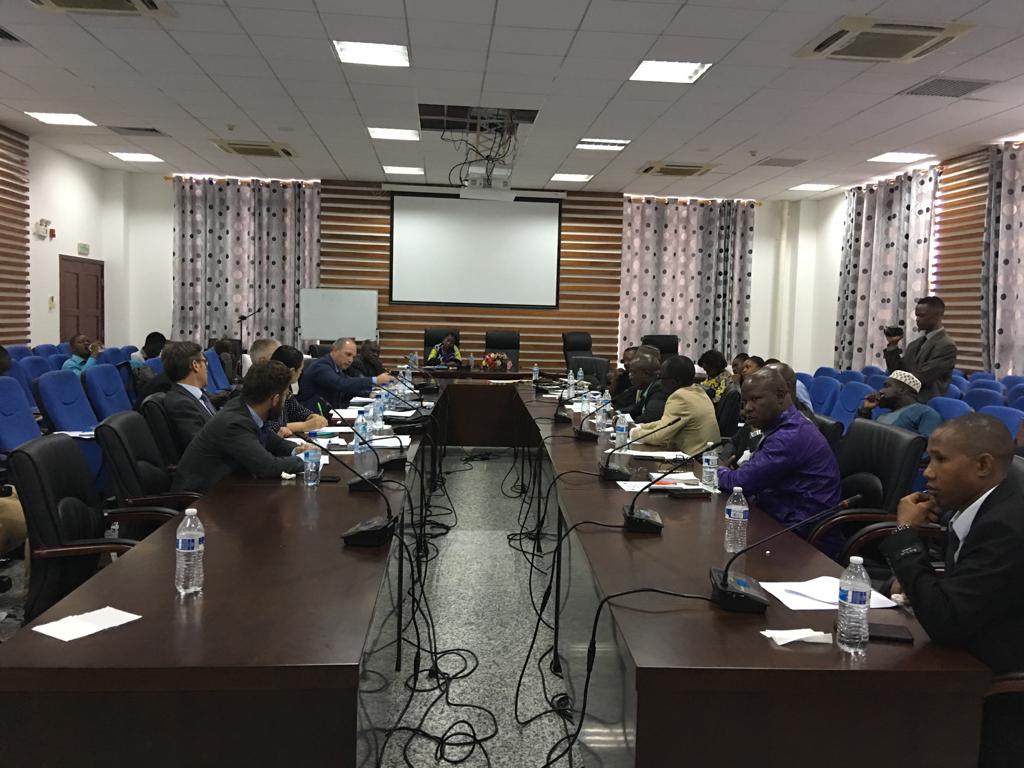 The EU affirms the six key recommendations (29 in total) offered by their Observer Mission and challenges Members of Parliament to take their normative role in governance seriously especially when it comes to electoral reforms.
Out of the 29 recommendations offered in their report, 25 will require new legislation including 9 constitutional changes.  These include making the date of elections fixed and predictable so that the beginning and end of a five-year tenure is known by the people, increasing the number of women in various levels of governance, support to the disabled, and ensuring that people do not have to resign their jobs 12 months before presidential or parliamentary elections.
Foreign Affairs, Development and Planning
Describing the symposium as a "significant milestone," Minister of Foreign Relations and International Cooperation, Mr. Alie Sajjan Kabba, emphasized the valued relationship that continues to exist between Sierra Leone and the EU as he expressed profound gratitude to Chairman Yumkella on behalf of his ministry for having convened the high-level event.
"For every partnership to succeed, there must be mutual respect, laws and regulations that govern it," said Peter Nuyuba Sam-Kpaka, Development Secretary at the Ministry of Economic Development and Planning representing Mrs. Nabilla F. Tunis, the substantive minister.
EU Coordination and Cooperation
Said Vens, "I was pleased that the Ambassador Catherine Campbell of Ireland was also in attendance. As EU ambassador I do not just represent the EU institutionally but the interests of the EU more broadly. We work in full coordination and close cooperation with our Member States."
Future Hearings
Following the spotlight on the European Union, the next partner to face the committee's open hearing will be the United Nations System and Country Teams on 14th November to be followed by the United Kingdom's High Commission and the Department for International Development (DFID) on 21st November 2018.
The Mano River Union closes the event calendar for the year 2018 on Nov. 28  and will address regional integration and trade facilitation among its member states.
"I hope that indeed this will not be the last opportunity to engage in this format," maintained Vens "the first of its kind in recent history."
World Copyright
The AfricaPaper, USA, 2018. All rights reserved.  Photos and text may not be published, broadcast, rewritten, redistributed or used in any form without the written permission of  The AfricaPaper, and AIIR. We take legal action for any copyright infringement.
|TAP| Africa's Newspaper of Record