By Anthony Abdul Karim Kamara, Jnr | The AfricaPaper  
As calls for an African integration echo across Africa and overseas, our correspondent in Rwanda reports with a focus on the Fifth Pan-African Parliament Ordinary Session opening  in Kigali, Rwanda. President Kagame's call on Members to support 'African Integration.' The President of the Pan-African Parliament fights corruption allegations. Rwanda pledges for a  'commitment to common destiny and continental stability.'
KIGALI, Rwanda – President Paul Kagame has on behalf of his country offered a warm welcome to Members of the Pan-African Parliament gathered in Kigali from around the continent for the organ's Fifth Parliament ordinary Session.
All of Rwanda is "honoured to serve as your host," said Kagame amidst a stunning display of Rwandan culture as he called on legislators to consider Rwanda "home."
Advancing Africa's Interest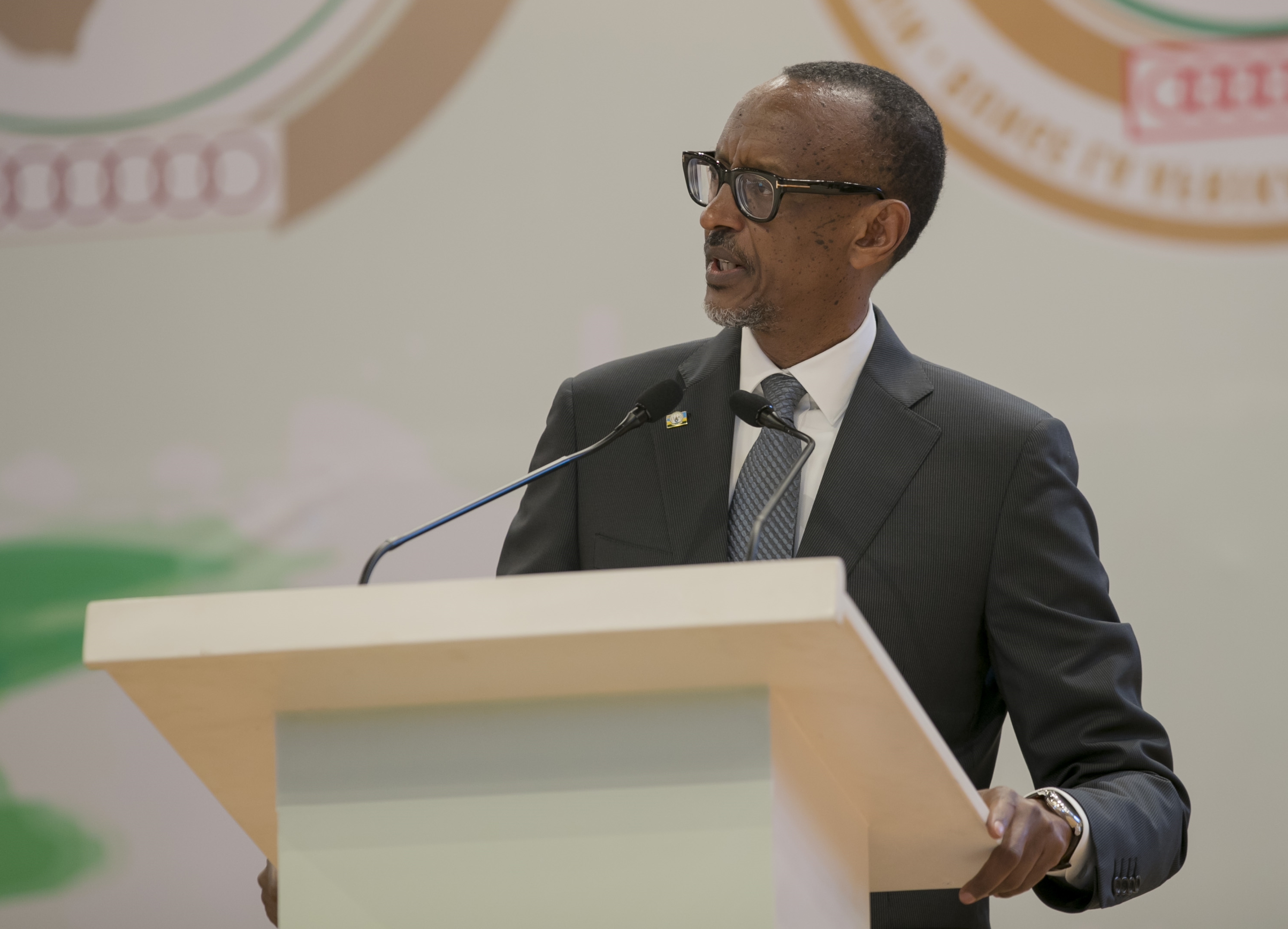 "Working together is the only way to give Africa's position the weight it deserves, in the wider geopolitical context," as he called on legislators to be 'strong advocates' for the continent's integration.
Kagame, currently chairperson of the African Union (AU) was speaking in his capacity as Guest of Honour at the opening plenary of the African parliament high-level summit noting that Africa must be ready to face the significant changes taking place around the world and the region to be able to speak with "one voice" and "advance her interests."
"Responsibility for Africa's security and prosperity is firmly in our hands. We must meet the imperative of good governance, with innovations and solutions drawn from Africa's rich experiences and cultures, even as we remain open to benefiting from the best global insights," he underscored.
Role of Pan-African Parliament Legislators
On the ratification of the African Continental Free Trade Agreement, the Protocol on the Free Movement of Persons, and other key pillars of Agenda 2063, and their potential contribution to continental transformation, Kagame reminded  the PAP legislature of their role and admonished them to take their work seriously.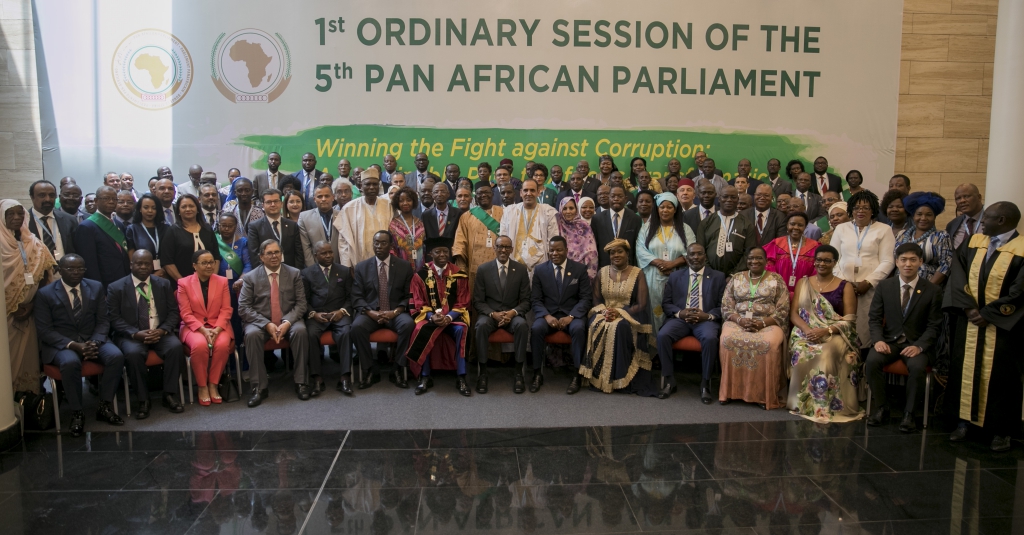 "The entry into force of these historic compacts will do more than almost anything else to accelerate economic growth and shatter outdated perceptions of our continent. We cannot afford to squander the momentum we have gained."
Calling on the legislators to be strong advocates for African integration, President Kagame noted that their dual responsibilities both to their national legislator and to the continent increases the monumental impact they all could possibly make for an on behalf of Africa.
"We need your help to communicate more effectively with constituents and stakeholders in civil society about the importance of these agreements for the well-being of our citizens and our economies."
Corruption in Africa
Many critics contend that the theme "Winning the Fight against Corruption – A Sustainable Path to Africa's Transformation," is timely given that Hon. Roger Nkodo Dang, President of the parliamentary body, has himself been accused of corruption. He denies the allegations describing them as politically motivated and the work of losers.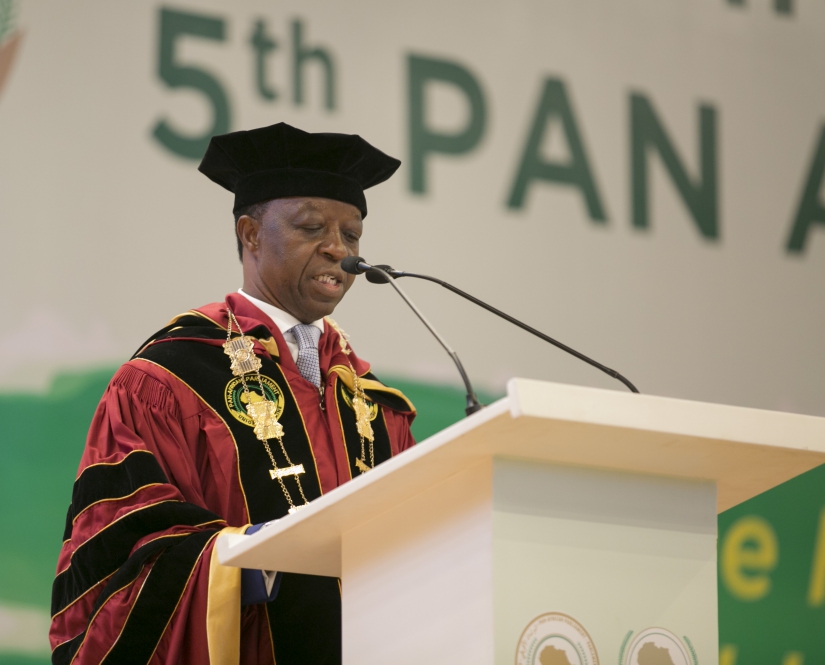 "Rwanda is important in the fight against corruption on the continent as it offers a proven model for creating a massively popular awakening in the campaign against corruption," said the Cameroonian MP. "Political will and state instruments are crucial in this fight."
Dang has been accused of leading a dysfunctional legislature and failing to fulfil its mandate, thus, the fight for a corrupt-free Africa may need to start from PAP's doorsteps.
Aside from corruption, participants are also slated to discuss peace and security in Africa, the role and impact of the African Union electoral observation missions with a focus on cases of electoral disputes across the continent, transitional justice, the draft model disability law, and the African Peer Review Mechanism (APRM) Country Review Reports.
The Malabo Protocol
As currently constituted, the PAP is only a consultative and advisory organ of the AU. However, if ratified, the Malabo Protocol provides for the election of MPs to the continental assembly from outside the membership of national parliaments. It also provides for representation of two women out of five designated members per country.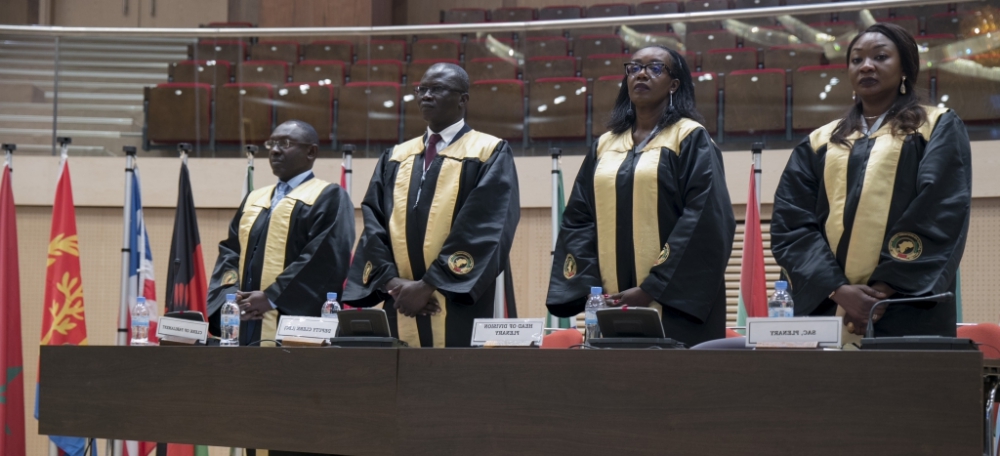 Issued in 2014 and intended to be a game changer, giving the PAP sweeping legislative powers — but the document is still to be adopted. Dang hosted a press conference where he responded to questions around the protocol.
Visionary Leadership
'It is our mandate as Members of Parliament through legislation and oversight of Government's actions to make sure that Africans that we represent in our respective parliaments live a decent and dignified life," said Hon. Mukabalisa Donatille, Speaker of the Rwandan Parliament.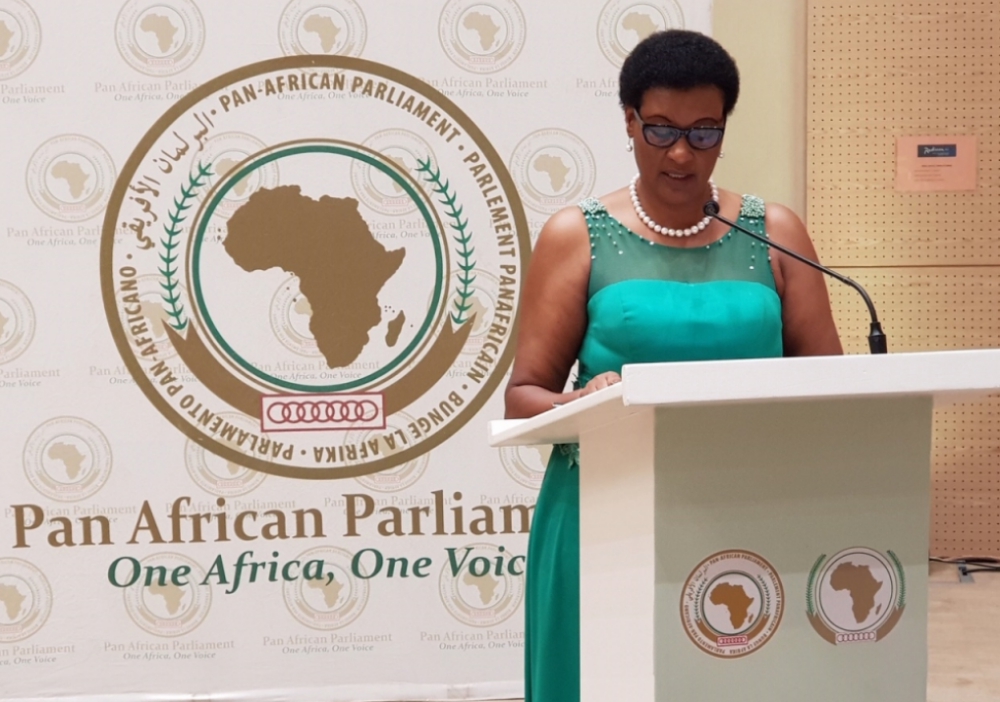 Calling on governments in the region to create an environment for their citizens to flourish, she noted that President Kagame's "visionary leadership" has created an environment that enables all Rwandans "to maximize their potentials," – remarks she delivered during a high-level sumptuous dinner organized for participants.
"Rwanda," she said, remains open to sharing, exchanging and learning from experiences and best practices as she pledges strong partnerships for a shared "common destiny, continental stability and development."
The session runs from Oct. 18 to Nov. 3,  2018.
|TAP| Africa's Newspaper of Record | Twitter: @theafricapaper

World Copyright
The AfricaPaper, USA, 2018. All rights reserved.  Photos and text may not be published, broadcast, rewritten, redistributed or used in any form without the written permission of  The AfricaPaper, and AIIR. We take legal action for any copyright infringement.