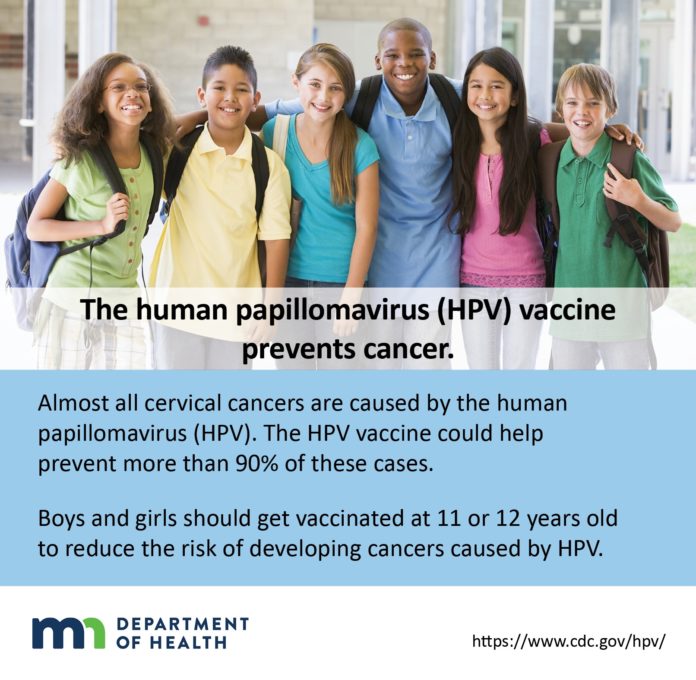 Human papillomavirus, also known as HPV, is a very common virus. Almost all people will get at least one type of HPV at some time in their lives. Most HPV infections go away on their own, but sometimes the infection stays and can lead to cancer. Every year in the United States, about 35,000 women and men are diagnosed with cancer caused by HPV. The HPV vaccine helps protect young people from getting this virus, which means it protects them from cancer.
One of the most common types of cancer caused by HPV is cervical cancer. Cervical cancer was once the leading cause of cancer deaths among women in the United States. Cervical cancer screenings, which are tests to catch cervical cancer early, have helped decrease the number of cervical cancer deaths. Now, screening and the HPV vaccine have made cervical cancer one of the most preventable cancers.
However, it is still a problem. In 2016, there were almost 13,000 new cases of cervical cancer reported in the United States, and 161 of those cases were Minnesota women. Even more, women get precancers. Precancers are abnormal cells that can lead to cancer. They can be found through cervical cancer screening, but the testing and treatment of precancers can cause other health problems.
HPV vaccination could prevent more than 90% of cervical cancers and precancers. The problem is only about half of Minnesota adolescents are getting this vaccine. Boys and girls are recommended to get two doses of the HPV vaccine when they are 11 or 12 years old. Older teens and adults can also get the vaccine, but they will need three doses if they start the vaccine when they are 15 years old or older.
The vaccine works best if given before coming into contact with HPV. Studies show that protection from the vaccine lasts a long time. Women who have received the HPV vaccine should still get regular cervical cancer screening starting at age 21 because the vaccine is not 100% effective a preventing cervical cancer.
The HPV vaccine is safe. Over 100 million HPV vaccines have been given since the vaccine was licensed by the Food and Drug Administration (FDA) and recommended by the Centers for Disease Prevention and Control (CDC). All vaccines used in the United States are required to go through years of safety testing before they are licensed. Health professionals continue to watch the safety of the vaccine once it is being used. There are over 10 years of safety data now that show the HPV vaccine is safe and doesn't cause serious health problems.
Vaccines, like any medicine, can have some side effects. Most side effects from vaccines are not serious. The most common side effect reported with vaccines, including the HPV vaccine, are pain, redness, or swelling in the arm where the vaccine was given. These side effects usually go away in a few days. Fainting after any vaccine is more common among teens. This is why the doctor will have them sit and be watched for about 15 minutes after the vaccine is given.
With the HPV vaccine, we have the power to prevent six types of cancer, including cervical cancer. Get your 11 and 12-year-olds vaccinated to protect them. Talk to your child's health care provider to see what vaccines are recommended for them. If you don't have a child this age, tell your family and friends about the importance of getting their kids vaccinated.
The AfricaPaper | We Amplify Unknown Community Voices!

Sponsored Content: Free to reproduce, reprint, and redistribute with the direct link to The AfricaPaper website. ALL Credit and World Copyrights – The AfricaPaper.