Recently, the Office of Minnesota Attorney General Keith Ellison released a statement warning business owners against price gouging on medical supplies and food items. For the poor and homeless Minnesotans, they can't afford to buy protective gears such as masks and gloves. They can't find them at affordable prices and live in fear of catching the deadly virus. On Sunday, April 12, state health officials confirmed a total of 194 positive COVID-19 tests, equaling 1,621. Church leaders are stepping in to provide much needed protective gears for the poor and homeless.
By Issa Mansaray | The AfricaPaper
Minneapolis, Minn – The orange cones were hastily lined up, creating space for "social distancing" and to manage the crowd. And then, the women were called first to queue up. Later, the men were called to do the same. Some came in wheelchairs, and others with walking canes. These are the homeless, without any protective gears and cannot afford to buy them.
Masks and Gloves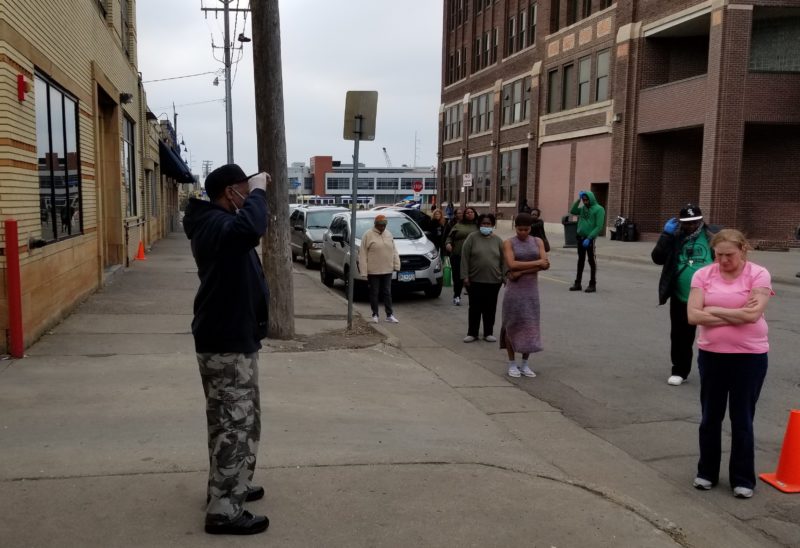 As COVID-19 deaths increase in Minnesota, communities are left to scramble for help and to meet the needs of the homeless in the Twin Cities. Local leaders fear it is a matter of life and death if the homeless are infected with the coronavirus. Without money, and a place to sleep many do not know where to get protective gears, masks, gloves, and hand sanitizers.
These have become much-needed products for medical doctors, nurses, and first responders. Even if some of the homeless were to obtain them, they do not have the money to buy as some local stores doubled the prices in recent weeks. It became a source of concern for Minnesota Attorney General Keith Ellison who released a press statement warning businesses against price gouging on food, medical supplies, and other essential goods.
Turned Away
Local church leaders have stepped up to help their communities and the homeless in fighting the COVID-19 pandemic. According to Bishop Harding Smith, founder of the Spiritual Church of God in Robbinsdale, many of the homeless at the Salvation Army have been turned away from services for lack of face masks and gloves. Smith says his church is delivering the 300 sets of masks and gloves to the homeless to let them know that they stand to support them in these challenging times and that he knows what they are going through.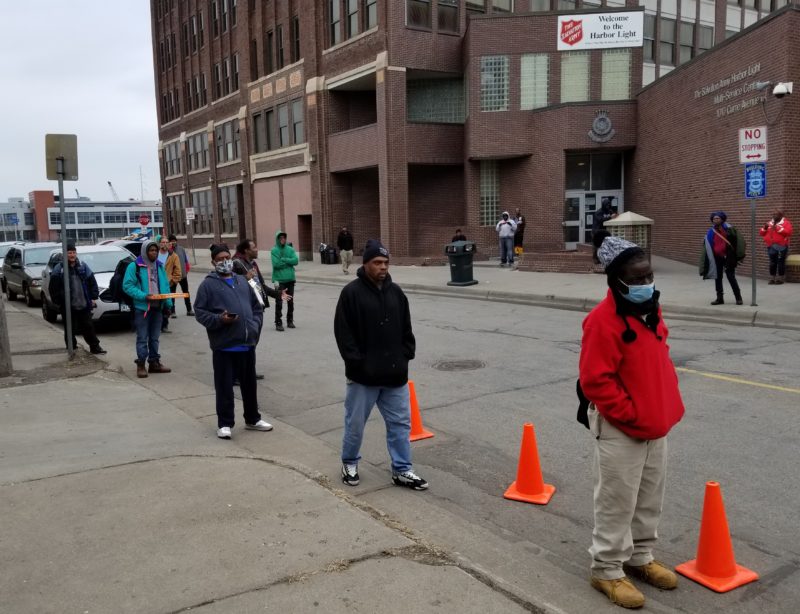 Mr. Thomas a homeless at The Salvation Army said that he has been turned away from services and grocery stores because he did not have a mask on, and he is grateful to the Spiritual Church of God. Adding that he looked everywhere and could not get a mask. For almost two weeks, Thomas searched, but couldn't find any organization or anyone donating or giving out face masks. He was happy to receive masks, gloves and $50 for groceries.
"We are working with our community. We just want to help any way we can. There are so many homeless people that have been turned away from services because they don't have masks," says Smith. "We are distributing 300 masks and blessing them with some cash."
Gravity of COVID-19
Giving out the masks and gloves in downtown Minneapolis, Smith says that he is aware of the gravity of the coronavirus; therefore, they also apply social distancing when distributing their gifts. Members of MAD DADS, a nonprofit that promote and demonstrate positive images of fathers engaging and protecting community, youth and families in local communities were present to maintain order along Currie Avenue in Minneapolis.
Smith adds that a lot of people are going through hard times and "being homeless is not easy at a time like this." His church, he says is giving out the masks and gloves so that the homeless can not be turned away when they go out for social services in these extremely difficult times.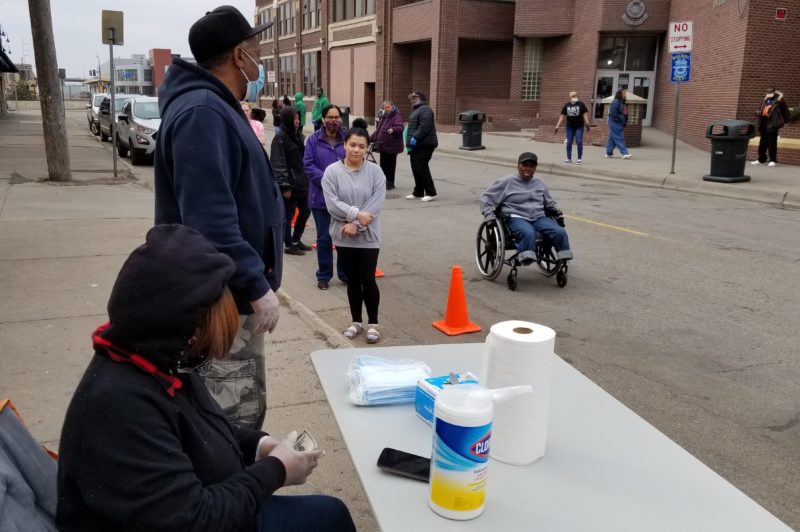 "We are giving these masks and gloves, so they can be safe and when they go to grocery stores they cannot be turned away," said Bishop Smith, a founder of the Spiritual Church of God, and President of Minnesota Acts Now – a community advocacy group. "We are asking people what are their needs and address that out here…We care for our brothers and sisters and we want to make sure that they are safe."
Deaths
The Minnesota Department of Health reported that six more people have died because of COVID-19 related causes. The state's total deaths have increased to 70. Minnesota Commissioner of Health Jan Malcolm says a total of 361 COVID-19 cases have been hospitalized in Minnesota as of March 12. Currently, 157 cases are hospitalized, with 74 in intensive care according to MDH.
"We can never forget that these numbers are in fact beloved family members, friends, and neighbors who are mourned," says Commissioner Malcolm. "We express our condolences and our commitment to continuing the work of protecting Minnesotans the best we can. It is very important for all Minnesotans to do their part in that effort by following social distancing guidelines and other public health recommendations."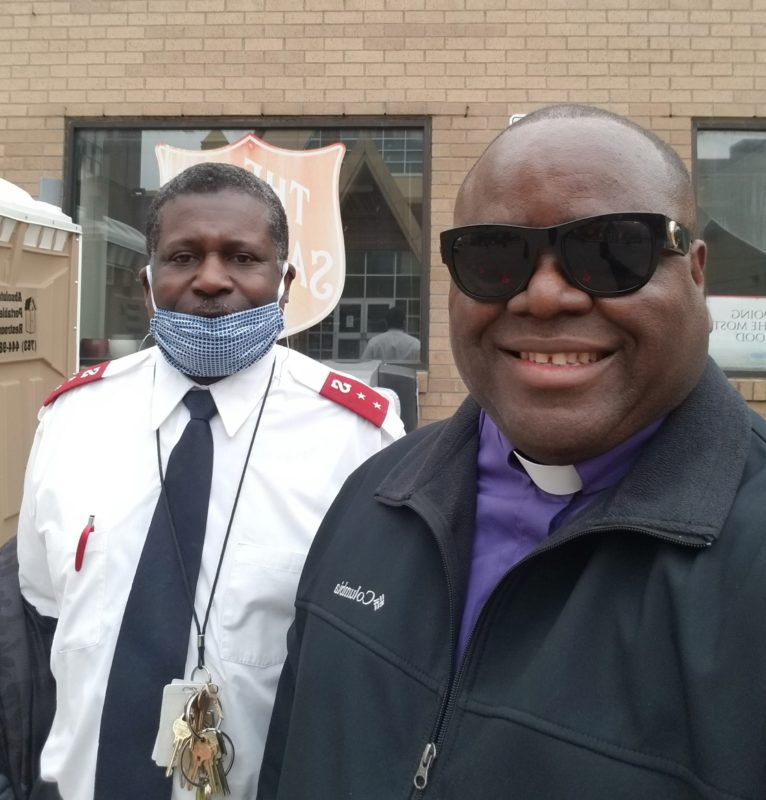 For now, Bishop Harding Smith and the Spiritual Church of God are playing their own part to save the poor and homeless from the deadly COVID-19 pandemic.
At the Salvation Army, Capt. Leo Brooks says it was a great service for the church to donate the mask and gloves. "We can always use more [masks and gloves] and it was a perfect opportunity," says Brooks.
|TAP|