By Anthony A. K. Kamara Jnr. |

The AfricaPaper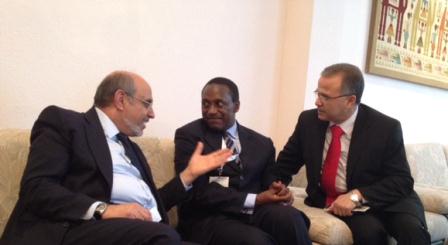 TUNIS – Tunisian Prime Minister Hamadi Jebali has on behalf of the government and the people of Tunisia welcomed representatives of international organizations, governments and the private sector as they converged in Tunis for a two day international conference on productive capacity for youths.
The conference was organized by the European Union (EU) and the UN Industrial Development Organization (UNIDO). European Commission Vice President, Antonio Tajani led the EU delegation while Director General Kandeh Yumkella led the UNIDO delegation.
The summit which attracted about 700 participants discussed strategies geared towards developing and expanding the productive capacities of youths in the Middle East and North Africa (MENA) region. Participants also formulated recommendations that could boost productive and sustainable employment.
New Investment
Given Tunisia's recent history with the Arab uprising, the recommendations are seen by many as an effort to develop and expand enterprises within Tunisia's labor-intensive sectors.
At the conference, UNIDO, US Agency for International Development (USAID), Hewlett Packard Company (HP) and the government of Italy announced a new investment partnership to the sum of US $3.3 million to foster sustainable employment opportunities for young people in Tunisia.
"Our collaboration will also provide much needed technical assistance to targeted companies, particularly those in the agribusiness, environmental and other critical sectors of Tunisia's varied economy," said Mara Rudman, USAID Assistant Administrator.
Economic Development

The venture will provide an opportunity for the partnering organizations to focus on improving access and quality of services provided to predominantly young entrepreneurs by local institutions, and direct capacity-building for enterprises with high employment potential.
They will also seek to leverage small and medium enterprises (SMEs) as an effective avenue to facilitate economic development and foster entrepreneurship in order to drive new business creation in El Kef, Kairouan, Kasserine, and Sidi Bouzid.
Extensive Experience
As the implementing agency, UNIDO will draw on its extensive experience in the region to assist the creation and development of new businesses, especially for young people.
"Unemployment among educated youths emerges as a major challenge in Tunisia and collaborations like ours that put a strong emphasis on creating employment opportunities for young people entering the workforce will help empower and equip them well into the future," said Dr. Yumkella, UNIDO Director General Yumkella.
World Copyright 2012 – The AfricaPaper, USA. All rights reserved. Photos and text may not be published, broadcast, rewritten, redistributed or used in any form without the written permission of The AfricaPaper Media Corporation and AIIR.