[Not a valid template]
After weeks of controversy about Sierra Leonean Vice President  Samuel Sam-Sumana's academic qualification, and his expulsion from the APC party, The AfricaPaper visited his university where he obtained his degree.
By Issa Mansaray | The AfricaPaper
St. Paul, Minnesota – The Metropolitan State University in Minnesota can be seen from a distance as it sits atop a hill at Dayton Bluff in St. Paul. Its address at 700 East Seventh Street invites potential students. Metro State, as it is commonly known, was founded in 1971. The university is a member of the Minnesota State Colleges and Universities system.
Diversity
Sandwich between Mounds Boulevard and Maria Avenue, the campus occupies a lovely view, where students and visitors can look at the city below it for hours. Metro State has more than 11,000 full- and part-time students with a rich diversity, and a highly student-centered environment. Many Sierra Leoneans, Gambians, Nigerians, Kenyans, and students from different African countries pursue their higher education here. The university says their fees are affordable.
An interesting campus. At Founders Hall, one of the main brown-brick buildings, a talkative student representative tries to engage me on how to enroll; another, a young lady at the Disability office directed me to the Alumni office. At the university bookstore, an African student tries to sell me notebooks. The interaction with students would let you forget your purpose here. Many are interested in talking to outsiders.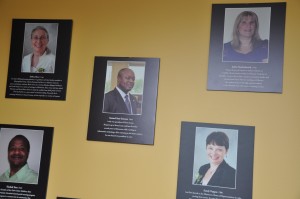 Photos
On campus, enter St. John's Hall, here photographs of the university's 40 most prominent former students are on display. Facing the wall with the displayed photographs, when one looks left, slightly above is the photograph of Sierra Leonean Vice President Samuel Sam-Sumana. The university celebrates  its 40th year as an educational institution.
Mr. Sam-Samuna last visited the Metro State campus in 2010, accompanied by Sierra Leonean Ambassador to the US, Bockari Stevens. Since then, much hasn't been heard about Sam-Sumana's affiliation to the university till late last week when his academic credential was questioned by the Nation Advisory Council (NAC) of Sierra Leone's Ruling party, the All People's Congress (APC). Mr. Sumana who has served as Vice President of Sierra Leone for seven years, was expelled from the party last week. At the time of this report, it is unclear whether Mr. Sumana will continue his second term as Vice President.
Qualification

One of the reasons given by the APC Secretary General Osman Foday Yansaneh for expelling Sam-Sumana from the party was that Mr. Sumana allegedly gave "false information about his religion and educational qualification." Mr. Yansaneh did not provide information on which qualification his party was questioning and could not be reached for additional comment.
On a Tuesday morning on March 9, The AfricaPaper's editor visited Metro State to request Mr. Sam-Sumana's public academic record. The paper then followed up with individuals including University officers who knew the embattled Vice President while a student at the Minneapolis, MN campus. Those who knew him said he was a moderate student, and few interacted with him.
Enrolled
The Vice President enrolled at the Metropolitan State University with his student name as: Samuel Sam-Sumana. He started classes in the Winter Quarter of 1997/98 and completed his studies in the Spring Semester of 2002. "This is the information that is public and we are able to share," said Anne Sonnee, Interim Vice President, University Advancement and Communications.
Sam-Sumana studied Management Information System, graduated on April 30, 2002, and received a Bachelor of Science (BSc) degree, according to the university. There is no record of the Vice President pursuing graduate studies at the Metropolitan State University.
Can't Verify Master's

"I'm only able to verify the information I have already provided," said Sonnee, referring to Sam-Sumana's BSc degree. "I cannot verify if he pursued a Master's degree."
With allegations of his academic credentials and religion still making news in Sierra Leone, The AfricaPaper is unable to review the forms he filed at the APC and the National Electoral Commission office in Freetown, and what qualification(s) he stated therein.
But, after due diligence, this paper can attest that Mr. Sam-Sumana is a graduate of Metropolitan State University and holds a Bachelor of Science degree from this academic institution and from records provided to The AfricaPaper's editors.
Next on:
Power: How He Lost It – The AfricaPaper will focus on Sam-Sumana's religion:
Is he a Muslim or Christian? Who Knows?
Don't miss any piece of the action! Tell us what you know and sources that we can talk to. Send us documents that can tell the story.
Email: info@theafricapaper.com      Fax: +1 (763) 561-0738
World Copyright:  The AfricaPaper, USA, 2015.  All rights reserved.  Photos and text may not be published, broadcast, rewritten, redistributed or used in any form without the written permission of  The AfricaPaper, and AIIR. We take legal action for any copyright infringement.