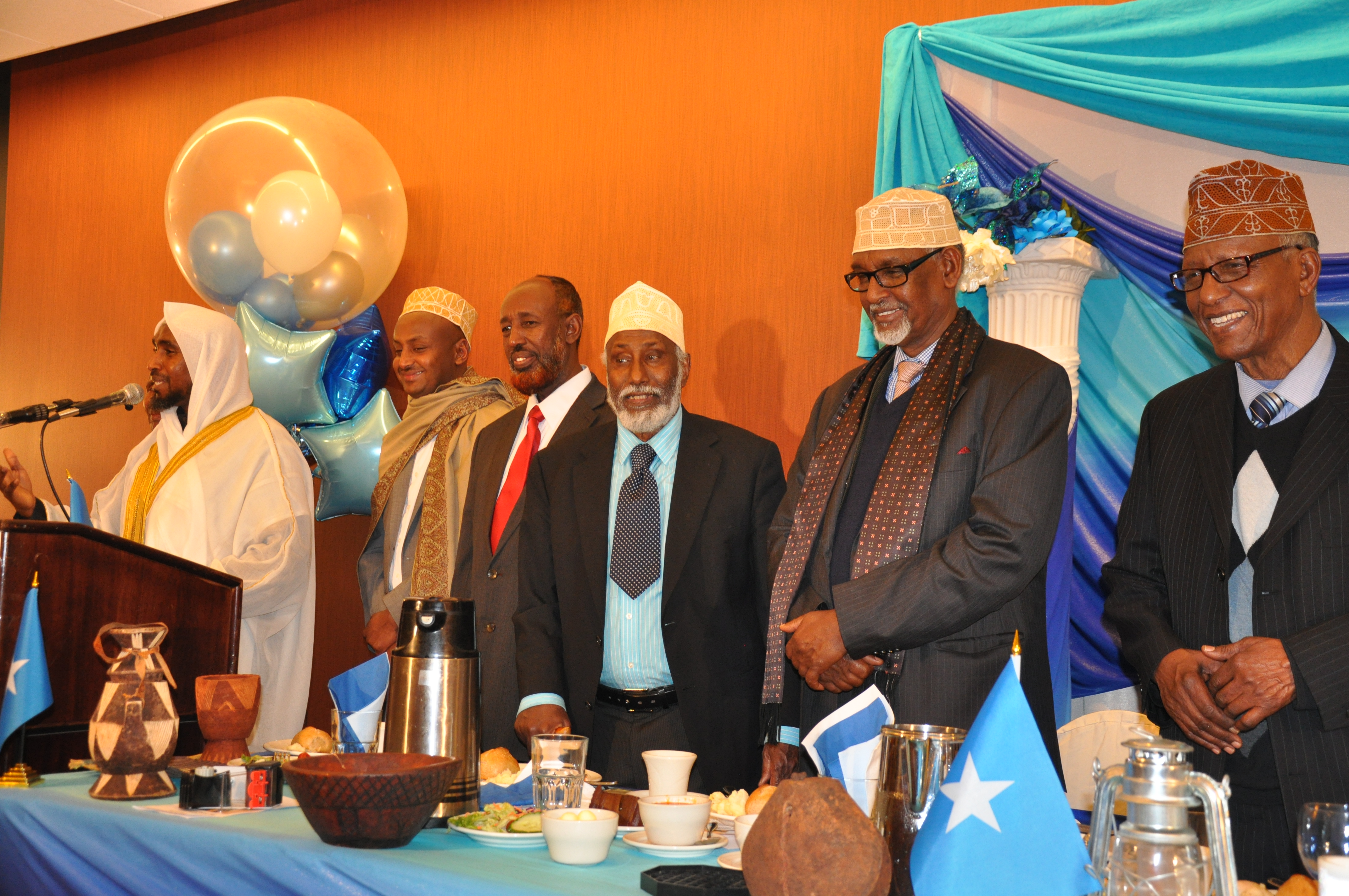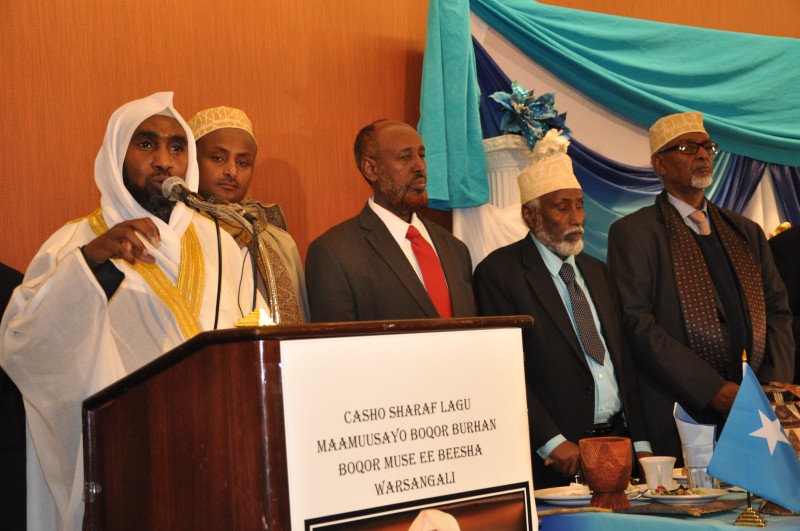 By Issa Mansaray

|

The AfricaPaper
Minneapolis, Minn – King Burhan Musa, the 34th King of the Daarood Kingdom has arrived in Minneapolis to settle what appeared to have been ongoing disputes among Somali traditional clan elders abroad.
For years, Somali traditional clan elders have been accused of serious rivalries that often resulted in division and disunity among the various groups. At home in Somalia, years of fighting has pushed people out of their homelands, displacing them to refugee camps in neighboring countries. Challenges like this has often prompted the King to travel abroad as a leader in an effort to maintain peace.
King Burhan Musa, who controls one of the largest clans in Somalia and the Horn of Africa, arrived in the US last month.
Entourage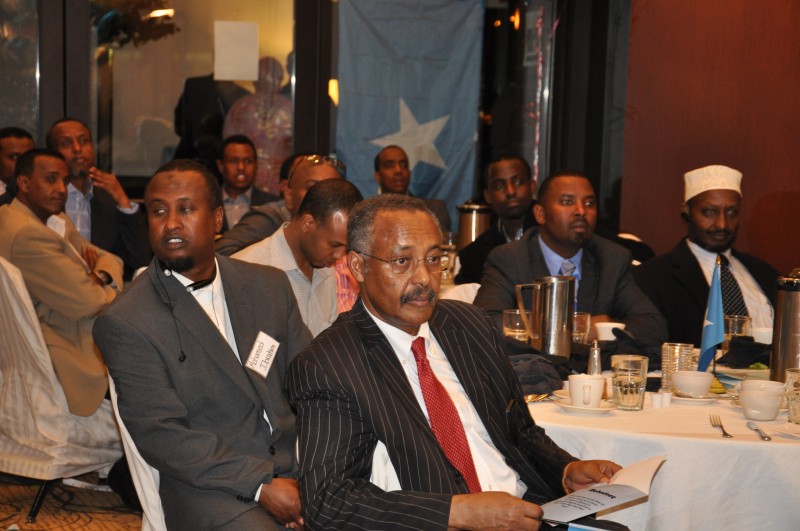 On Sunday, March 28 at about 8 p.m. King Musa, entered the hall with a huge entourage at the Ramada Hotel, Industrial Blvd. Somali women sang, and men recited poems praising the King as he entered the hotel. The King waved and smiled as he took the gold-painted chair that has been reserved for him at the high table.
In his speech, King Burhan Musa prayed for peace and asked for God's guidance for all Somalis at home and abroad. He condemned the recent terrorists' attacks in Somalia, neighboring Kenya and abroad. And then, he called on all Somalis to unite and work for lasting peace.
"The King said it is too bad, that the Somali people are killing each other," said Abshir Mohamed, from the Somali community in Minneapolis. "What we need to do to solve the problem, is for everyone to sit down and address the problems of Somalia."
The country has been politically troubled for more that twenty years, and so many youths, and families have lost their lives to various warring factions. In recent years, terrorists and local militias have attacked and killed government ministers. The King wants a stable and peaceful country to rebuild what have been lost during the wars in Somalia.
Mohamoud Hamud from Rochester, request that King Burhan try to reconcile between transitional leadership and modern way of life, to encourage the growing number of youths in the country.
Bringing Peace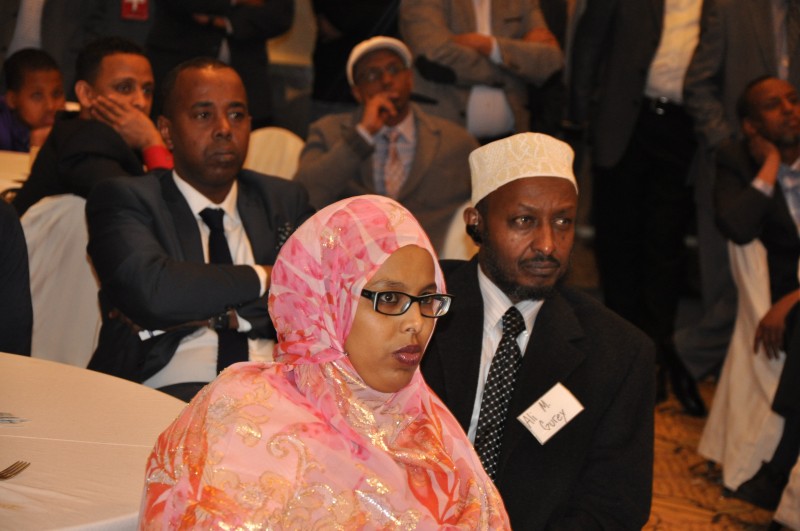 After years of political turmoil, terrorism, and clan fighting in Somalia, the crowd at the Ramada believe Somali traditional elders can solve the country's political problems, but first they need to solve their internal disputes and find common grounds for lasting peace in the troubled African nation.
Flanked by traditional elders, King Burhan Musa said he has come to bring peace, and wants peace for all Somalis at home and abroad. On his three-day visit, King Burhan Musa gathered more than 300 Somali clan elders and community leaders at the Ramada Hotel. He asked all of them to settle their quarrels as peaceful citizens of both the United States and Somalia.
The King added that the next generation of Somalis depend on those in the diaspora to bring peace to their homeland and develop the country that hasn't realize peace or economic development for almost three decades. He also warned his countrymen to respect  women who continue to suffer while husbands and children are being killed.
Think about Somali children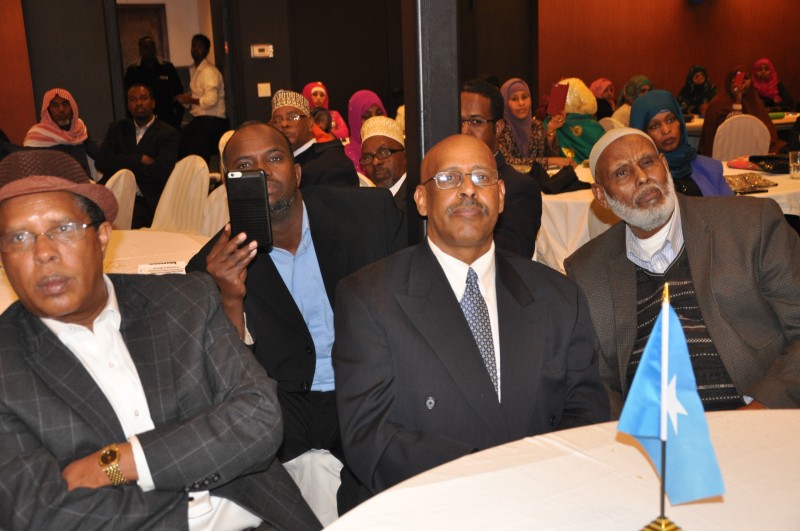 King Burhan Musa also urged his countrymen and women to think about the children of the shattered nation and not to harm them in any conflict. He stressed that without schools, and development, Somalia will continue to face escalating problems of unemployment for many years to come. He asked those gathered at the Ramada to speak their minds, and find peaceful solutions to the endless problems of Somalia that include clan fighting, Somalis killing each other and terrorism spreading across their country.
Terrorists, King Burhan Musa said have given Somalia a bad image, and Somalis at home and abroad.  He plans to hold separate meetings with Somali religious leaders, and elders from the various clans in the Twin Cities.
King Burhan Musa was officially crowned in the prehistoric city of Gardo, Puntland State of Somalia in May 2014 after serving for almost five years following his father death.
"Many people like him. He is an honest person," said Abshir Mohamed. "Even his great grandfathers have been fighting for peace since the 1800s."