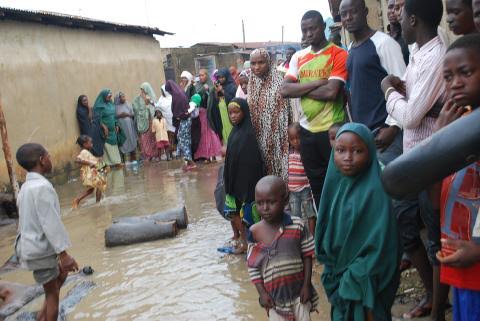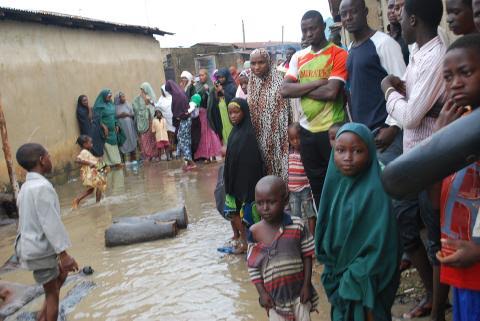 By Mohammad Ibrahim

|

The AfricaPaper
Kaduna, Nigeria – Residents of flood-ravaged communities in Kaduna state have expressed health concerns over their unkempt environments since the flood waters came their way over two week ago leaving 12 people dead and hundreds homeless.
Stench
They have been battling with stench from lost valuables such as food and clothing. Furniture, mattresses, cars among others were some of their valuables caught up in the flood.
Troubled victims now wake up daily mopping, and sorting out wet documents which they say has not been easy.
The water, apart from salvaging their living, didn't spare the dead as well. The cemetery in Tudun Wada, Kabala Costain suburb area of the state capital was overrun by the flood waters.
And the youths who operate a car washing factory around the graveyard were sent out of business for some time.
Disease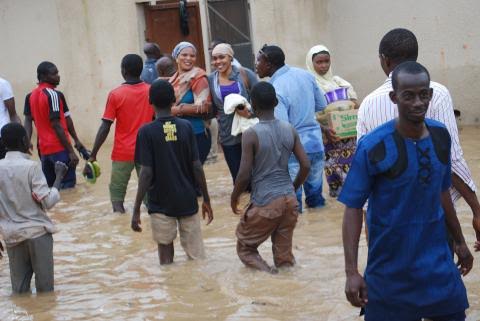 "We are out of business since the waters took over our shops. We are now back only to  battle with stench oozing from forcefully exhumed corpses," said Auwal Adam. "Our major concerned now is our health because we are afraid of disease outbreak."
Residents now urged  state authorities to help out in the area before any outbreak of diseases.
They feared  that their communities may serve as breeding places for mosquitoes and other health threatening ailments.
"We are afraid of Mosquitoes and other health threatening ailments. So, we need help. We don't  know what to do because we have children," said Madam Mary Bako a  flood victim. "Our lives are in danger. We are waiting for government to come to our aid because everything we owned have gone."
Awash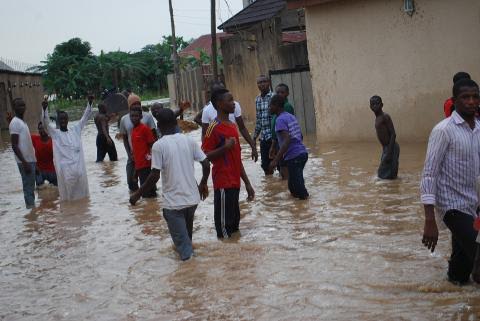 Another victim and a  resident of Barnawa GRA, Hajiya Karimatu Aminu said it was the first time in 30 years of her stay in the area  that she witnessed such a flood.
"The flood washed away almost everything we labored for. We only thank God, no life was lost in my family," said Aminu.
Stephen Graig a victim expressed anger for the failure of  the emergency agencies to assist them.
Medical
"Emergency Agencies could not do anything to help us. There were mosquitoes everywhere and this can lead to malaria," said Graig.
"If not for God intervention we would have lost so many lives as no medical assistance given to us as we returned home. I'm not happy with the situation. The government [agencies] are not doing anything to help us."
Submerged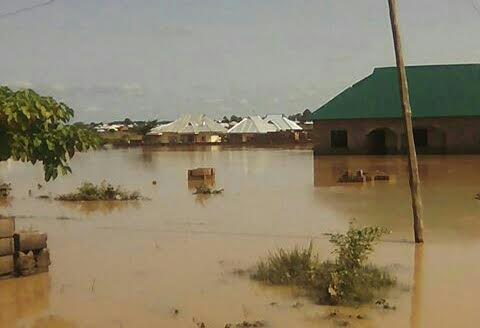 Hajiya Ramatu, a housewife said she became  worried when houses at her neighborhood were submerged.
"I became very worried to see most houses on my street submerged in water," Ramatu to The AfricaPaper. "I was scared to return home because of the level of damages caused by the flood."
The flood badly affected states – Kano, Katsina, Sokoto, Kebbi, Zamfara, Kaduna, Jigawa, AdamAwa, Yobe, Gombe and Bauchi, are still struggling to help displaced victims.
Displaced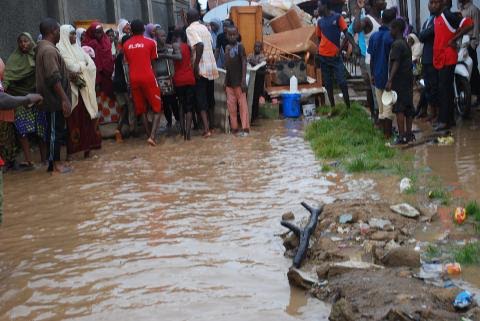 Kaduna State Emergency Management Agency (SEMA) said 30,000 persons were displaced with over 2,000 houses submerged, and  farm produce destroyed in 10 local government areas of the state.
"Kaduna flood was one of the worst in the history of the state, 10 out of the 23 local councils were affected," said Ezekiel Baba-Karik, SEMA's Executive Secretary. "We have been creating awareness to the people based on the prediction of Nigeria Meteorological Agency.
"Some houses don't have good drainage system and some people dump refuse indiscriminately and compound the problem," Baba-Karik told  The AfricaPaper.
Warning
Zonal Coordinator of NEMA North-West Zone, Musa Ilallah said the agency had thought it wise to educate people on the dangers of flood.
"Floods have claimed many lives, and most times it comes in the night when people are asleep. Lives were lost two years ago when there was heavy flood," said Ilallah.
NEMA Director General Sani Sidi said about 16 local government in Jigawa, 17 local government in Kebbi, almost 20 local government in AdamAwa, and other States mentioned above in NIMET prediction are so far affected.
"We warned the people about possible flood but they never take our warning seriously," said Sani Sidi. "People must desist from building their houses in flood prone areas."
|TAP| Africa's Newspaper of Record.
The AfricaPaper: Mohammad Ibrahim is The AfricaPaper's correspondent in Nigeria, covering Kaduna.