By Abubakarr Kamara

|

The AfricaPaper
Freetown, Sierra Leone – Though official results from the National Electoral Commission (NEC) are yet to be released, both the ruling All People's Congress (APC) party and the main opposition, Sierra Leone People's Party (SLPP) have claimed winning the polls on the first ballot. Anticipating there won't be a runoff.
55 Percent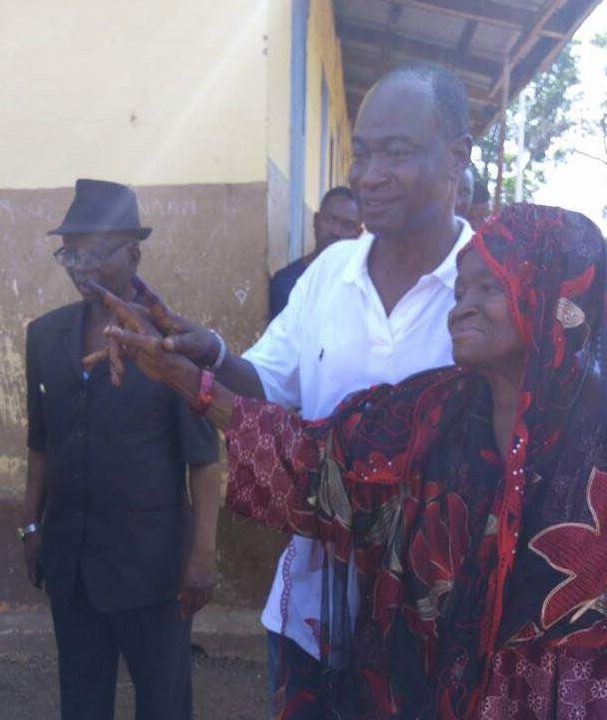 The country's election law states that a presidential candidate has to meet the threshold of55 percent in the first ballot to win the presidency, otherwise, the first two candidates will have to battle it out in a 'first past the post' runoff elections.
Mohamed Gibril Sesay – Research and Manifesto Chairman for the Presidential Campaign Committee of the APC said his party now leads the SLPP by 72, 410 votes according to results from the APC Coalition Centre.
"So far, out of the collated 2,817 polling stations representing a little over 25 percent of the 11,222 polling stations, the APC has 325,814 and the SLPP has 253,404 votes. The NGC has 45,752 and the C4C 21,697," Mr. Sesay disclosed.
He further stated that a considerable number of the results are still pending; most of which are in the APC strongholds. He therefore expressed optimism that his party will win the elections with over 55 percent.
20 Percent
The SLPP Publicity Secretary, Lawrence Lahai Leema says his party needed 20 percent of valid votes casted in the North and in the West to meet its 55 Percent threshold to win the elections adding that they have got more than that.
"This is very possible due to the impact we created in Falaba and Kambia districts in the north. The maximum gains we have made in the Western Area alone has already earned us the 55 percent threshold and beyond. Runoff is not possible in this election," Leema said confidently.
Claims
The SLPP Chairman, Dr Prince Harding was on radio Thursday morning calling on his supporters to come out in their numbers and jubilate, claiming they have already won the general elections.
"We have come a long way to achieve this and I therefore implore you to come out and celebrate because according to our party's collation center, we have won the elections. We are now waiting for NEC to officially announce the result," Chairman Harding claimed.
Observers
Meanwhile, the National Election Watch (NEW), which claims to have over 10,000 national and international observers deployed in all polling stations around the country, has projected a runoff. According to the group, no political party will meet the 55 percent threshold at the first ballot.
Though the NEW spokesperson, N'golo Katta acknowledged the fact that only the National Electoral Commission can declare official results, says it used Parallel Vote Tabulation (PVT) tools, that provides accurate and timely information on the conduct of an election and counting at polling stations to reach its conclusion.
''NEW wishes to assure the public that it has empirical evidence to support this projection," said Katta. |TAP|