By HENRY OWINO | The AfricaPaper
Kampala, Uganda – Ugandan Member of Parliament (MP) for Arua Municipality, Ibrahim Abiriga was shot dead on Friday, June 8, 2018 at Bombo Road in Kawanda, Wakiso District on his way home. He was killed together with his brother cum-bodyguard Saidi Buga Kongo at about 6:30 p.m. according to eyewitnesses.
Fear and Tension
The murder of the MP and his bodyguard has since caused tension and fear among Uganda citizens. Ugandans are now contemplating on their own security and lives, wondering if people of such a high stature in society and more so, guarded are killed, what of ordinary citizens.
Many reactions are currently coming from citizens who fear for their lives claiming security apparatus seems compromised or in laxity.  They question the seriousness of Uganda police officers' task in providing security to all citizens regardless of one's social status, religious and political party affiliation.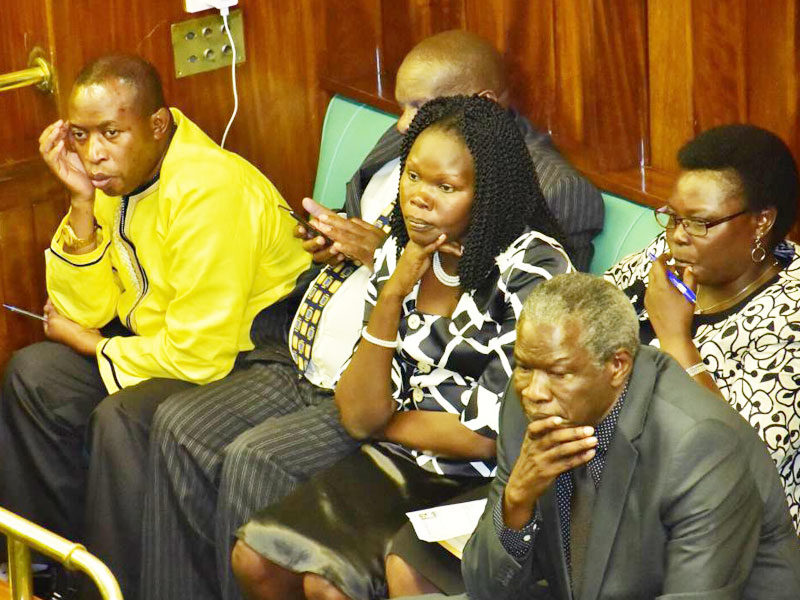 "I strongly believe that Abiriga was murdered for his firm position in supporting the government and his critics  were not happy. As results, he had many domestic enemies who are well known by the people in Arua, west Nile and in Parliament," Kent Mawa alleged.
Mawa claimed Abiriga's murderers must have been well trained assassins within security forces. He said they mastered Abiriga's movements and trailed him for long before they finally shot him to death.
"We demand his killers to be brought to book, charged and imprisoned for life,"  said Mawa.
Residents are now demanding for the arrest the late Hon Abiriga's killers. They claim many Ugandan citizens holding senior positions or appear to be supporting the opposition party are always killed in cold blood.
Unknown Assailants
Abiriga is not the first sitting Ugandan MP to be shot dead, though the practice was rampant before NRM came into power in 1986. Abiriga now joins other MPs who have died in the same way by unknown assailants.
Killing the MP for Arua Municipality sparked tension amid demonstrations by citizens in the streets demanding arrest of the assailants. Many citizens however, have varied opinions of possible cause of his death.
The most outstanding speculations from residents is that of Abiriga was a diehard of National Resistance Movement (NRM) and staunch supporter of President Yoweri Museveni. His support for Museveni and crucial role played in amending the constitution, earned him many enemies.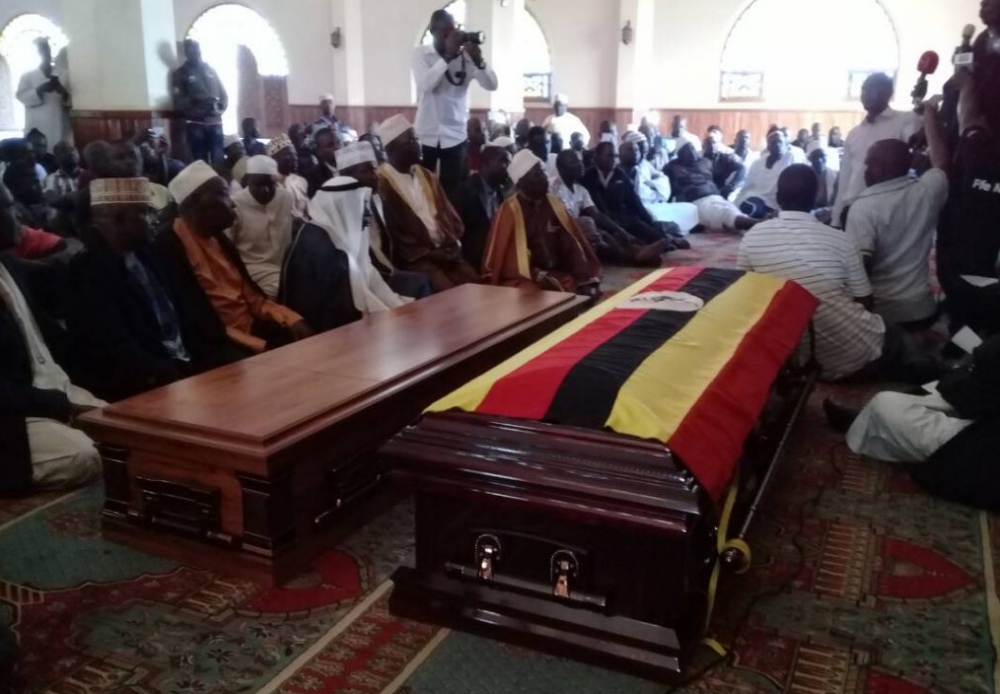 Abiriga was one of the champions for the recent constitutional amendment for the removal of the presidential age limit in the constitution. He was among the initiators of the move to amend the Constitution to remove Article 102b to have the 75 year upper age limit for the president repealed.
According to Jamick Mwanga, it is very sad that Uganda is heading back into the cycle of violence. "Why must people die because of their firm ideologies in politics or boldness in principles?" he asked.  The role Abiriga played could be the possible motive of his assassins.
"I think many people seem not to know Abiriga well, apart from his yellow attire and comical act within parliament. This man was a NRA Commander of the 32nd Battalion based in Palabeck, the current Lamwo district in 1990-91," Mwanga recalled.
"It is documented that Abiriga was responsible for many atrocities, killings in areas in Palabek Kal, Gem, Ayuu. It is documented, and political scholars know about it. However, revenge is not always a solution to any political problem."
Public Appearance
According to Uganda Police Spokesman, Emilian Kayima, Abiriga's last public appearance was at the presentation of the State of the Nation Address on a Wednesday, June, 6, this month. He was spotted at the Kampala Serena Hotel's International Conference Centre. Abiriga was in his trademark yellow Kaunda suit matched with yellow shoes.
"It is a very unfortunate evening where I had to confirm the assassination of the Hon. Ibrahim Abiriga. He was killed near his home in Kawanda, Wakiso district," Uganda Police Spokesman, Kayima said.
The Speaker of Parliament Rebecca Kadaga said she learnt with great shock of the shooting and death of Arua Municipality MP, Hon Ibrahim Abiriga.
"[The] Death of Abiriga shocked me and I hereby send my condolences to the family, relatives and the people of Arua and the country at large. I am also urging the security agencies to start investigations immediately," Kadaga posted on the parliament twitter handle.
"Urban Terrorism Activities"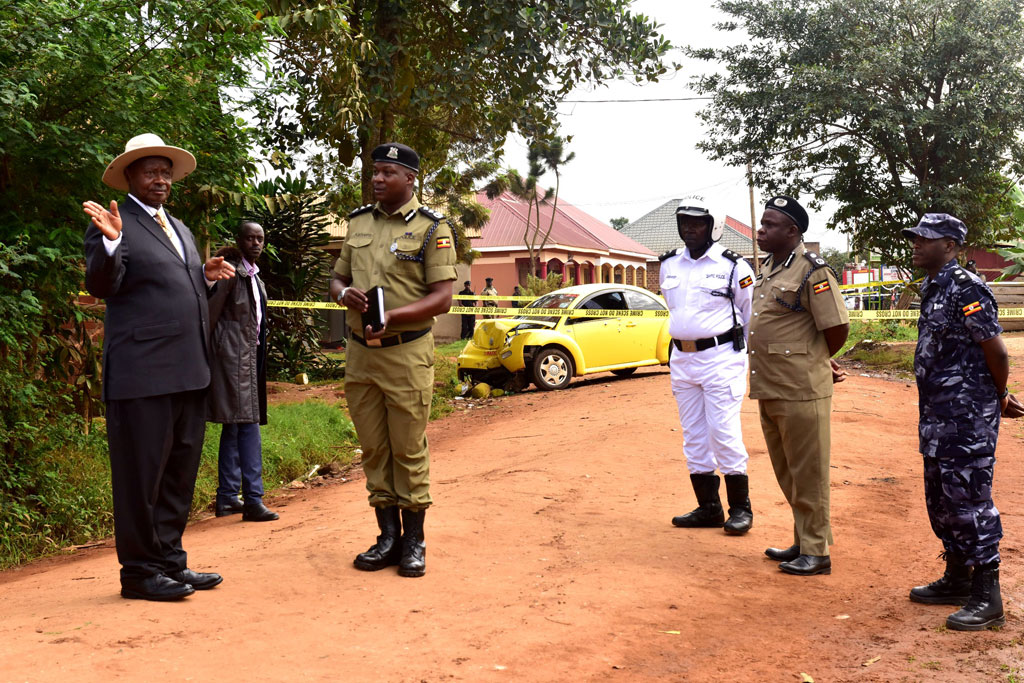 Surprisingly, the death of Abriga comes just a day after President Museveni assured Ugandans that the government will defeat masterminds of the new wave of what he called "urban terrorism activities" like kidnaps and murder.
President Museveni had also promised that the government was going to put in place mechanisms to build the intelligence gathering capacity in towns and along major highways.  The president pledges must have been a wakeup call for assassins to act fast ahead of its implementations.
Moments after he was gunned down, President Museveni made a phone call to late Abiriga's wife, Sijali Amina to console her. Amina had just returned to Arua Municipality two days from Kampala before her husband met his death.
Meanwhile, the mood at Abiriga's home was wilder with irate mourners ordering security personnel who had been deployed at Abiriga's home to vacate. They accused them of failing to protect Abiriga's life hence part of the plot for his murder.
Furious Reaction
Group of women who had rushed to console and comfort late Amina at home following the news of her husband demise, did not find it easy either. It was chaotic. Police and soldiers had to shoot in the air to disperse mourners who were ready to bite the bullet for Abiriga's death.
As news began to spread at around 7:30pm, members of Muslim community in Arua, NRM supporters in the municipality and Lower Madi community received it with lots of distress.
Members of Uganda Muslim Supreme Council, Arua district reacted furiously to the news of Abiriga's death and vowed to revenge on whoever participated on his death. Back at Abiriga's home at Anyafio village, mourners parked to capacity as they tried to get live updates from various television channels.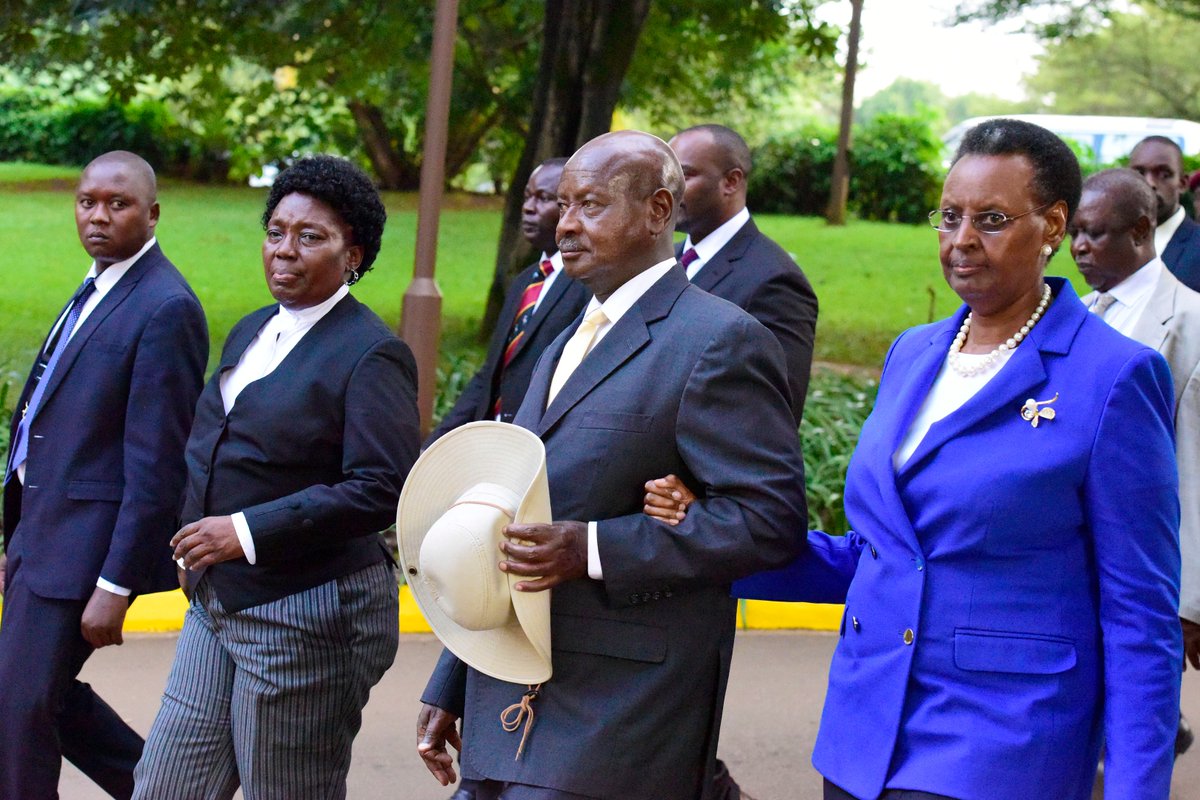 Before becoming MP, Abiriga served as the Resident District Commissioner (RDC) for Arua district for 12 years (2001-1013). He was later transferred to Yumbe in the same position. He resigned from the post to contest for a parliamentary seat, which he won in Feb. 2016.
However, his election was contested by his main challenger, Musema Mudathir Bruce, a member of the opposition party, Forum for Democratic Change (FDC) on the basis of lack of academic documents.
Bruce has since maintained that Abiriga did not have an advanced level certificate, the minimum education requirement for anyone contesting for a parliamentary seat in Uganda.
Catching Culprits
President Museveni promised in 1989 just three years after gaining power, option of not superintending a country in which a citizen is killed without state authorities catching up with the culprits.
"I will not preside over a country where a Ugandan is killed and the authorities do not know who has killed him," he said in a Uganda Broadcasting Corporation video clip now widely circulating on social media.
During Abiriga's funeral service, mourners reminded Museveni of what he promised at least 32 years down the line in office. The Arua District chairman, Mr. Sam Wadri Nyakua, tasked the President at the burial to explain why "Ugandans are being killed like chicken."
"Your Excellency, you are the Commander-in-Chief of the Armed Forces, you have fought many wars and defeated the enemies. Why are these types of killings happening?" Nyakua asked, referring to the brutality with which gunmen eliminated Abiriga and his brother-cum-bodyguard, Mr. Kongo.
Experienced Assassins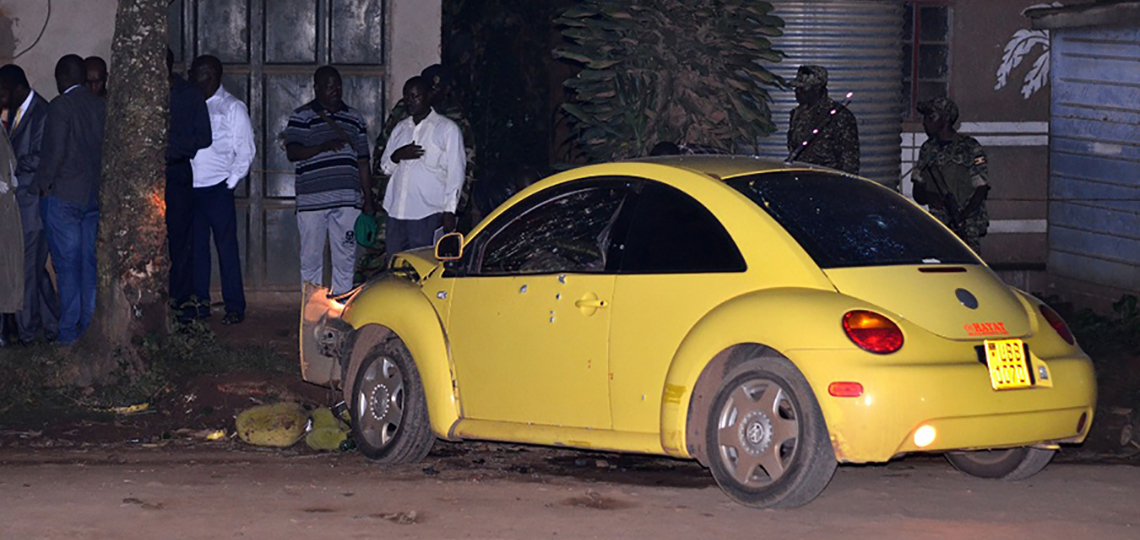 Motorcycle-riding assailants have over the past five years trailed their victims, shooting them multiple times in a manner that suggests the handiwork of experienced assassins.
Abiriga and his brother were brutally and abruptly assassinated in the same manner. Ending their lives at about 6:30 p.m. on a Friday.
Former police spokesperson Andrew Felix Kaweesi and the then senior State Prosecutor Joan Kagezi alongside more than half-a-dozen sheikhs have suffered a similar fate.
No suspect was arrested for Kagezi's killing in 2015, but dozens were incarcerated over the deaths of the sheikhs and Kaweesi, with either the court or police themselves freeing several for lack of evidence.
Fear and Panic
This pattern of unexplained killings, which some legislators said had placed them on the tenterhooks, formed the main theme of talk for officials at Abiriga's interment at his Rhino Camp ancestral home.
"We are living under fear, under panic because I don't know if I'm going to be shot today or tomorrow," Arua chairman Nyakua said to applause from mourners. "You are still in-charge and these types of killings must stop, Your Excellency."
MP Peter Ogwang (Usuk, NRM) said MPs have been receiving threats, sometimes from colleagues, warning of their plans to kill them and their children.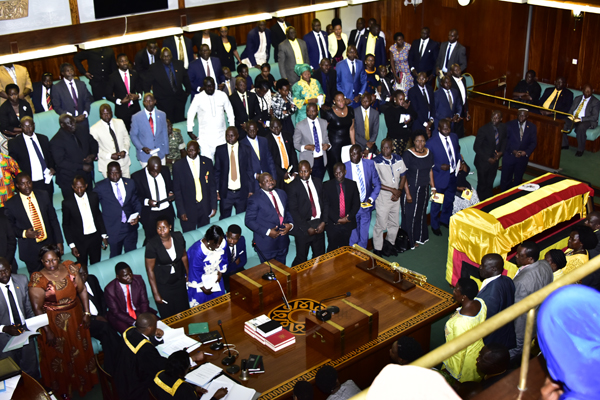 "This country is degenerating into a situation where it will soon be ungovernable," Mr. Ogwang warned, disclosing that his wife and children weep whenever he leaves home because they are not sure if he will return alive.
There was a chorus from across the political divide for a faster solution to the killings. In a rejoinder, President Museveni acknowledged the problem but downplayed it as non-military challenge, likening it to spotting a needle in a haystack, which he said can be handled through better intelligence gathering and civilian vigilance.
Evil Spirits
"Now people are worried, they are sad, they are angry. Me, I am sad, angry but I'm confident we are going to defeat these people," said Museveni.
"They have opened war; they have killed our people and they will know what NRM means when it fights back. Why do you kill an elected leader of the people of Uganda? Museveni inquired. "If you start war with NRM, you know you will lose. You find a man in his house or a car and you kill him?"
"You are a pig!" he exclaimed. "Such characters are part of "orindi onzi (evil spirits)."
President Museveni said "Abiriga was influencing people by example; I did not know some of his works. The ones who killed him are sons of ghosts of Uganda."
Unusual Violence
Odonga Otto, Aruu MP: "I can say with certainty that the terrorists targeted the wrong person. Death is death and it must not be used to derive political dividends whatsoever."
Issa Kato, Arua Municipality Mayor: "In our culture, these acts of violence are unusual. You lose someone like that (Abiriga), you lose your brain and behave anyhow."
Ms. Kiiza said Abiriga will be missed around Parliament because despite being a man of few words, he has been a morale booster to others parliamentarians.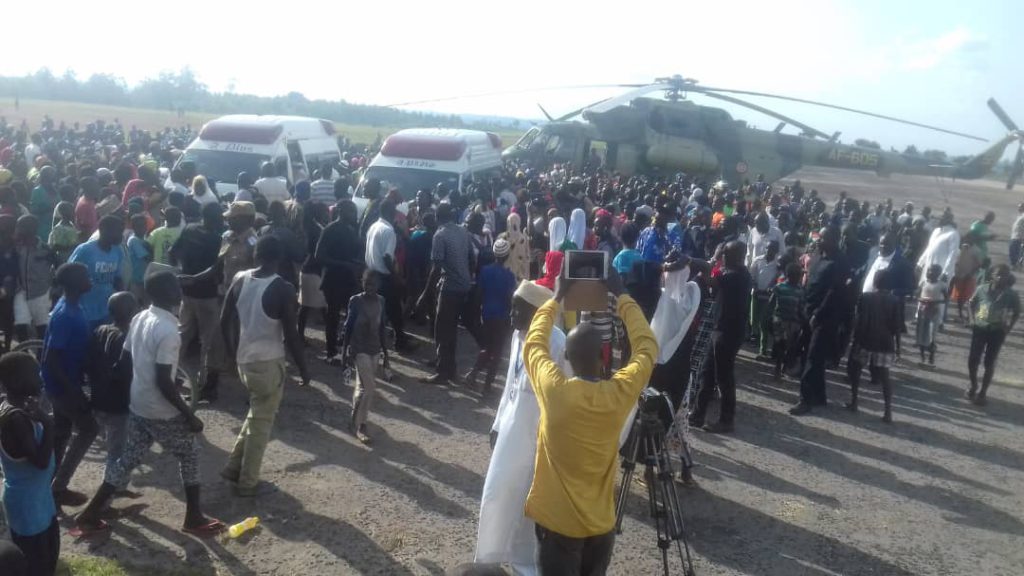 "I say sorry to the people of Arua Municipality and Uganda at large. He has been a man of few words and a morale booster for us in Parliament. I wonder why one would target Abiriga to kill him because as far as I know, he had no grudges against anyone," said Kiiza.
"It is unfortunate that Hon Abiriga has died the way it has happened, but we appeal to the security agencies to wake-up and save this country from such kind of murders."
The Uganda People's Defence Force (UPDF) spokesperson Brig. Richard Karemire described the killing of Abiriga as a cowardly act.
"We condemn this act in the strongest terms. We shall continue to work together with other security agencies so that we guarantee peace and security," said Karemire. "UPDF commiserates with the family of the deceased and patriotic Ugandans. Abiriga has been known for his dressing code that is fanatic to the ruling National Resistance Movement by donning all yellow to express his endless support to the party."
However, his participation in ensuring that the age limit is removed was interrupted by a court case in which he was accused of urinating in public near the Ministry of Finance head offices in Kampala. Abiriga would later be fined Sh40,000 (about $10,400) by City Hall Court for being a public nuisance.
World Copyright
The AfricaPaper, USA, 2018. All rights reserved. Photos and text may not be published, broadcast, rewritten, redistributed or used in any form without the written permission of The AfricaPaper, and AIIR. We take legal action for any copyright infringement.
|TAP| Africa's Newspaper of Record