By The AfricaPaper Syndication | USA
Minneapolis, Minn – Pastor Alexander B. Collins, head of Redeemed Life Church in Minnesota, has been awarded the 2018 Governor Mark Dayton's Community Leadership Award. The pastor runs a multinational congregation in the City of Mounds View.
Award
Pastor Collins' selection was based on his works within the community, some dating as far back to Barway Collins' [not related] 2015 episode and later, the 2014 Ebola crisis that gripped several West African nations including Liberia. Pastor Collins, continues to serve his community in various capacities over the years.
Governor Mark Dayton is the 40th governor of Minnesota and each year his office gives awards to distinguished personalities from diverse background who have made a difference in various spheres of life in their respective communities within their cities, and the State of Minnesota.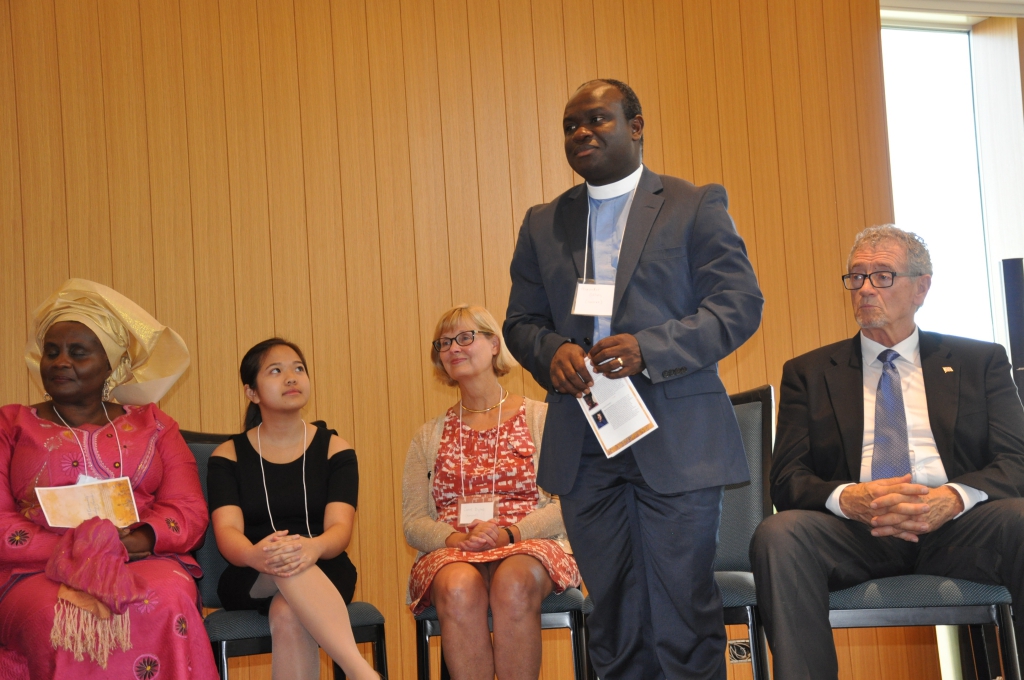 Impact
In presenting this year's awards, Center for women in Leadership and Diplomacy along with the American Swedish Institute that facilitated the event, said this was a special occasion aimed to honor outstanding community leaders whose works impacted lives several areas. They named them as "Advocating for and supporting victims of human and sex trafficking; Aiding homeless people across the state, and Building more peaceful, diverse, and inclusive communities."
In a brief interview with The AfricaPaper (TAP) shortly after receiving his award, Pastor Alexander Collins expressed great appreciation for the award and honor. He thanked the Governor's office together with program facilitators.
"This award speaks volume of what we are doing for our community. It shows people are watching," said Pastor Collins, when TAP asked what he thinks prompted such award.
Needed Savior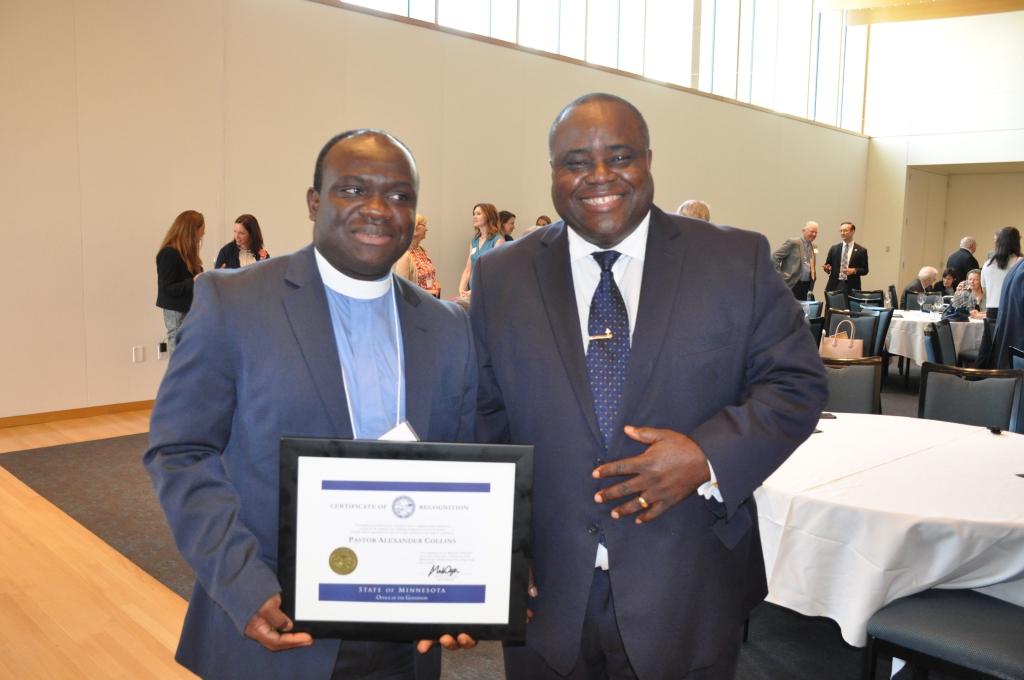 According to the church's website, Pastor Collins discovered Jesus Christ when he was 10 years old. "It occurred that while sitting at home, I saw a group of people signing Christian songs on the streets; I was attracted to the melody of the songs and followed them to the church," Collins wrote.
"And while at the church that evening listening to the songs, I was convicted of sins and convinced of my need of a savior; so I gave my life to the Lord."
He later became a music director of that church and then a youth leader. Since then, Pastor Collins has devoted time to learning about leadership.
Performance
He stated his goal is to help the community whenever the needs arise and maintained he would continue to play such role irrespective of whether or not he receives award.
The Governor Mark Dayton Community Leadership Award is the second major award within six years given to Pastor Collins. In 2012 he received the Mayor of Brooklyn Park Community Leadership Award for excellent performance.
Collins, a native of Liberia, is credited for the establishment of a Sister Cities' relations between the City of Brooklyn Park in Minnesota, and two key Liberia war-affected cities- Kakata and Voinjama- both located in the country's heartland.
The Pastor holds a Masters in Divinity and presently a candidate for for a Masters of Global Leadership with emphasis in Community Development and International Education at Crown College.
Leadership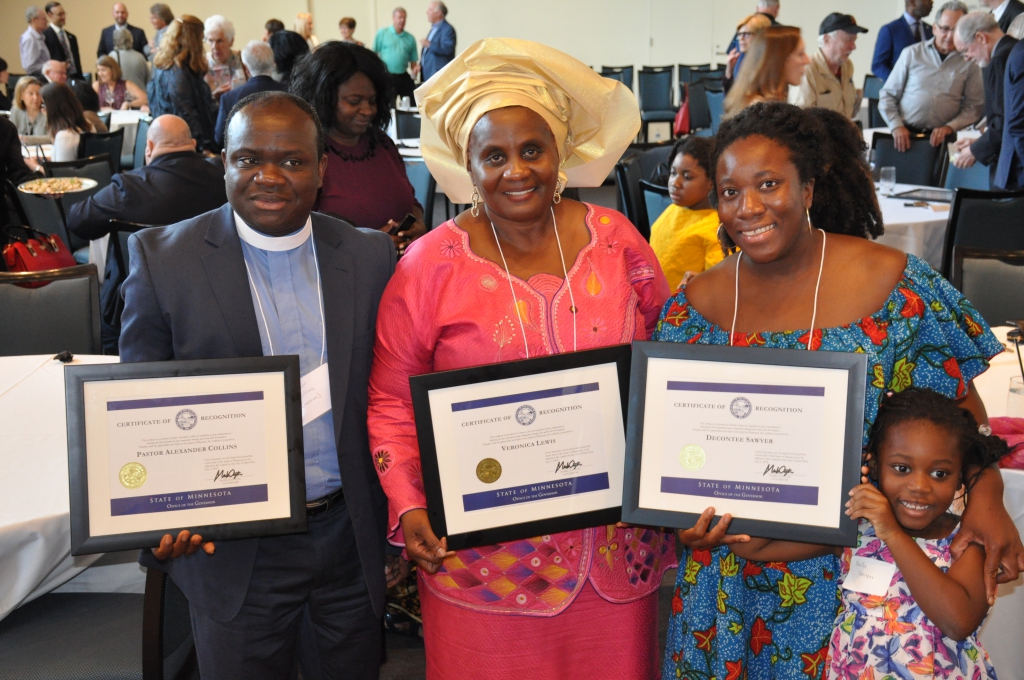 A two-term executive director for the Liberian Ministers Association in Minnesota – a conglomerate of 50 immigrant churches, Collins heads the New Horizons Resource, a nonprofit organization based in Minnesota that caters to needy people.
Of the eleven honorees, four were men while the rest were women, two of whom are immigrant Liberians – Pastor Veronica Lewis, founder of Meeting at Elm Ministries, and Decontee Sawyer who became an activist highlighting the Ebola devastation in Liberia after her husband Patrick Sawyer, became the first  Liberian American to die of the virus in 2014.
Recipients  
Award recipients included US banks executives, writers, editors, TV producers, as well as business entrepreneurs. Claire Prestwood, one of the honorees, had served ten years as an FBI agent. Her assignments ranged from combating terrorism, drugs trafficking to other criminal threats against the Western Hemisphere.
Deborah Pierce, the keynote speaker, is also a retired FBI agent with 27 years field experience and headed the FBI Minneapolis office that conducts criminal and terrorism investigations at one time.
The youngest of the honorees, Mimi Le, is a Spanish tutor. Le, a junior at Eastview High School, serves on the debate team and students council. Earlier this year, Le worked as an intern for the Legal Rights Center. She intends to become an attorney to advocate for undocumented immigrants' rights in America.
|TAP| Africa's Newspaper of Record  on Twitter: @theafricapaper

Sponsored Content: Free to reproduce, reprint, and redistribute with direct link to The AfricaPaper website. ALL Credit and World Copyrights – The AfricaPaper.