Abubakarr Kamara | Sierra Leone
FREETOWN – After what seems to be a warning shot to the November 17 elections this year, the Peoples Movement for Democratic Change (PMDC) has blamed President Ernest Bai Koroma for the recent spate of violence in the country including the recent bye-election fracas in the Fourahbay Community that left several people wounded and gave him a four-week ultimatum to fully implement the Shears-Moses Commission of Inquiry Report preceded by a Government White Paper.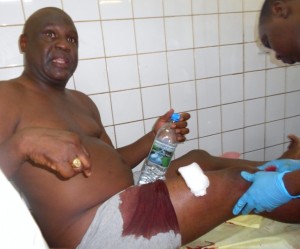 Fracas
Few weeks ago, supporters of the ruling All People's Congress (APC) and the main opposition Sierra Leone People's Party (SLPP) engaged in a fracas during the Councilor bye-election for Ward 369, Constituency 104, wherein members of both parties sustained injuries due to hostile groups belonging to both parties.
Violence
"The PMDC attributes the continued violence in the country to the lack of will on the part of President Ernest Bai Koroma to act decisively in matters directly affecting his political cohorts and trouble makers," says Charles Francis Margai, the PMDC party leader.
"The President should realize that he has a sacred duty to protect the lives and property of Sierra Leoneans and non Sierra Leoneans alike, regardless of political lineage, patronage or cronyism," said Mr. Margai.
"Failing to discharge this noble duty is likely to ignite impeachment proceedings leading to his removal from office, by invoking Section 51 of the Constitution of Sierra Leone Act No. 6 of 1961."
Court
Mr. Margai recommended that all perpetrators of the violence be charged in court and given an impartial trial. The PMDC leader also asked the President to independently investigate the arrest of Aziz Carew resulting in him left in coma and urge the people of Sierra Leone regardless of party affinity to brace for a peaceful demonstration denouncing violence.
Malice
However, several people on the streets believed that the utterances of the PMDC Leader is full of malice as he had recently fall out with the President in what some political analysts described as unfortunate for both the APC and the PMDC.
"Had there not been any problem between the two parties, one would have said the statement by the PMDC is worth its salt but going back to history, one will discover that the PMDC Leader was a great admirer of the President," says Alhassan Jah, a political commentator in the capital, Freetown.
"Their friendship sours later and speculations were rife that the PMDC leadership was making perpetual demands from the APC, which did not go down well with the President." TAP