After opening a new diplomatic chapter in U.S.-Somali relations, Somalia's newly elected president visited Minnesota to share his government's achievement and appealed to his compatriots to help rebuild their broken homeland. The AfricaPaper was there and brings this report.

Minneapolis, Minn – Speaking mostly in Somali to a cheering crowd of about 5,000 at the Minneapolis Convention Center in Minnesota on Friday, Jan. 18, President Hassan Sheikh Mohamud asked his compatriot to help rebuild their country.
"There is a price to pay in order to get that good Somalia," the president said, adding that this is "the new beginning of a new foundation [for Somalia]."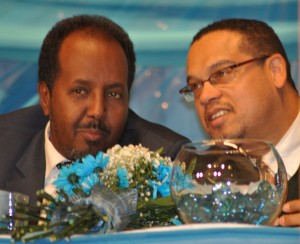 Help from Minnesota
U.S. Rep. Keith Ellison, D-Minn., drew a standing ovation as he took the podium to welcome President Mohamud to Minneapolis late Friday night. The crowd shouted the president's name … Mohamud!!!  He was a civil and political activist who previously served as a professor and dean at the Somali National University.
Congressman Ellison described the president as the best man to lead Somalia. He reminded the crowd that Mohamud, 57, stayed in Somalia during the country's years of political turmoil.
"I don't think people should be blamed for leaving," said Ellison. "But, I think people get credit for staying."
He added that though it is appropriate to sing, shout, and clap, there is work ahead to be done. And citizens have the right to demand that America builds an excellent relationship with Somalia.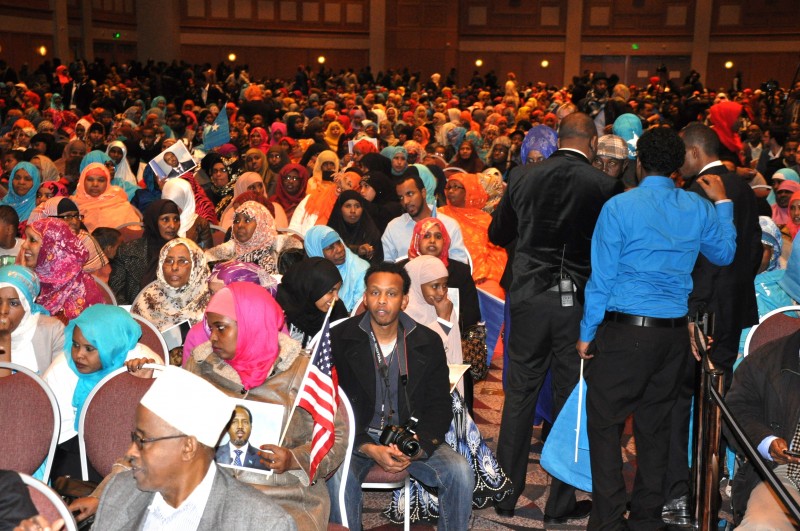 "You know, we really have a lot of work in front of us to do. And I want you to remember that Somalia needs you right here in America. To stand up for the United States – Somalia relationship," said Ellison. "We are depending upon you to call on the American government to give Somalia full assistance."
Mohamud thanked the jubilant crowd for their help and persistent effort to end the war and rebuild Somalia. After years of political upheavals, the president emphasized the need to restructure and strengthen the broken security, economy, and judicial system. He acknowledged the long-standing absence of diplomacy and political order in his country.
He told the blue and white-star flag-waving crowd that they can help in rebuilding Somalia either by going home or supporting from their base here. The president said that the diplomatic recognition was possible because of the strong and united voices from the Somali community here; adding that he is proud of the Minnesota-Somalis.
Somalia is "very much aware of past mistakes," said Mohamud. "We are ready to move on." Taking over a corrupt and dysfunctional transitional government, he thanked the U. S. for providing humanitarian aid when Somalia was almost "…wiped out."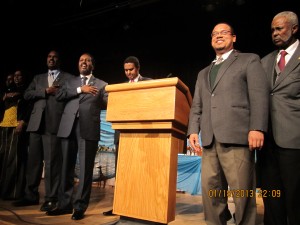 Diplomatic Relations
The president's visit came a day after the United States officially recognized the government of Somalia for the first time in two decades of diplomatic isolation. The U. S. did not officially cut its diplomatic relation but distanced itself from Somalia and its politics.
It announced a change in relation with the war-ravaged country on Thursday, Jan.17, after Mohamud's meeting with President Barack Obama and members of congress. Somalia has waited U. S. recognition for many years.
Secretary of State Hillary Clinton said the political situation in Somalia has changed considerably over the past years, and thus the renewed diplomatic relation and ready to work with the new government to rebuild the war-torn nation.
This will pave the way for it to receive economic aid from abroad and work with multinational institutions such the World Bank, the International Monetary Fund (IMF), and U.S. aid agencies for financial support.
"You got to be there for the long haul. You should ask yourself, what can I do to help Somalia?" he challenged the crowd and prayed for a strong economy, political and cultural system in the country. "I just want you to know that I was not born in Somalia like you, but I don't belief anybody in this room is happier than I am tonight." The crowd roared and clapped.
In Washington, D.C., about 25 U.S. Congressmen [Democrats and Republicans] on a day notice crammed into a room to meet with President Mohamud and his cabinet.
"We can't work together on the budget. We fight over the budget, but we came together on Somalia," said Ellison. "We argue on Social Security and Medicare, but on Somalia, we come together… Somalia is not alone. Somalia has many friends in America."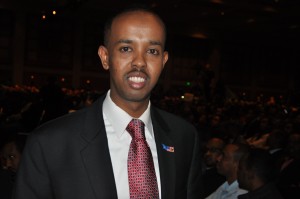 New Beginning
Before President Mohamud's arrival, community activist Sadik Warfa took the podium to electrify the crowd and encouraged them to work as a nation.
"For 21 years, Somalia has been at war. The country is now coming together. I was telling people to forget about the past and embrace the future," said Warfa, who once ran as a candidate for the Minnesota House of Representatives. "My message was about unity. Somalia needs unity… Somalia has been wounded. They [Somalis] have to forget the past."
Somalis traveled from almost every county, and suburbs in Minnesota to witness the occasion at the Convention Center. Various folk groups took turns on stage as they sang and danced for hours in the jam-parked hall before the president's arrival.
"With unity, we can do great things," said Warfa, who also served as one of the organizers for the president's visit. "We need unity forever."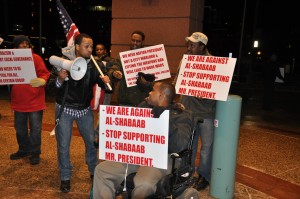 Protest and Dialogue
Mohamud was not welcomed by all on his first visit to the United States. A group of about 50 protesters at the front doors of the Minneapolis Convention Center carried placards. Some read: "We need a nation president, not a city warlord…"
They protesters said the new government has failed to reconcile different clans in the country after the Sept. 2012 election. They added that Mohamud is more interested in working with his supporters in the capital, Mogadishu, and leaving the countryside to militant group Al-Shabaab.
In his almost hour-long speech, the president responded to the protesters and his willingness to dialogue, listen to their misgivings, and apologize if his government wronged any of them. He cited that the support he received from the thousands of Somalis in the hall far outnumbered the protesters outside.
"This evening, when I arrived in the Twin Cities, I was informed that there are few protesters," said President Mohamud wishing he could have dialogue with them. "I'm glad that these people are protesting peacefully, holding placards and not AK47s."
He added that his government wants all Somalis to have a decent life.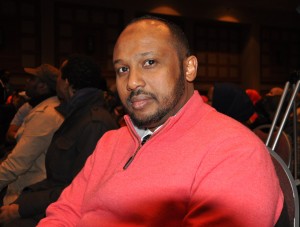 Young and Hopeful
Many of those interviewed by The AfricaPaper believe the new government can make use of the vast Diaspora human resources and potentials to rebuild. They believe better days are ahead for a new Somalia.
"Tonight is a very historical moment. Since 1998, Somalia has no central government…" said Mohamed Abdi Ismail, a St. Paul resident. "United States recognizing Somalia opens a big door … to deal with Somalia internationally. I am very happy for Somalia to be part of the international community."
He added that those who have been educated in Minnesota should use their skills to develop Somalia. "Somalia needs the Diaspora's [Somali-Americans'] abilities to help back home," Ismail said.
After Mohamud's late Friday speech, many youths at the Convention Center continued the festive political evening as they walked out of the hall feeling inspired and hopeful of their country's "new beginning."
Though born in Minnesota, most of the youths who listened to his speech said they now have a place to call home. Young women in the hall were also hopeful that their president promised to improve the country, curb corruption, and work hard to discourage clan and internal frictions. That one day they could return and get their education in Somalia as it use to be in those days.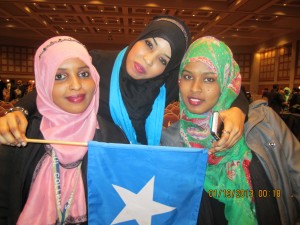 "What he said is really powerful. He gave us a lot of hope. I think that will be a reality in the next four or five years," said Hamdi Hassan, 21, as her friend Zamzam Hussien waved the Somalia flag above her head. "That everything will be OK, and one day we'll be back together. It is just a matter of time that we have to be patience and pray for him."
Political Hub
With an estimated 70,000 Somali immigrants, Minnesota is home to the largest Somali population in the U.S. and probably in North America. It also serves as hub for most Somali political activities, as different leaders frequent the Twin Cities to fundraise or rally the Somali Diaspora base for support.
"We are calling upon you to call on the American government to give Somalia full assistance," said Ellison.
U.S. authorities keep close watch on the Somali community here. In previous years, many Somali activists bitterly complained that the FBI raided their businesses, especially those dealing in money transfer. The president plans to open a Somali Consulate in Minnesota.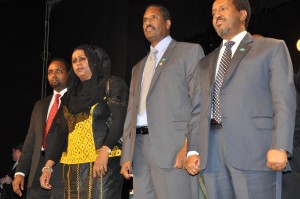 Somalia's connection to Minnesota runs deep, and sometimes politically problematic. Mohamud's new cabinet includes Minister of Information and Telecommunication, Abdullahi Ilmoge Hersi, once an advocate for the Somali community in the Twin Cities.
Former Somali activist, Omar Jamal from Minnesota, now serves as first secretary of the Somali Mission to the United Nations in New York.
President Mohamud was joined by his Deputy Prime Minister and Foreign Affairs Minister Fawzia Yusuf Haji Aadan, the first woman to hold such a senior position. Somalia's ten-member cabinet is one of the smallest in the country's history and includes two women ministers.
Mohamud came into power in 2012 in the first election conducted since the fall of late dictator Maj. Gen. Mohammed Siad Barre in 1991. Though not associated with the country's bloody violence and corruption, President Mohamud faces an uphill battle to repair a war-ravaged country with no foundation for a functioning justice system and rife with warlords.
"While serious challenges remain, I am optimistic and excited about Somalia's future," said Congressman Ellison in a released statement.
PHOTOS: President Mohamud's Night On Camera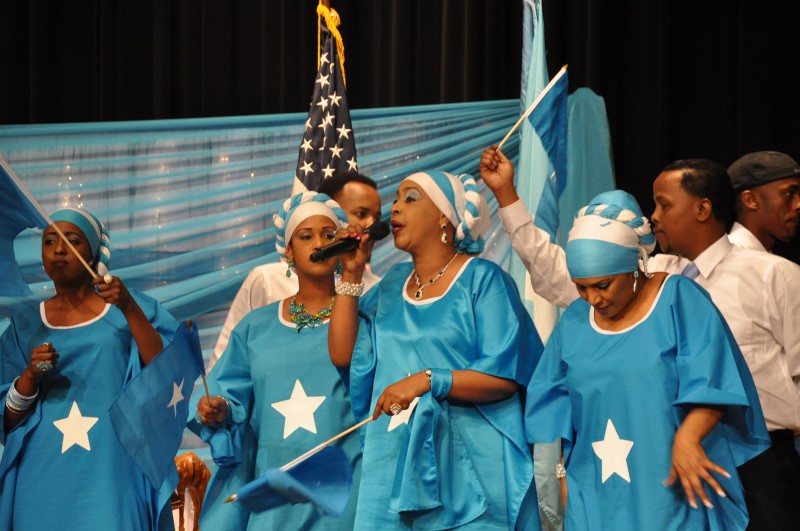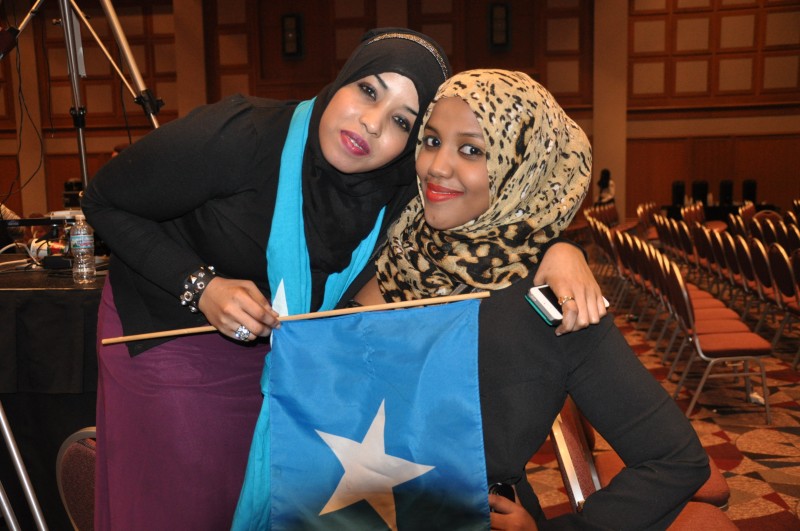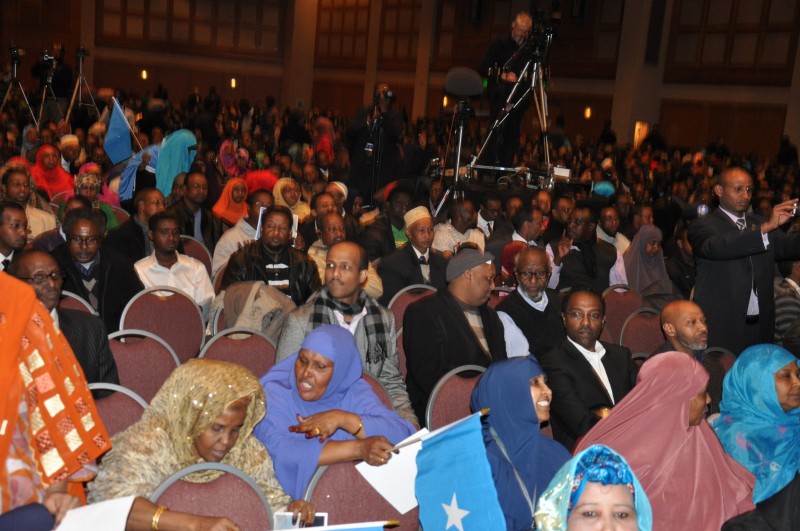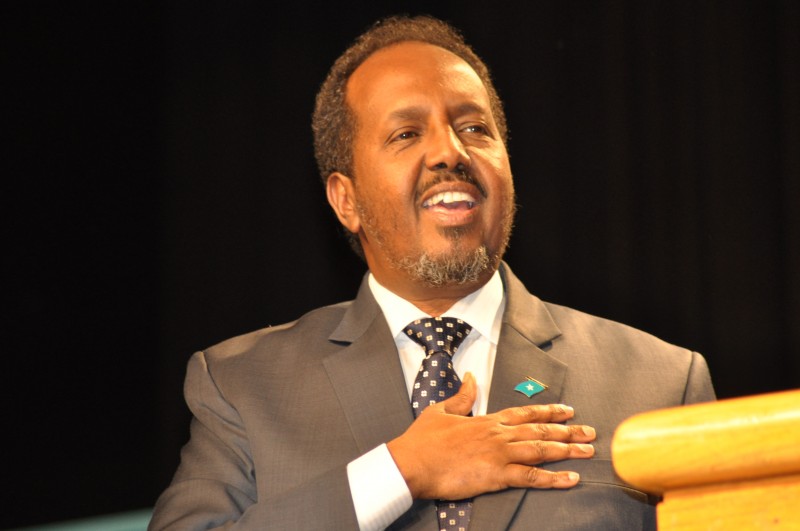 World Copyright 2013 – The AfricaPaper, USA. All rights reserved. Photos and text may not be published, broadcast, rewritten, redistributed or used in any form without the written permission of The AfricaPaper Media Corporation and AIIR.