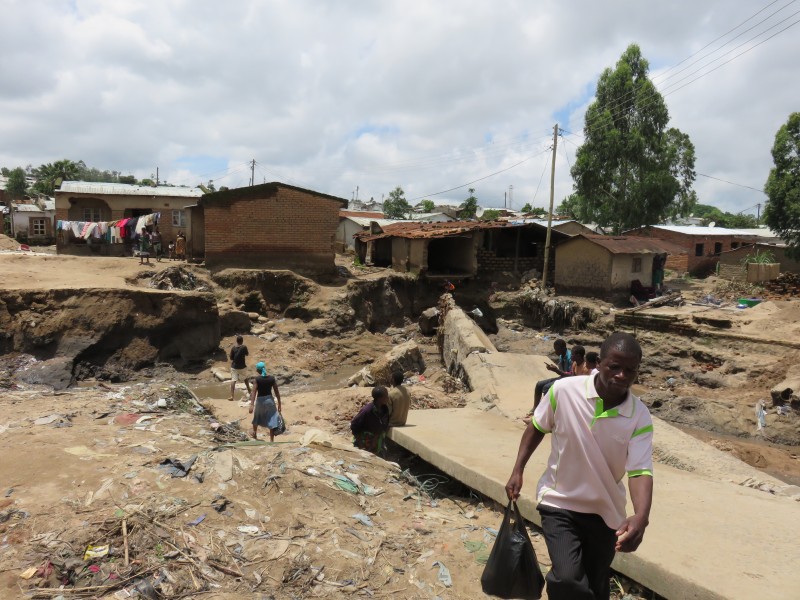 BLANTYRE (TAP) – Raging floods and incessant storms have claimed 170 lives and leaving close to 70,000 homeless with officials estimating that government will have to cough millions of dollars for rescue operations. President Peter Mutharika has since declared a third of the country a disaster zone further asking for assistance from the international community.
Disaster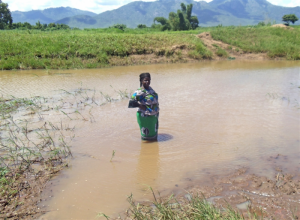 The disaster has dealt the Mutharika administration a blow as it struggles to rebuild the economy after donors withheld aid following reports of theft and corruption in government. Donors account for 40 percent of the national budget.
"Since flooding started, 13,999 households have been affected with 69,995 rendered homeless. And 48 lives have so far been lost since the national disaster hit. Infrastructure like roads and bridges have been affected and crops washed away," Mutharika said.
"I call for the assistance of the civil society, private sector as well as or agencies and United Nations arms to help in alleviating the suffering of Malawians. This is a national tragedy."
One of the country's leading civil society organizations, Malawi Watch, which promotes economic and human rights urged donors to immediately re-think their stance on aid cuts to this impoverished country of 16 million people.
Malawi Watch executive director Billy Banda said that Malawi cannot cope with the intensity of the disaster which has affected 15 districts countrywide calling on donors rescind their earlier decision and resume aid to Malawi "at this difficult time."
"This is a national disaster. It is almost impossible for Malawi to handle this all alone. We need donors, civil society, non governmental organizations, and development partners to come in. We are asking donors to come in and rescue the situation," Banda said.
Cashgate
Donors say Malawi should first deal with a culture of impunity where resources end up in the pockets of politicians, businessmen and public servants. A classic example is theft of public funds known locally as Cashgate, saw some Malawi public servants, in collusion with various
businessmen and politicians, looted millions of dollars from government coffers for goods and services not rendered.
Banda thinks donors should rethink their stance and wear a human face. He believes Mutharika is already doing a lot to rebuild the economy "but donors have not been forthcoming to support his efforts."
"He has formulated a zero aid budget. He is fighting corruption but the way donors are treating him is as if he is doing nothing," said Banda. "Let them change their stand on Malawi and do something worthwhile for the country. If they really care for Malawi this is the time to release funds to assist the flood victims."
Shortfalls
Funding shortfalls, according to officials, have seriously hampered rescue efforts. Paul Chiunguzeni, Commissioner for Disaster Management Affairs said government is expected to review budget for disaster response.
"We had a budget of about $300,000 but it has been exhausted," Chiunguzeni said. "The department will be asking government for an additional $200,000 to help us respond to the crisis."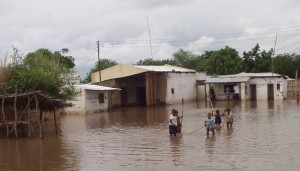 Meanwhile the Department of Climate Change and Meteorological Services has warned Malawians to brace for tougher times as more rains are expected across the country.
A statement from the department indicates that the rains are due to a tropical depression (very deep low pressure area) located north of Mozambique in association with the rain bearing systems, the Inter Tropical Convergence Zone and the Congo Air Mass, are likely to remain active.
Roads Closed
Roads, and railways have been cutted off. Currently, far five major roads have been closed due to flood-related damages that have rendered them unusable, the Malawi Roads Authority has confirmed. The closure of the roads has contributed to the disruption of business activities.
At a time when farmers are waiting for fertilizers for their crops, the waiting might even take longer as transporters are now using longer routes after the traditional ones have been cut off.
Transporters are calling on government to rectify the problem as soon as possible as the costs were already biting them hard. Minibus Operators Association of Malawi chairperson, Coxley Kamanga said the rains have affected the association's economic activities in a number of ways.
"Our operations on most of the roads are restricted. We can no longer operate on the roads that have been rendered impassable," said Kamanga. Many of the affected people are our passengers. Instead of conducting their normal business they are busy taking care of their property or in hospital attending to the injured."
The country's railway company, Central East African Railways (CEAR) announced suspension of all passenger train services due to the washing away of some bridges and railway lines.
"Our priority right now is the safety of our passengers. That is why we have suspended the passenger trains until further notice," said CEAR public relations officer Chisomo Mwamadi. TAP