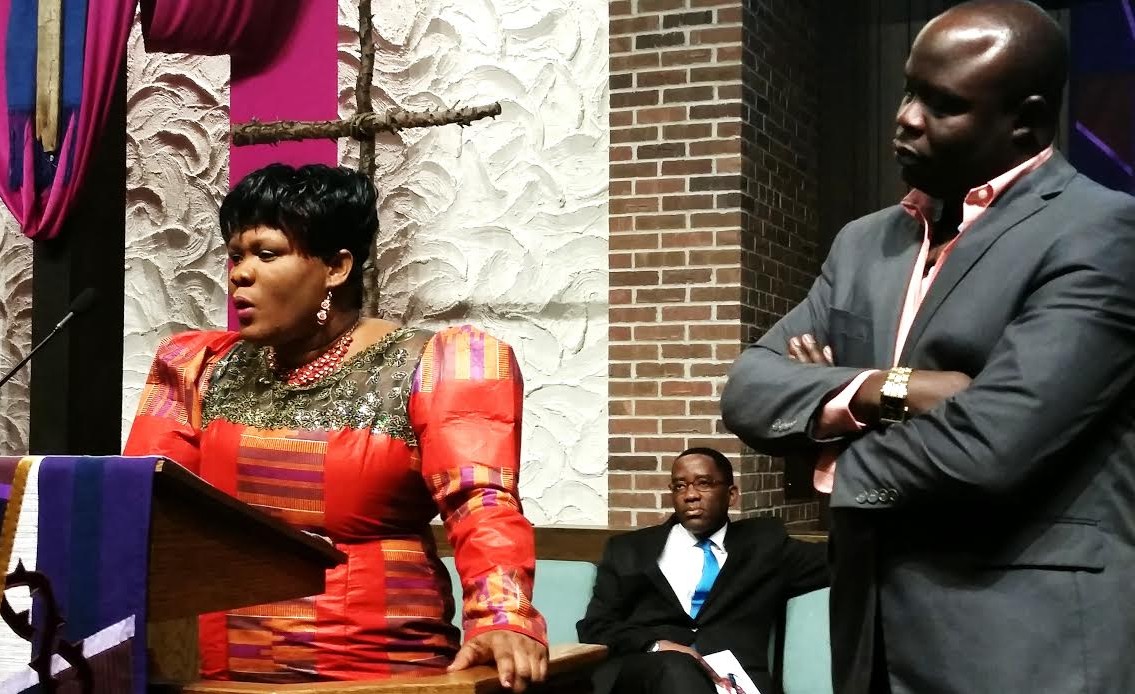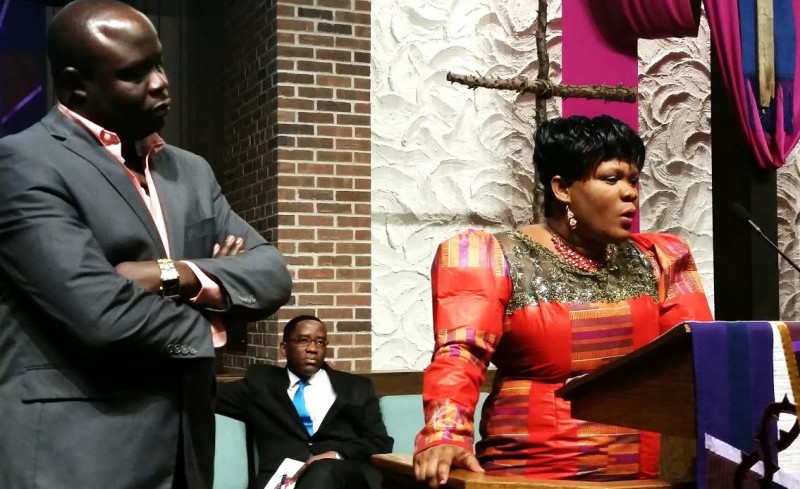 Slain Liberian teen's mother tells audience at memorial
By James Kokulo Fasuekoi

|

The AfricaPaper
Brooklyn Center, Minn – Louise Karluah, the mother of slain Liberian teen Barway Collins has spoken openly for the first time since the tragedy about her unending pains, frustrations, and how she has reacted. Barway's father, Pierre Collins confessed to murdering him and dumping his body in the Mississippi River in Minneapolis a year ago.
Karluah's Grief and Anger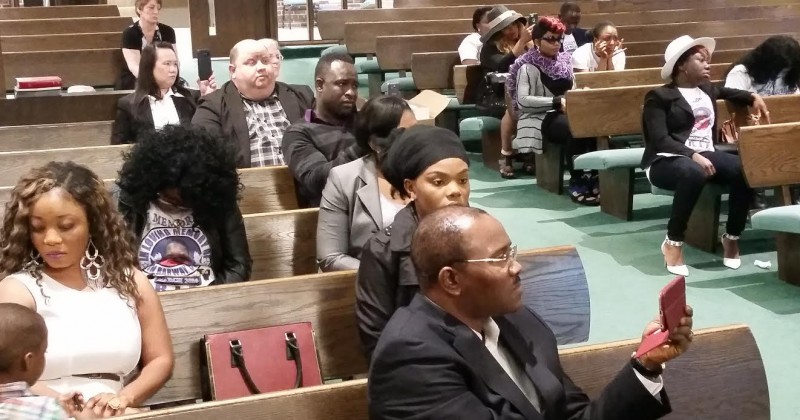 Karluah  told a group of sympathizers here on Saturday, March 21, that her son's brutal murder has left her angry at "God." She said she can't still comprehend why God didn't act quickly that fateful moment to stop her son's killer.
"I have told God, I will never serve Him…because why [is it that] Pierre Collins was killing that boy and You [God] didn't exposed him….You let the boy died like that?" the angry young mother said during a memorial held at Brooklyn United Methodist Church in Brooklyn Center, marking a year since Barway's murder.
"Lack of Transportation"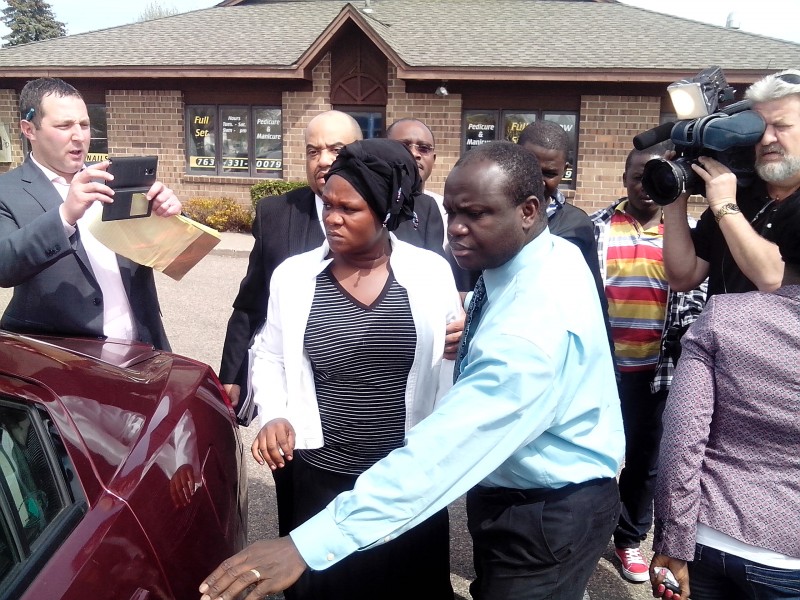 Karluah explained she lives very close to a church and transportation wouldn't be a factor if she wanted to visit another church but openly declared she often lied to avoid going to church. She said she intentionally uses "lack of transportation" as an excuse to avoid going to worship services whenever Rev. Alex Collins or someone encourages her to go.
She narrated how she endured hardship as a refugee in the West African state of Ghana during the period she became pregnant with Barway till she brought forth the child. She said whenever she reflects on that period, it brings severe frustration and pains to her heart, saying: "Barway didn't deserve a death like this."
Precious Child
She maintained Barway was her precious child and, even if she were to bear another child, that child would never reach late Barway's age by now nor take his place.
If Pierre Collins felt tired keeping him, she continued, all merely needed to turn the child over to his mother and not harm him.
"I don't care how much money people give me…they can give me the whole world; I will never be in peace," she cried.
"What so much Pierre Collins wanted in life that he had to kill his own son? What benefit did he get by killing him?" Karluah openly wondered, adding that her life has been turned upside down since the killing of her son last year.
"What else can I say?"
Karluah said people often push her to talk whenever there is an event in Barway's memory. "People always ask me why you don't want to talk?"
Every mother, according to Karluah, dreams to witness her son's school graduation and wedding and for her, those hopes were even higher when little Barway reached US soil. But with such tragedy that struck her she wondered, "What else can I say?"
Looking for Peace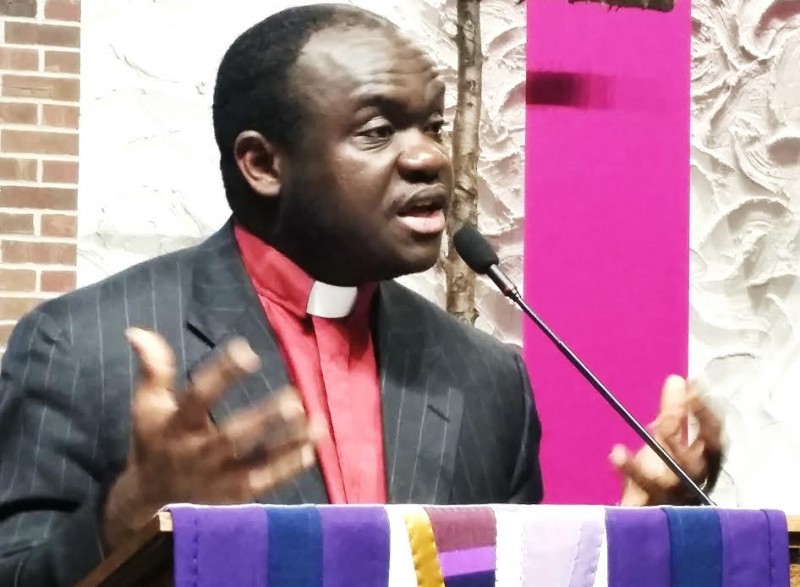 Karluah indicated that people think funny of her whenever she goes on Facebook. Though she didn't elaborate, but apparently some think she ought to avoid Facebook and other social activities and grieve continuously for her loss.
"Not that I'm happy to be there. When I go on Facebook, I make friends that will get me happy. I'm only looking for peace," Karluah said.
Explaining further, she said Pastor Alex Collins spoke about the need for people, particularly Christians to "forgive and forget" whatever wrong others may have done to them in the past. But according to Karluah, she challenged such thought and asked Rev. Collins how possible is it that you will "forgive and forget" when someone causes you such a deep pain?
"I can forgive but I will never forget!" she maintained.
Justice Prevailed  
The grieving mother thanked God that justice prevailed in Barway's murdered case and told the gathering that she will pray to God so that "all those" who one way or the other that were involved in Barway's murder (this includes anyone withholding information), must never rest in peace until he or she confesses.
On March 18, 2015, 10-year-old Barway Collins was reported missing by his father, Pierre Collins hours after a school bus dropped Barway off at their Crystal apartment. Minneapolis police sent out an Amber alert across the state. The incident prompted hundreds of volunteers  to join the search for the missing boy in Crystal, MN.
Mississippi River
On April 11, Barway's body was found in the Mississippi River with duct-tape wrapped around his feet and torso. Prior to his confession, Collins initially denied having anything to do with his son's death, but was later sentenced to a 40-year jail term.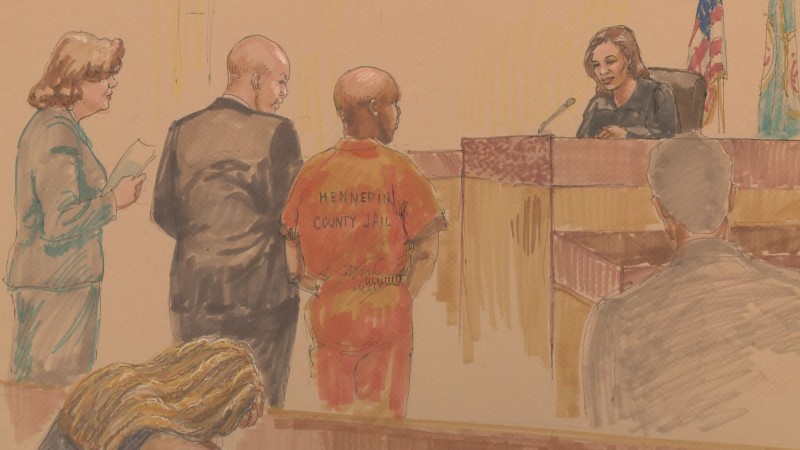 Though Collins refused to state the motive for "killing" his biological son, law enforcement officers investigating the homicide here suspect it might have been connected to insurance fraud. According to police reports obtained by The AfricaPaper, in a short period before Barway's death, Collins had increased Barway's life insurance from its initial $30,000 to $50,000.
"He[Barway] is gone. None of us can explain or comprehend, how a father could kill his son," said Hennepin County Attorney Mike Freeman, after Collins was sentenced. "We don't know what exactly happened… We don't absolutely know. The only person that knows is Pierre Collins, and he is not sharing."
Tragedy and Limelight
Since the tragedy, Karluah, barely known within her community back in Liberia, found herself in the limelight and, for much of her stay in the US, local newsmen have followed her almost at every turn. But through it all, Karluah has often remained mute whenever persuaded by friends and relatives to speak about the tragedy.
At Collins' sentencing in August, Karluah was overcome by grief, unable to speak when Judge Bransford asked her to make a statement. Victoria Peabody, a friend, had to speak on her behalf. Karluah wept profusely during her son's funeral and couldn't stand to say a word.
Before opening up Saturday, she had similarly rejected a request to address a group of people who attended a night vigil staged in Barway's memory Friday, March 18.
Celebration of Barway's Life
Saturday's event was a celebration of Barway's life and it was interspersed with soul touching hymns such as –  Pass Me Not O Gentle Savior, and Blessed Assurance.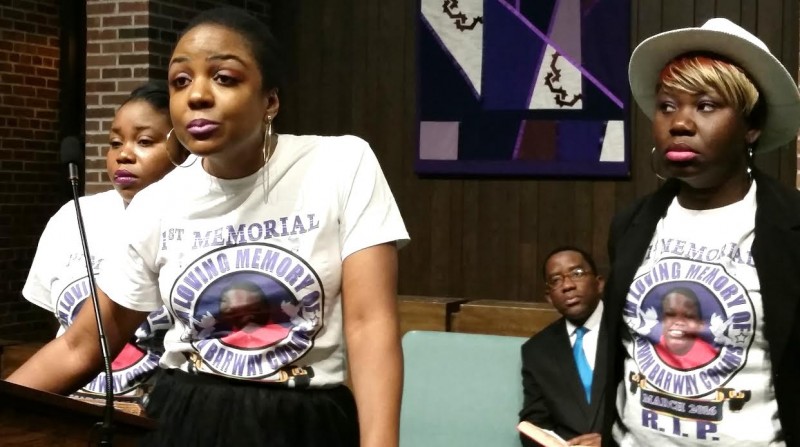 Present, was an array of speakers at the ceremony; among them, Imam Mohamed Dukuly, Pastor Alex Collins and also Pastor-Mother Marie Vah, all providing the bereaved family with prayers and comforting words.
"She [Karluah] was too young to go through what she went through…maybe she needs special prayer," said Mother Vah, reasoning from a spiritual viewpoint.
She pleaded with pastors and family friends close to Barway's mother to help provide special prayer for Karluah, stating, "Only God can comfort her."
Others included Karluah's relatives and community organization leaders; Barlee Sam, Karluah's uncle; Victoria Zulu, representative for Nimba Community; James Yafondo, head of LIBAKO, and Erasmus Williams of OLM. Political activist Seyon Nyanwleh helped organized the event and also served as master of ceremony. |TAP| Africa's Newspaper of Record
The AfricaPaper:

James K. Fasuekoi is Associate Editor for The AfricaPaper
BANNED
The Daily Observer newspaper of Liberia is banned from lifting, republishing or rewriting any content(s) and using any photo(s) from The AfricaPaper and its sister publications.
World Copyright
The AfricaPaper, USA, 2016.  All rights reserved.  Photos and text may not be published, broadcast, rewritten, redistributed or used in any form without the written permission of  The AfricaPaper, and AIIR. We take legal action for any copyright infringement.